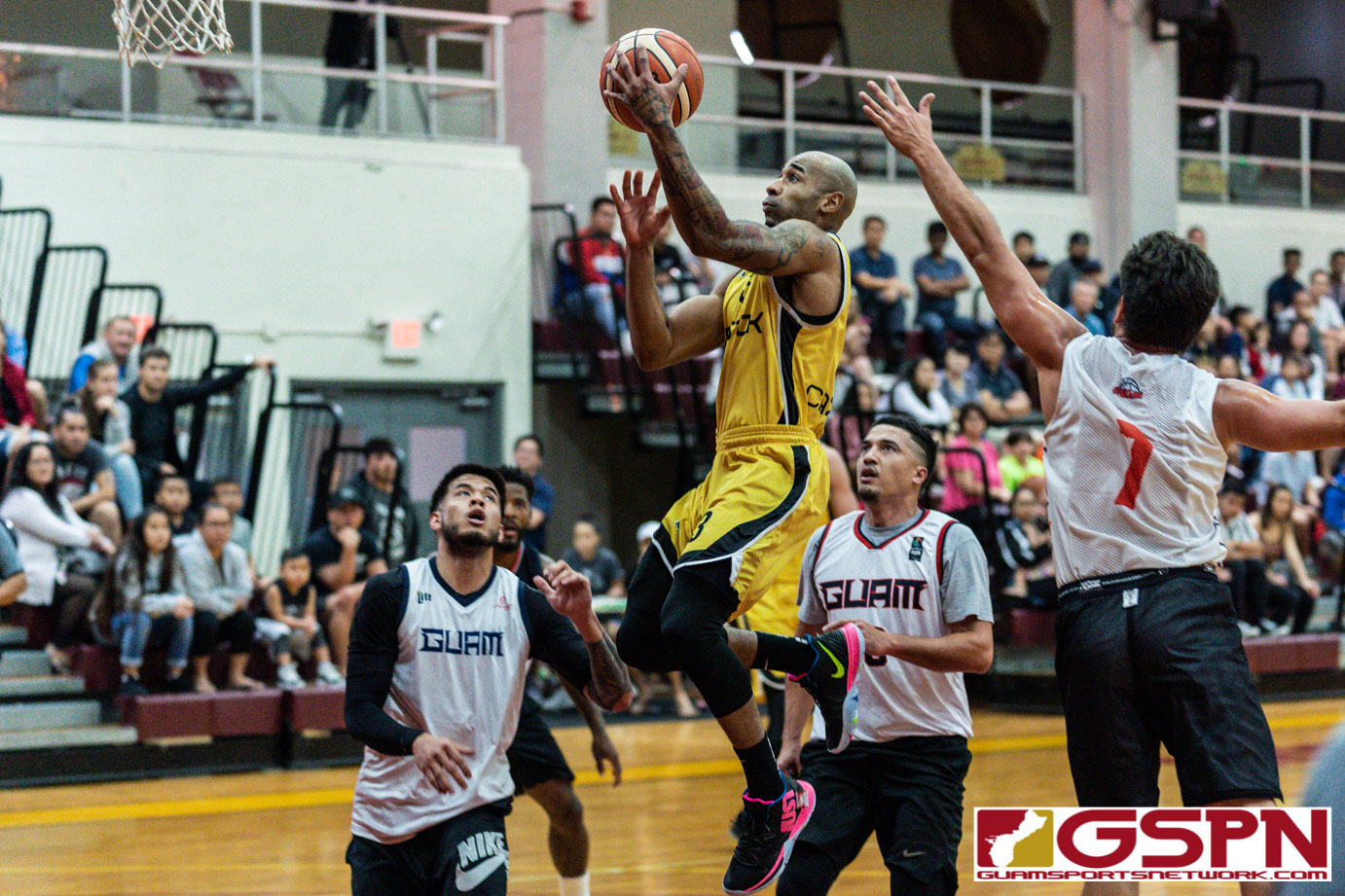 By Robert Balajadia
Basketball fans were treated with a glimpse of high level basketball as the scheduled exhibition game between the Russian pro team Vostok-65 vs a Guam select team of local stars on Sunday carried on as planned despite the passing storm. Hundreds filled the Phoenix Center as the visitors displayed high level basketball, besting the Guam team 114-65.
The length of Russia's pros and efficient shooting proved difficult to overcome, but Guam's sharpshooter JP Cruz still filled up the score sheet netting 22 points in the loss. Cruz's performance was so well respected that a fan from the opposing team, a young boy, asked Cruz and other members of Guam for their signature.
"I'm star struck by that. I don't see stuff like that happen and I'm just at a loss for words," said Cruz on signing a fans basketball.
Vostok-65's Ehambe Moses scored a game-high 24 points and was the focus of many local fans attention post game for pictures and autographs. Teammate Gudumak Aleksander scored 23 points shooting an excellent 11-of-15 from the field.
The Guam team of select local stars had no practice time together but still managed to show some bright spots against the pros from Russia. The exhibition game was a rarity for Guam and the suddenness of the event forced the home team to tap into the local circuit as opposed to putting the traveling team on the floor. Nonetheless, the game itself was to display the talents of a professional team.
"This was a big opportunity for the fans and for our players to lace up against a bunch of pros. But for the handful of guys that are on the National Team, it's just a great experience because they don't see this enough. All though it's just one game, this is a nice taste of high level competition," said men's head coach EJ Calvo.
Guam's Seve Susuico got hot scoring five of the teams first seven points for an earl 7-2 lead. Russia answered back in a flurry, netting 14 straight points to lock the quarter up 33-14. Moses scored eight straight points of his own midway through the second quarter with the visitors up 51-30. A dunk from Tonoyan Agasly and a buzzer beating three capped off a 20-4 run as the visitors rocked a 60-34 at halftime.
Cruz got it going in the 3rd quarter scoring a quick five points while still trailing 68-41, netting 11 in the period. Despite the height and length of Russia's pros, Cruz proved he could get buckets at just about any level.
"I just wanted to be confident in myself and in my shooting no matter who we play against," said Cruz on his performance. "We showed a lot of heart and we didn't give up. Our daily competition is more so recreational so to be able to compete against the pros like this is a great experience and we look forward to more upcoming games like this in the future."
Russia torched Guam from the three-point line in the final period scoring 34 points to wrap up the evening.
Vostok-65 wanted to come out to Guam to do their training camp and asked to run a couple of exhibition games. They are currently in the middle of their season of the Russia: Super League which explains their high functioning play Sunday evening.
"I'd love to welcome more teams out to Guam more often and if we plan ahead then we can get our guys a little more ready. Our team today had never practiced together so they just showed up, we had a meeting and gave it our best. You can't expect much other than this being a great opportunity," added Calvo.
PHOTO GALLERY BROUGHT TO YOU BY:

QUICK HITS
Guam MTB National Championship: Edward Oingerang and Jennifer Camacho are your 2023 MTB national champions. Oingerang finished the course in 1:13:24 while Camacho won her second straight title in 54:08.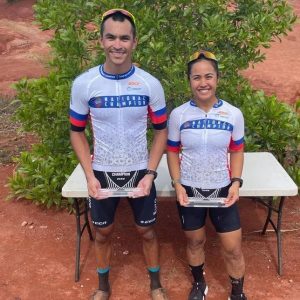 ——————————————
Kobe Miyashita, with St. John's coach Arvin Flores, was named the 2023 IIAAG Middle School Boys Volleyball MVP!