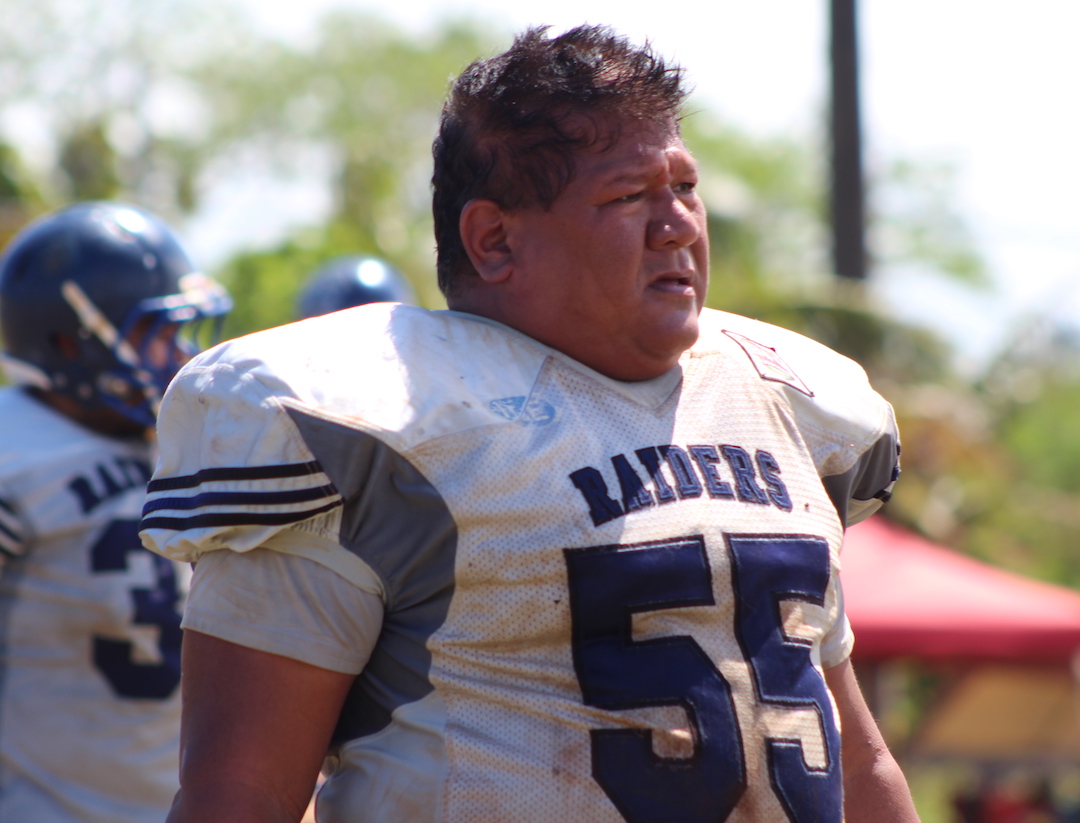 By Jay Leon Guerrero
Ryan 'Chairman of the Board' Rios helped the Raiders defeat their rival Guahan Eagles 22-0 in the Guam Varsity Football League last weekend to add yet another title to the long list of accomplishments for the GOAT (greatest of all time) of Guam's football. Voted the #1 player of all time on Guam, he remains the only player on the list still active.
Rios is still one of the hardest hitters on the local gridiron, taking the field with athletes more than younger than half his age. How does he do it?
Football is unlike any other sport, the longevity to compete in the game is rare for anyone beyond 30 years of age to be effective. Yet, big number 55 continues to play in Guam's highest level and contribute with his play on the field and his leadership in the huddle.
"I still have a passion for this game. I continue to play and some of the former players who don't play anymore tell me I'm an ambassador. I continue to play for them," said Rios. "Former great players from Guam, both former teammates and guys I've played against, keep telling me to keep going."
According to Rios, probably 80 percent of the players on the Raiders squad were his former teammates or players from George Washington High School. Casey Cruz is a key player for the Raiders defensive secondary unit and said it's been an honor to play alongside one of his football mentors.
"I've had the privilege of being his player, teammate, and coach alongside him. His presence on and off the field is powerful. He elevates the play of everyone around him. His experience and knowledge of the game allows him to make plays on kids half his age with twice the speed. It's amazing to watch from the secondary," said Cruz.
Rios, who said 'I ain't 50 yet' has been playing the game longer than most of his teammates have been alive. The Facebook posts showed Rios' teammates and former players thanking him for helping them not only on the field, but off the field as well.
"That's really important to me, after I was done coaching them; they come back to me and ask for advice for things about their life," said Rios.
Like Cruz, Raiders quarterback Danny Manibusan has also had the luxury of being coached and playing alongside the living legend.
"He would always tell us to live life to the fullest and that tomorrow is never promised. Leave everything out on the field; win or lose make sure you gave 100 percent. I'm truly blessed for him to have played this whole season with us, last year coming off a leg injury and being on the sideline made him limited to what he can do for the team. He always says he'd rather be a player than a coach first," said Manibusan.
"Ryan's presence on the field says a lot knowing that he's a play maker and a team player would open up other options for guys to make plays. The best thing for our team is that most of the players around Ryan were coached by him and we came from the same program in high school. So we understand each other and the chemistry we have as a team," said Manibusan.
On the other side of the field, his opponents are still competitive and want to beat him but there is also some awareness of a living legend on the Raiders defense.
"Sometimes I get a tackle or get blocked and hit the ground. The opposing players say to me 'good hit' or help me up," said Rios.
Rios said he doesn't plan to hang up the helmet anytime soon either: "I still have that desire to take the field and play but I do know I have to keep my body in football shape by continuing to condition myself."
Let the legend live on.