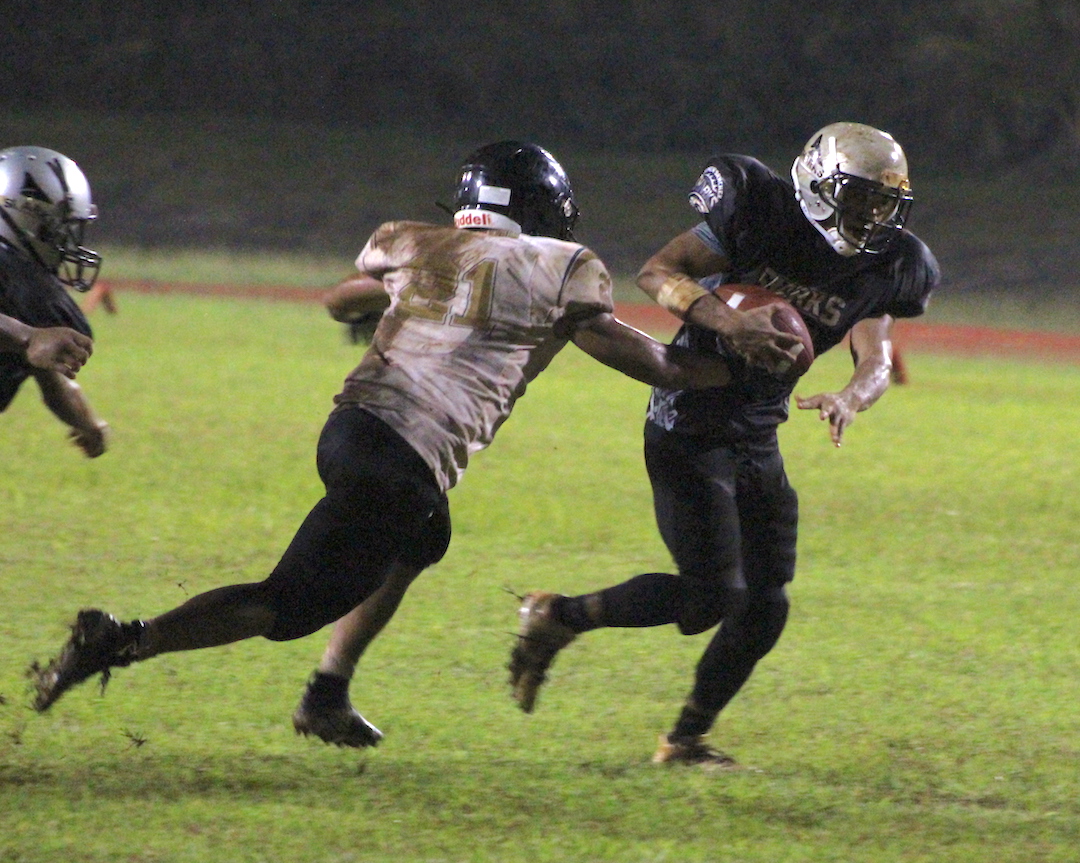 By Brandon Kinsella
On Homecoming night, The Sharks prove dominance against the JFK Islanders behind strong play from iron man players Jayton Penaflor and Aiden Lumba.
In front of a very lively home crowd, the Sharks almost pulled off a shutout, but the Islanders found some offensive rhythm towards the end of the ballgame to prevent the shutout from happening, and the final score would be 39-7. 
After winning the coin toss, the Sharks elected to receive and got their offense in rhythm quite early. At the fifty yard-line on 4th and one, the Sharks decided to go for it and Running back Lumba powered through for a four-yard gain, giving his team a new set of downs. 
Then, a play action pass by Penaflor would catch the defense off-guard, and he would find the open man in receiver John Salas Jr., who ran 42 yards for the first score of the game.
Kicker Marvin Ednaco converted on the PAT to give the Sharks a 7-0 lead.
The beginning parts of the first Islanders drive might've been one of their best of the ballgame, as they found success moving the chains and almost pulled off a score with a chance to tie the ballgame. Sophomore Runningback Jacobe Quinata had three big runs at ten yards apiece, which was helpful in spurring his team to the goal line.
But at the goal-line, two costly penalties pushed JFK back ten yards, and Quarterback Allen Blend attempted to air it out on third down. Safety Penaflor made the right read and picked off the pass in the end zone for a touchback.
Following the interception, the Sharks became more run-centric, as the backfield of Lumba and Jeremiah Sablan used their blocks effectively and moved the chains while running down some clock. A 20-yard run by Lumba put the Sharks at the 26-yard line.
Then, a 6-yard run by Sablan put them at the twenty, followed by a 17-yard QB Keeper by Penaflor which put them at the three-yard line. Runningback Erjan Sanchez capped off the drive with a three-yard touchdown. The PAT was no good, but the Sharks still led at 13-0.
The following Islanders drive would be disastrous. A trick play in the backfield would result in a fumble, and Defensive Lineman Rayvin Cruz recovered the football at the 22-yard line.
On the ensuing Sharks possession, they found ease running it up JFK's throat, and the result would eventually lead to a one-yard touchdown by Sablan.
Wanting to make up for lost points on the previous PAT, the Sharks opted to go for two, and Penaflor kept the ball, rolling out to his left to rush and beat the defense and increase the lead to 21-0 as the first half ended.
2nd Half
At the start of the second half, JFK continued to struggle despite a long half-time intermission, as Sanchez celebrated their homecoming festivities. The opening drive resulted in another interception, this time by cornerback Lumba.
The interception put the Sharks at the thirty-yard line, and Lumba would eventually get his chance to put some points on the scoreboard, capping off the drive with a score of his own. Sanchez would go for two again, but this time Penaflor would stay in the pocket and found receiver Dylan Cabe in the end zone. The Sharks led 29-0.
A few possessions later, Penaflor connected with Salas again for a 20-yard touchdown to give the Sharks their largest lead of the game. They would go for two again, and Penaflor pulled off a no-look pass to Cabe for a 39-0 lead. 
JFK's lone score came in the final minutes of the 4th Quarter in exciting fashion. Blend found receiver Juan Sarmiento on a curl route, and Sarmiento decided to cut to the other side of the field using his breakaway speed. He outran the Sharks defense with just one man to beat in the Sharks' safety.
Then, Quarterback Blend came out of nowhere and laid out the safety and Sarmiento was able to run in for the score. JFK converted on the PAT, but the game was out of reach, and the Sharks cruised to a 39-7 victory.
Penaflor was very excited with the win and gave some thoughts on what the victory means to the team,
"This win might really wake up our team. We're finally back on our feet with a win, and I'm hoping that it'll lock us in. We need to stay focused; we got a big game next week against GW on their homecoming,"
He also took some time to give the fans a big thank you for showcasing school spirit on homecoming night,
"Shoutout to everyone from Sanchez for making homecoming lit. Hope you guys can do the same again next year." 

GPS Sports Calendar
SU

MO

TU

WE

TH

FR

SA
28

29

30

1

2

3

4
Events for July
1st
No Events
Events for July
2nd
No Events
Events for July
3rd
No Events
Events for July
4th
No Events
5

6

7

8

9

10

11
Events for July
5th
No Events
Events for July
6th
No Events
Events for July
7th
No Events
Events for July
8th
No Events
Events for July
9th
No Events
Events for July
10th
No Events
Events for July
11th
No Events
12

13

14

15

16

17

18
Events for July
12th
No Events
Events for July
13th
No Events
Events for July
14th
No Events
Events for July
15th
No Events
Events for July
16th
No Events
Events for July
17th
No Events
Events for July
18th
No Events
19

20

21

22

23

24

25
Events for July
19th
No Events
Events for July
20th
No Events
Events for July
21st
No Events
Events for July
22nd
No Events
Events for July
23rd
No Events
Events for July
24th
No Events
Events for July
25th
No Events
26

27

28

29

30

31

1
Events for July
26th
No Events
Events for July
27th
No Events
Events for July
28th
No Events
Events for July
29th
No Events
Events for July
30th
No Events
Events for July
31st
No Events
Foody's 5 Fun Facts
St. John's Knight Aarman Sachdev
DID U KNOW?
Since forming the GNYFF in 2009, the league has never gone without a season until 2020. The league announced their plans to cancel the 2020 season amidst the COVID-19 pandemic.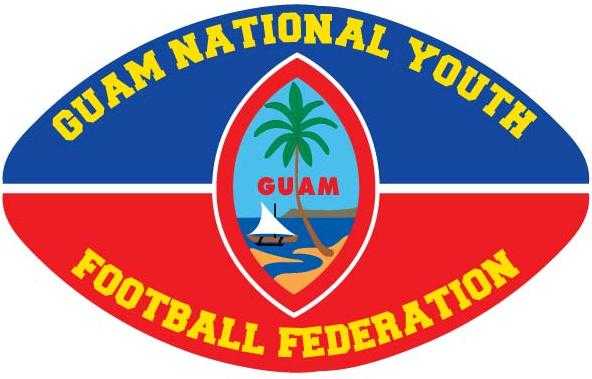 COMING SOON …
ALL SPORTING EVENTS HALTED DUE TO THE CORONAVIRUS ISSUE
QUICK HITS
RIP: Former Guam football player Phil Mendiola, shown here with son Tano, passed away in Las Vegas due to a heart attack. Mendiola played for numerous Guam teams from youth to varsity. He was 39.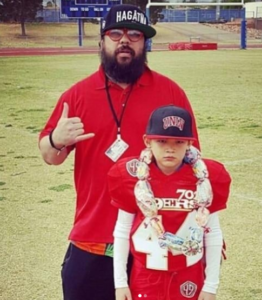 —————————————————-
Morgan McKenna (left with black face mask) poses for a photo with Guam Football Association Technical Director Sang Hoon Kim (seated, with blue face mask) and Guam Football Association Assistant Technical Director Ross Awa (standing) after signing his letter of commitment to play intercollegiate men's soccer for Muskingum University in Ohio. The Fighting Muskies compete in NCAA Division III's Ohio Athletic Conference.