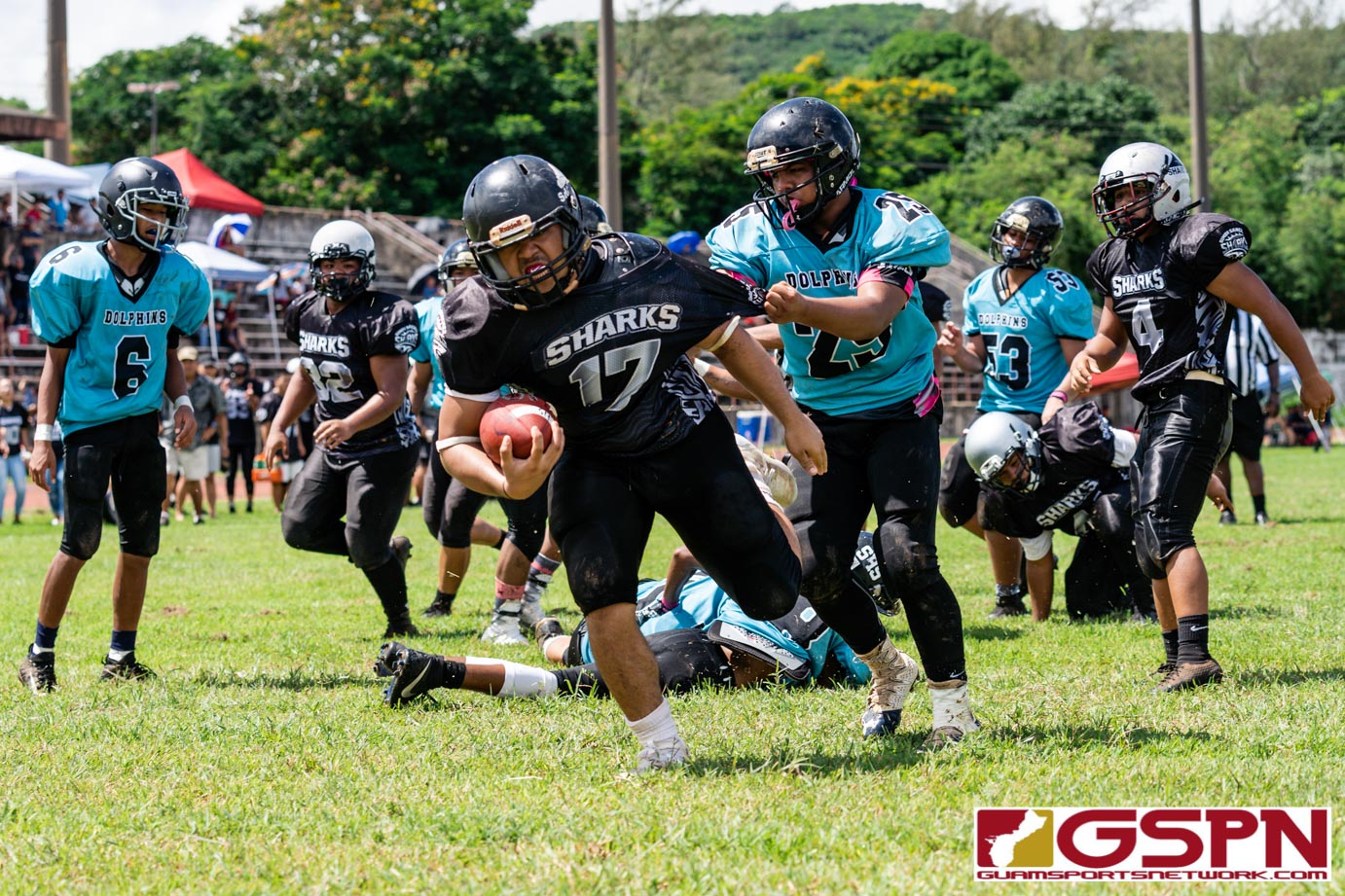 By Robert Balajadia
The first morning game of the IIAAG Football season brought the sun out, but the real heat was on the field as the Sanchez Sharks and Southern Dolphins were in a sprint towards the finish.
A mishap in the red zone would cost the Dolphins with the Sharks capitalizing in a 24-20 victory on the Southern field.
After stuffing a 4th down attempt by the Sharks at their own 42, the Dolphins were left with less than four minutes down 24-20. Runs by Jerry San Nicolas would get the Dolphins inside the red zone.
The Dolphins would attempted to strike through the air as quarterback Ethaniel Escuadra lobbed a pass to receiver Jesse Torres, but the pass would slip off Torres finger tips to set up 3rd down still inside the red zone. A short run by Escuadra would keep the clock running with the Dolphins out of timeouts.
An attempt to stop the clock was made with a quarterback spike with 14 seconds remaining, but the ball would be fumbled on the snap which caused a dive at the line where Southern would retain possession. Out of timeouts and confusion on the play, the Dolphins were unable to run out a final pitch, ending in the game.
The heat played a little bit of a factor with fatigue settling in quicker than the boys are used too.
"We're not too used to the big heat since most of us are used to playing at night. We had to drink a lot more water and that kind of brought our game down since we were getting tired faster," said Sharks defensive linemen Bejerana.
The Sharks jump out to an early 2-0 season start, but Bejerana and the boys are nowhere near content.
"We're happy we won, but that isn't going to mean anything for the rest of the season. We have to stay humble, keep working and we know it's not going to be an easy road," added Bejerana.
Scoring breakdown
The Dolphins would turn the Sharks away quickly in 1st quarter after San Nicolas picked off Sanchez quarterback Jayton Penaflor at the 32-yard line. Southern would capitalize by punching in a touchdown run from Tomas Benavente at the goal line followed by a 2-point conversion from Escuadra on a bootleg for an 8-0 lead.
The Sharks were working on their response after a 35-yard run by Aiden Lumba would get them inside the red zone on their very next drive. Lumba would fumble the ball away at the five-yard line and the Dolphins would recover at their own two-yard line. Sanchez would bog down their attempt to get out of the end zone by locking up San Nicolas for a safety.
Sanchez would march down the field after receiving the punt off the safety capped off by a five-yard touchdown run by Kamerin Toves. A successful 2-point pass from Penaflor to Dylan Cabe would give the Sharks a 10-8 lead.
Shark Peter Benito would recover a Dolphin fumble near midfield as the 1st quarter expired. Sanchez wasted no time running the ball back into the red zone as halfback Jonathan Sablan punched in his first score to extend the lead 16-8.
"Our inside powers were working today," said Sablan on finding the end zone. "They were blitzing a lot today and that made running difficult. Working on conditioning in practice really helped us get through the game today."
Southern responded right before halftime as Torres hauled in an 11-yard touchdown pass from Escuadra to get within 16-14.
In the 3rd quarter, Bejerana would get a key sack on a Dolphin's Escuadra on third down to force a Southern punt. Sablan would score his second touchdown on the ensuing drive to go up 24-14.
The Dolphins responded with a 50-yard pass from Escuadra to Torres to get to the Sharks three-yard line to end the 3rd. Escuadra would open the 4th quarter with a QB keeper to get within a single score 24-20. Southern would get a final drive to try and tie the game, but errors in late game execution would cost them.
PHOTO GALLERY BROUGHT TO YOU BY:

Foody's 5 Fun Facts
Sanchez QB Jayton Penaflor
DID U KNOW?
Kein Artero has a list of who's who of Artero uncles who've starred in Guam's gridiron: Andre Artero UOG Tritons & Hals Angels OL, Bubba Artero UOG Tritons & Hals Angels OL, Kenny Artero SSHS DB/Baseball Pitcher, Jesse Sablan FD & Hals Angels FB, Roland San Nicolas FD & Hals Angels OL, Chuck Ada SSHS & Hals Angels DB,  Ed "Rock" Artero SSHS & Hals Angels MLB, "Wild" Bill Ada FD & Hals Angels ML, Jared Ada FD & Hals Angels WR/Utility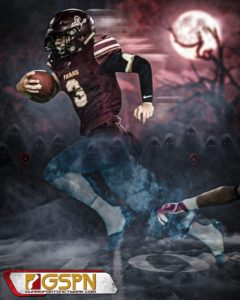 COMING SOON …
– 24th Marianas Fishing Derby
– NFL Week 3: Steelers at 49ers
– Jon Tuck's Bellator debut
QUICK HITS
Dana Holmes is the new UOG men's head basketball coach. In the last two years, he was a coach at FBLG Middle School and most recently a PE teacher at GW.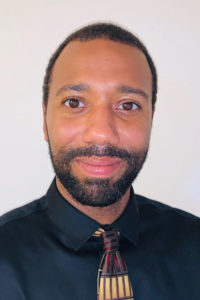 —————————————————-
Pro triathlete Mieko Carey finished third in XTERRA Japan on Sunday in a time of 3:43:02. Her career was on hiatus for a couple of years raising her twin children. It's safe to say the 40-year-old is back in top form. Congratulations Mieko san!