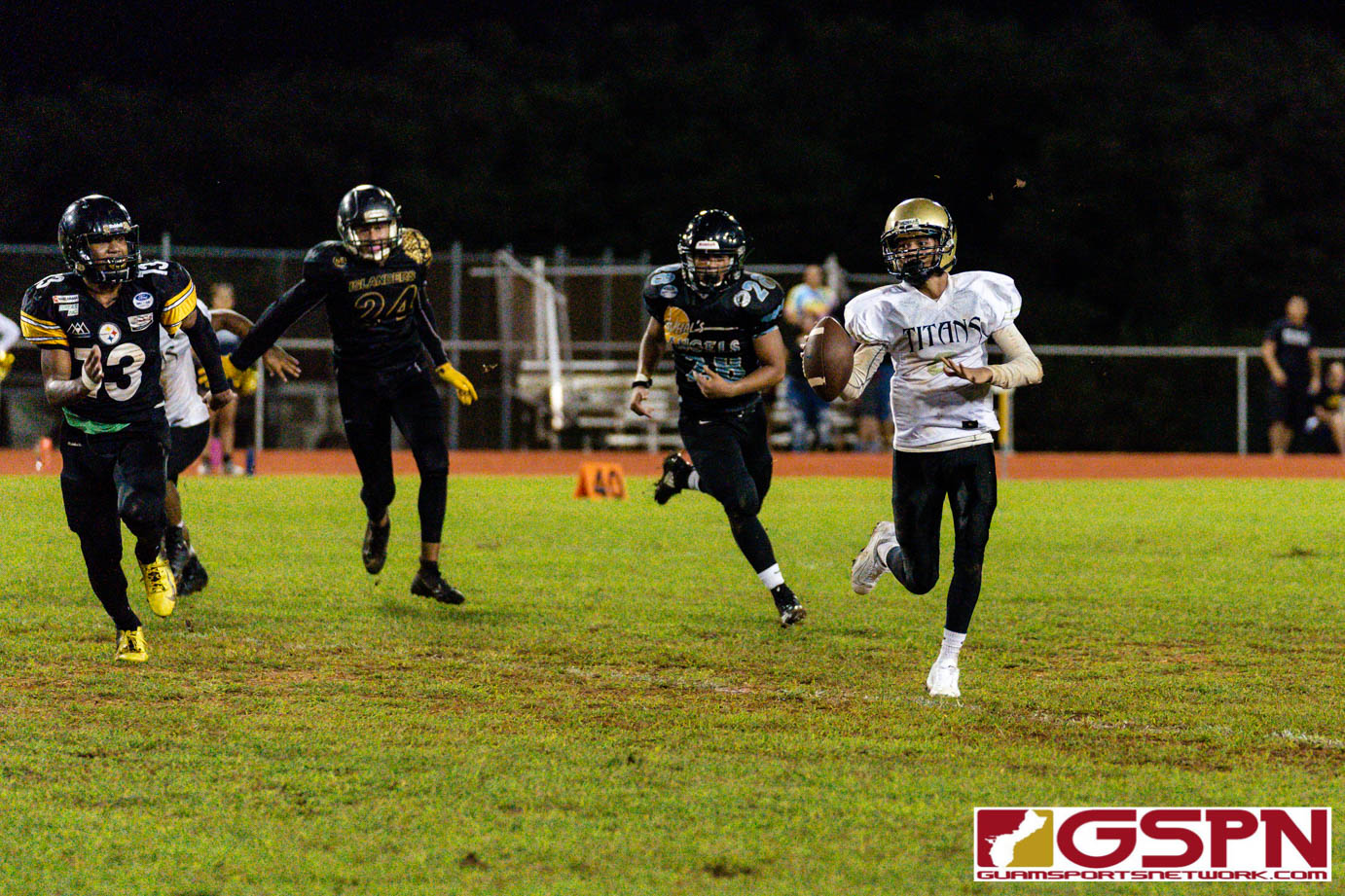 By Robert Balajadia
The Tiyan Titans saved their best plays for their final offensive and defensive series as they stunned the home team JFK Islanders Saturday evening with a 6-0 victory. The night's lone score came within the games final minute on a broken play.
Titan quarterback Kaekoa Leon Guerrero ran loose on a 21-yard touchdown scamper and defensive back Ryan Johnson sealed the victory with an interception to give Tiyan their first win of the season.
With the game coming dangerously close to a scoreless overtime situation, the Titans began to make their move with less than four minutes to go. The Islanders were hit with a holding penalty on 3rd down that negated a conversion in the red zone, forcing them to attempt a deep shot on 4th down.
A pass from Islanders usual receiver/defensive back Nico Velez was intercepted by Davin Mojica at the Tiyan 30-yard line, which set up the game-winning drive led by Tiyan quarterback Kaekoa Leon Guerrero.
Mojica would grab two big pass plays, one for 26 yards followed by a big grab on 3rd down for 28 yards to get the Titans to the JFK 21-yard line. Leon Guerrero was looking for Mojica on the very next play, but double coverage forced Kaekoa to find another option. Scrambling for yardage was working for Leon Guerrero in the game's early goings and he just trusted his legs and his blockers on the play.
"I saw that they started to double-cover [Mojica] so I just took the ball into my own hands. I asked him for a lead block and he gave it to me and I was able to get into the end zone," said Leon Guerrero. "I have to thank my line for helping me get to the end zone, helping me drive the ball and pass the ball. We wouldn't be anything without them."
A failed attempt at a 2-point conversion left the door open for the Islanders with less than a minute left to play. The Titan's secondary knew JFK would have to try and air out a pass to move the ball down the field and Johnson knew exactly where the ball was going.
With quarterback Al Blend sidelined due to an injury suffered late in the 3rd, JFK turned to Quintin Kakas in the 4th. Kakas attempted to hit receiver Jacobe Quinata on the left side midfield, but Johnson was all over it, cutting off the lane for his second interception on the night, followed by a short return to the 25-yard line.
This is the first opponent the Titans have ever held scoreless since Johnson's time with the team to go along with their first win under first-year head coach Reggie Baylor.
"This is a really big accomplishment for our defense," said Johnson on accomplishing the feat. "We knew that they had to move the ball down field so we played pass that whole way."
The Titans lined up in victory formation to run out the clock to officially get their first win of the 2019 season. After getting beat by the Guam High Panthers in Week 1, Tiyan wanted to prove they're a much better team than their first game's performance gave them credit for.
"We took the loss hard last week. We're a new team and we want to get better. We worked really hard in preparation for this game so we won't be losers anymore," said Johnson.
"This moment is going to be a memorable one for sure. I know everyone thinks that Tiyan is 'an easy win' but we're showing everyone that we're coming to play. We may have lost last week, but we show up and we're working hard everyday and pushing hard to get into that Championship game," said Leon Guerrero.
PHOTO GALLERY BROUGHT TO YOU BY:

QUICK HITS
Bishop Obispos beat Mt. Carmel for the IIAAG Middle School Girls Basketball championship 37-25.
—————————————-
The Benavente Roadrunners crushed the Agueda Pirates 17-1 to win the 76 PONY Middle School Baseball League. Rodney San Nicolas was a beat, striking out 13 batters in a complete game while going 4-for-4 at the plate, including a homer and 4 RBI.