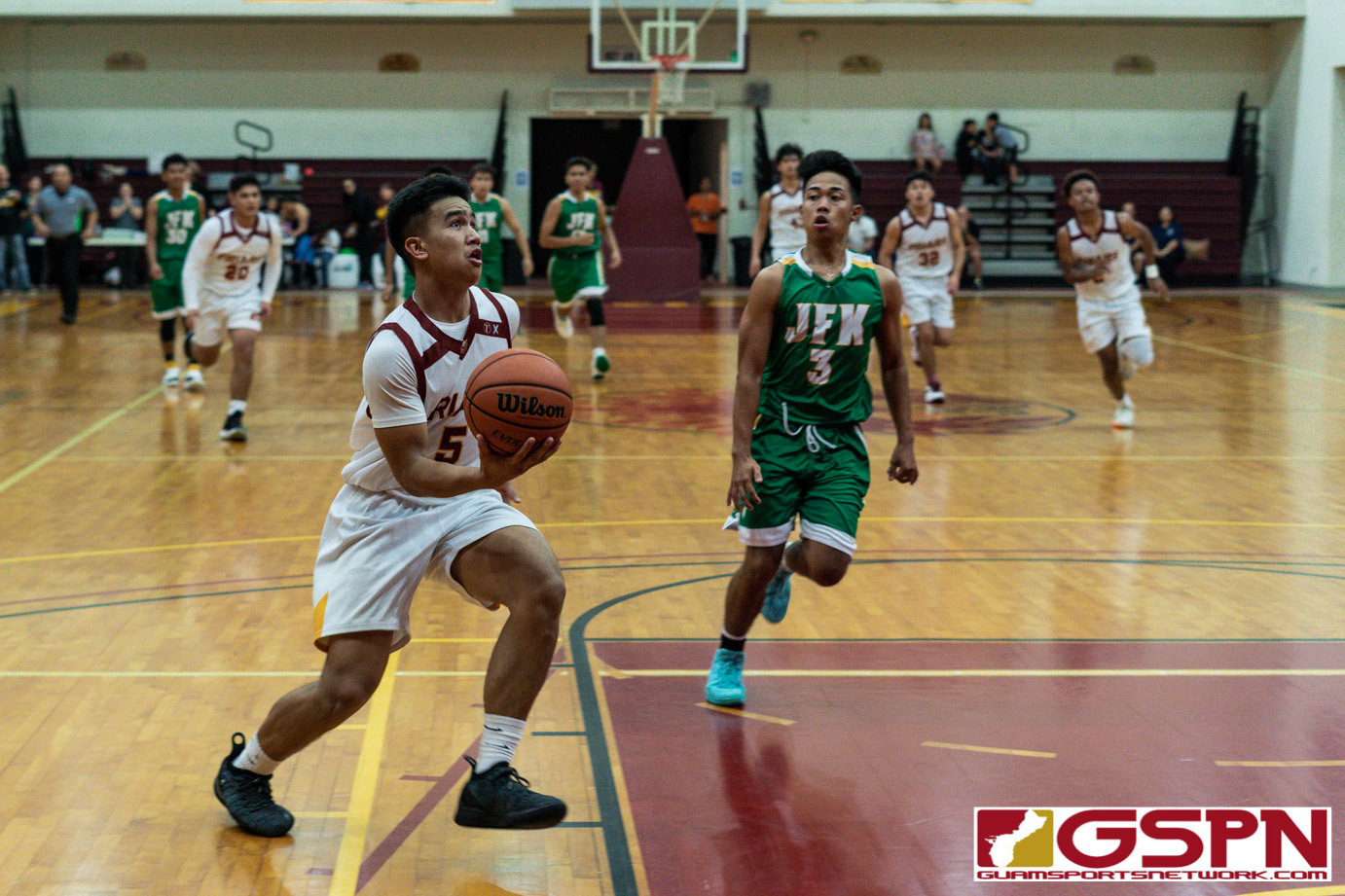 By Brandon Kinsella
The battle for a spot in the Championship Game between the FD Friars and JFK Islanders was decided in a nail-biting Overtime thriller at the Phoenix Center. With 27 seconds left to play in OT, the score was tied at 62. FD decided to chew the clock for a last shot and put the ball in Senior Brandon Soriano's hands.
When the clock wound down to seven seconds, teammate Tony Quinene gravitated toward the ball to alleviate some pressure and keep the Islanders defense guessing. The movement would open up space for Soriano as he drove to the charity stripe and took a mid-range jump shot over Islanders Ralf Manalac. The play was defended well, but the offense was just a bit better as Soriano's shot went in as FD's crowd erupted, celebrating the apparent victory as the final buzzer sounded as the Islanders scrambled to inbound the ball. However, an error at the scorer's table caused the buzzer to sound when the clock should have been stopped after the shot.
The refs added 1.2 seconds to the clock and the Islanders had one more opportunity to either tie or take the lead on an inbounds play. FD Head Coach Eddie Pelkey decided to ice the play and called a timeout as JFK lined up for the inbounds. Following the timeout, FD's defense had every man covered, and Friar Isaiah Pelkey was able to intercept the pass as the final buzzer sounded. The Friars would win the game 64-62.
Following 'the shot', the joy on Soriano's face was seen by everyone in attendance, as nailing the game-winner is a dream come true for most players. When asked about the moment, Soriano kept his casual demeanor:
"I kind of felt it going in. I thought it was a foul though, but it's okay I'm glad we got the win," said Soriano after the play.
In the moments leading up to the game winning shot, free throws proved, yet again, to be a significant difference maker in the game's outcome. In FD's regular season loss to JFK, they struggled tremendously at the free throw line. But this time around with a shot at the Championship on the line, the Friars would make the most of each opportunity at the charity stripe.
Senior Tony Quinene was sent to free throw line on three occasions throughout OT. Each time he was sent to the line, he had an opportunity to give his team the lead. On every opportunity, Quinene was successful in giving his team the lead. Ultimately, the success at the line would keep FD in the game and would help setup the game winning shot for Soriano.
Soriano finished the game with 23 points, and seven rebounds, on 9-of-14 shooting to earn Wendy's Player of the Game. Quinene finished with 20 points and two steals.
Men Down
Plenty of factors contributed to the game's outcome, as both teams had difficult obstacles to overcome in a battle for a Championship opportunity.
Two impact players were absent from the action on Friday night as FD's interior defender Matt Fegurgur did not play because of a concussion injury, and JFK's utility guard King Karl De Mesa was out with a knee injury. Both players are starters on their respective teams.
Game Recap
Every quarter of action was tightly contested and featured exciting action on both sides of the ball.
JFK Guard Jeremiah Kintoki has shown throughout the season that when he finds his rhythm, he is one of the most lethal three-point shooters in the league. He proved that in Friday's matchup, nailing five threes to finish with 15 points.
Kintoki had a huge first half of basketball. In the final seconds of the 1st Quarter, he took a fadeaway three-pointer from near half-court, with two men on him. He still converted on the buzzer beater, despite being heavily contested. The crowd was in awe after the play. Four of his five threes came in the 1st Quarter, and FD made adjustments in the quarters that followed, holding him to just one three before the game's end.
With two minutes left in OT, Kintoki would go down in overtime with an apparent leg injury and would not return.
JFK's always reliable Jerry Ngiraremiang had a proficient night scoring and helped to keep his team in the game when teammate Chris Morikami fouled out in the 4th Quarter.
Ngiraremiang finished with 20 points and six assists. Ngiraremiang would also foul out in the overtime period.
On defense, FD's Raymond Castro would come up huge for his team. In the absence of their interior rim protector in Fegurgur, FD needed to play it smart on defense. In the 3rd Quarter, Castro drew charges three times to give FD possession, which was crucial as every possession mattered in the back and forth game.
Head Coach Eddie Pelkey elaborated on Castro's performance and credited his ability to step up and come up big for the team,
"Raymond did what we expected him to do. We needed people to step up and Raymond has always stepped up for us throughout the whole season. He may not have gotten the minutes throughout the season, but I know when I put him in the game, I can rely on him. Just like I can rely on anybody else on this team."
Despite losing a talented squad to graduation last season, the Friars managed to make it to the Championship Game, a feat that was not accomplished a season prior. Head Coach Pelkey explained how his squad was able to make it this far, despite losing key players:
"We're a basketball program. We develop players from the moment that they are freshmen. And we're confident in what we do with our kids and how they are able to produce moving up the ranks. We obviously played a hell of a lot better than we did in the first meeting. Hats off to Coach Serafico and his team. They never quit, even with a bunch of their guys fouling out at the end, they never quit. We're very very fortunate to walk out of here with the victory."
The Friars will face the St. Paul Warriors in a 2017 rematch for the Ship. The Friars delivered St. Paul's only regular season loss, but Coach Pelkey understands that this time around will be much different,
"We obviously have to prepare. Unfortunately, we don't have the benefit of playing at home this time around. Which is definitely going to even out the odds. A neutral court always makes for a great game. To prepare, we're going to go back and watch film, and see some of the things we did right in our first matchup and some of the things we did wrong. We'll make our adjustments accordingly. I'm sure St. Paul is going to try some things to catch us off guard, and we're going to do all we can to prepare for that."
Soriano closed out the night talking about what is necessary to close out the season as Champions,
"Every game and every practice is a chance to improve yourself. And every practice that we have from here on out is going to be working on improvements so that on Championship night we can get the job done."
PHOTO GALLERY BROUGHT TO YOU BY:

2022 GSPN I MÅS METGOT COMPETITION
2022 GSPN I MÅS METGOT COMPETITION
2022 GSPN I MÅS METGOT COMPETITION
2022 GSPN I MÅS METGOT COMPETITION
2022 GSPN I MÅS METGOT COMPETITION
2022 GSPN I MÅS METGOT COMPETITION
COMING SOON …
GNYFF Championship Saturday
2nd Annual Greg D. Perez Fishing Tournament on Saturday
GML Playoffs
1st Quarter Sports
QUICK HITS
Team Onslaught represented Guam at the National X-Ball League paintball tournament in Sacramento, CA. The squad finished in 3rd place out of 12 teams in the Division 5 category.
Front L-R: Frankie Borja, Robert Delos Reyes
Back L-R: Marvin Reyes, Ericka Camacho, Gavin Santos, Nick Rivera, Nikki Tan, Adrian Mora, Ralph Sgambelluri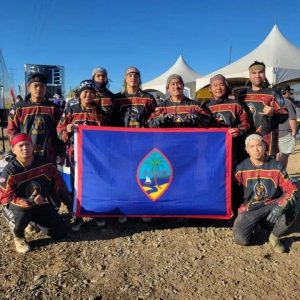 ———————————————–
Purebred Jiu-Jitsu Guam adds three more to their black belt stable. Daniel Cayanan, Cameron Mantanona and Peter Ungacta received their black belts on Saturday from Professor Stephen Roberto.