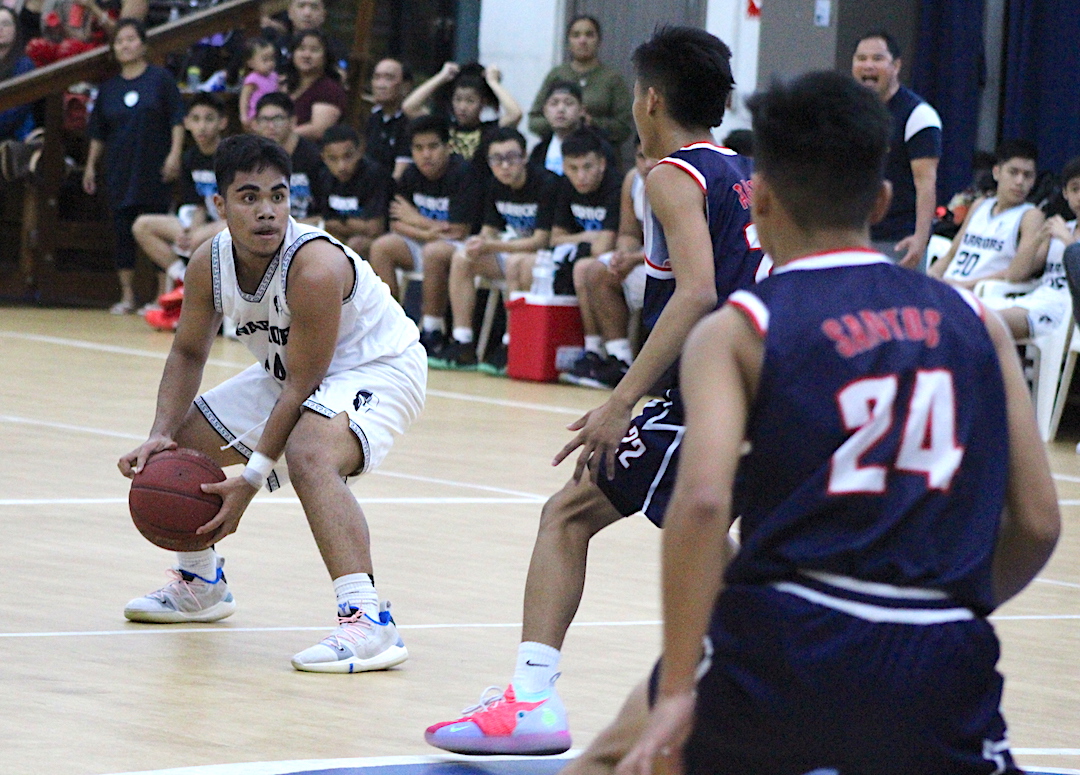 By Robert Balajadia
Even after suffering one of their worst halves of offense this season the St. Paul Warriors proved they can still find ways to win a basketball game. Behind the veteran leadership of Jahmar White and Reo Aiken, the Warriors dispatched the Okkodo Bulldogs in Friday evening's IIAAG Boys Basketball Semifinals 52-44 to get to the Championship Game for the third straight year.
St. Paul amassed just 20 points in the first half, but defense kept them ahead of the Bulldogs, who struggled to hit their shots from the perimeter in the opening quarters. Nursing a 20-18 advantage, White started to get going in the 3rd where he scored 13 of his game-high 19 points.
"That was really frustrating. I've been having slow start to games this season, but in basketball you have to have a short-term memory. You have to just move on to the next play and can't be stuck on every miss," said White.
"I've told this team that we have to win with substance and we aren't always going to win with flash. Last years team would get frustrated because we weren't getting the easy layups and open looks and I reminded them that it's not going to be easy, especially in the playoffs. Tonight they needed to come up with defenses stops and that was the whole key to the game," said head coach Neo Pineda.
Jahmar got fouled on a three-point attempt where he would sink all of his shots from the stripe. The Bulldogs would take their first lead after a Kevin Cabral corner three 27-25 two plays later. Down 30-26, White answered a three pointer from Uno Arizanga and gashed the defense in the lane with a nifty double-clutch layup to recapture the lead 31-30.
White would then nail a jumper from the top of the key to end the 3rd with the game still close 35-33 with the Warriors ahead.
Defense would dominate for the Warriors in the 4th, highlighted by a big paly from Hyato Tsuji. Okkodo's Dale Bautista made a spin move at the top of the key where Tsuji's help defense would poke the ball loose. Tsuji grabbed the loose ball and finished strong at the rim while getting fouled to ignite the home team fans. Tsuji would complete the and-one to go up 40-33 early in the quarter.
"Our culture is to have everyone involved. Throughout the season, they get their playing time but of course when it comes to playoff time we have a shorter bench. These guys know what their roles are and I just had a gut feeling that [Tsuji] was going to play huge and he did," said head coach Neo Pineda.
The Bulldogs made their closest approach at the 5:20 mark after streaky shooter Nico Bonita nailed a three to get within 40-36, but four straight points from Aiken and a layup from Thelo Orichiro gave St. Paul a 10-point lead 46-36 with half the quarter gone.
Aiken would net a layup in the closing minutes, followed by a pair of free throws to further his teams lead while Okkodo went empty on their final four attempts from beyond the arch.
"Okkodo is a good team and we know they have dangerous shooters and a really good big man so we just had to run them off the line and have them force things inside," said Aiken.
"We knew tonight was going to be a battle. Okkodo is a great team and I have nothing but respect for those boys," said White.
Aiken scored 12 points for the Warriors, the only other Warrior in double digits. Bulldogs Dale Bautista and Nico Bonita scored 14 points each to round out the Okkodo leading scorers.
Back to the 'ship
St. Paul makes their way back to the finals for the third straight year and will face the FD Friars in the title game on March 15th. One year removed, the Warriors and Friars meet for the second time in three years with St. Paul taking the title game in 2017. With a full week off to prepare for the last game of the season, the Warriors are going to stress defense.
"We have to hang our hats on the defensive end. Every coach and every team says that, but it's going to come down to who's going to execute. If we can play good defense then we're going to be fine," said Pineda.
"It's so much fun and this is what we all work towards, just to get here. The hard work pays off and it's all fun," said White.
"We just have to keep playing how we did all season. We've played so well all season and we just need to do what we've been doing," said Aiken on the teams approach.
PHOTO GALLERY BROUGHT TO YOU BY: