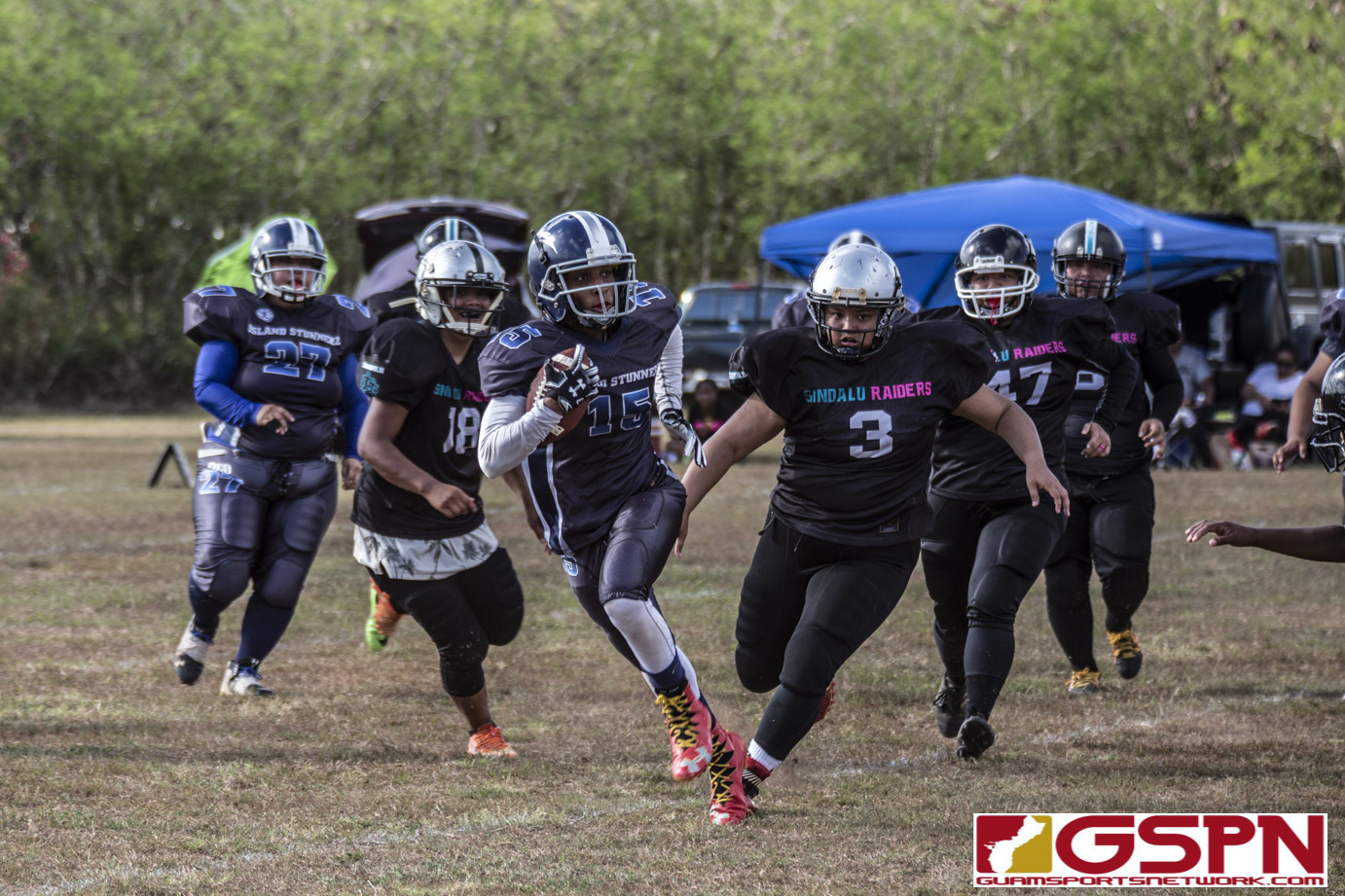 By Nicholas Akimoto
The Island Stunnerz managed to punch their ticket back to the GWTFL Championship game after overcoming the Sindalu Raiders with a 18-6 victory. The Stunnerz' offense was clicking on all cylinders as they managed to find success in the air and on the floor. Lani Jackson orchestrated the air raid on the Raider's secondary while Danielle "Dani" Vaughn blazed by defenders on the ground.
The Stunnerz defense also managed to hold strong against the Raider's onslaught of talented backs. Emiliana Cepeda took advantage of a few missed assignments from the Raider's line to find her way into the backfield.
"Every game, we always go in and go hard," Said Cepeda. "I just listen to the coach if they tell me to crash in or go out."
The Stunnerz held the lead for the entire game, but the Raiders were unwilling to go down without a fight. The Raiders continued to push to overcome the deficit, and after a 62 yard touchdown pass from Chelsea Gofigan to Leticia Blas cut the lead down to 12-6, the Raiders began to rally.
All possibility of a comeback would be dashed, however, after Dani Vaughn broke away for a 65-yard rushing touchdown to seal the game and ensure the Stunnerz trip to the title game.
While the Stunnerz were ecstatic to have another chance to compete for the coveted GWTFL title, they will unfortunately be without their star quarterback, Lani Jackson, who sustained a devastating injury in the fourth quarter of the game. She had to be escorted off the field by the paramedics.
"We're going to fight harder for her. We have women who are gonna come up and step up in her position and do what she wanted us to do, which is to win that game," said Vaughn on the effect that Jackson's injury had on the team.
The final game of the season will be a rematch between the two top teams in the league, Island Stunnerz and Team Legacy. The last time these two teams met up in the championship, Legacy managed to steal the game away due to some late game heroics from Jalana Garcia.
"I feel like our team is up to the challenge. Our coach has always said to keep going back to that game and watch the end of it because it will make us fired up and wanna get that win," said Vaughn.
PHOTO GALLERY BROUGHT TO YOU BY: