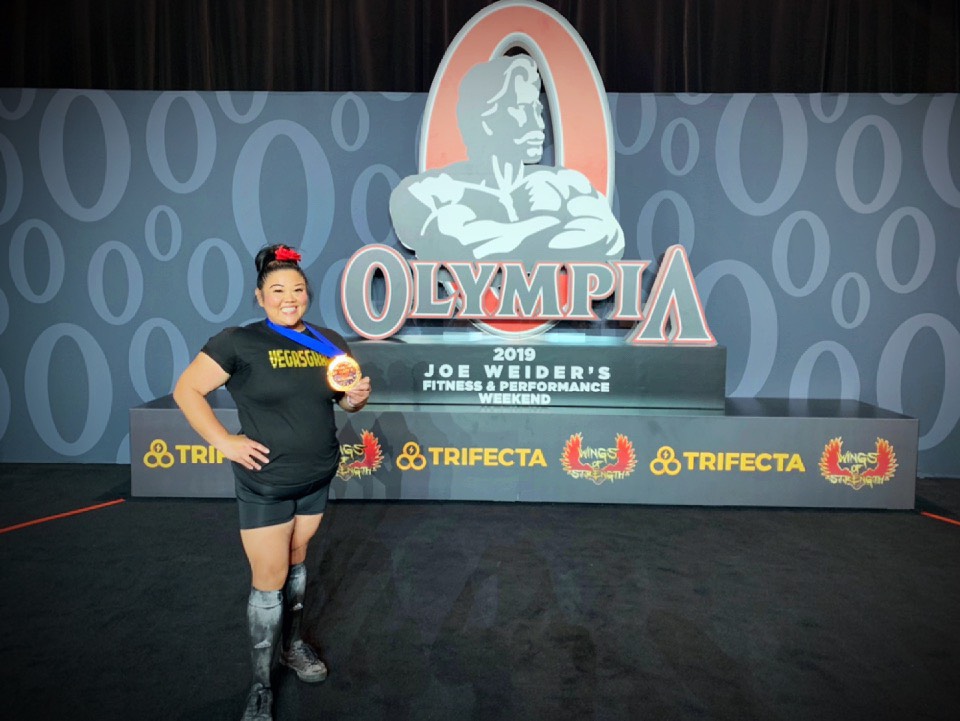 By Brandon Kinsella
Over the weekend of September 13-15, history was made in the 2019 International Powerlifting League at the Olympia Invitational in Las Vegas, and Guam Powerlifting athlete Grace Tacuyan-Witt was the reason for it. At the competition, she broke both national and world records in the 90kg Master's Division (Age 40-44) Raw Deadlift category, lifting 220 kg (485 lbs.), which equals more than double her body weight! 
Grace was ranked #1 in her age and division for deadlifts and #3 in the world! She described the emotions following the record-breaking victory, 
"I felt that all the hard work I put into training was well worth it. Sometimes you question yourself in training and wonder if this is all worth it, and when you win, the taste of victory is sweeter than any piece of cake you can have."
Tacuyan-Witt represents the United States Powerlifting Association in her meets, but she does all of her training here at home for competitions. Guam does not have its own Federation, but we are currently an affiliate in the USPA.
She began competing at the age of 36 and is now 42. Her message to aspiring athletes on the island of Guam is this:
"It's never too late to try something new, and it doesn't matter where you're from. You can be a champion in whatever sport, if the right effort is exerted, you give 100% and you focus on yourself with a belief that nothing can stop you."
Tacuyan-Witt trained for 10 weeks in the moments leading up to the event but started prepping herself mentally as early as 12 weeks out. The hard work and sacrifice has definitely paid off, but her work is not finished. Tacuyan-Witt wants to help other powerlifters achieve their goals and plans to coach these next few months,
"Right now, I plan to take some time off, possibly 3-6 months. I'll be coaching and getting a group of lifters ready for their upcoming meet in March. But if I could actually get to the level I need to while coaching, I may also compete. But the focus right now is coaching."
Aside from competing, Tacuyan-Witt also represents Guam in the USPA as the Chairperson for the island. In 2016, Guam had no representation in the USPA. In an effort to change this, she reached out to the VP of the Federation to establish Guam as an affiliate, so that those who come from Guam can establish "State" (or island) records.
Since the establishment of Guam as an affiliate state, 13 lifters have travelled off-island to compete. Tacuyan-Witt is also a coach and specializes in beginners and competition preparation. 

COMING SOON …
High school girls volleyball playoffs
Brawl 3: Oct 13
Guam's Strongest Man and Woman Competition October 29
QUICK HITS
The Figo Islanders 40s women's softball team took gold in the Senior Softball World Championship in Las Vegas. Figo came out of the loser's bracket and beat the Arizona Belles 17-3 in the AA division championship game Sunday afternoon.
Other Guam teams that played in the 40s tournament were: Team SOTTA (women's) and Bud Light Guam, Friars 671 and Sindalun Guahan (men's).
Sindalu finished a respectable 4th out of 24 AAA division teams.