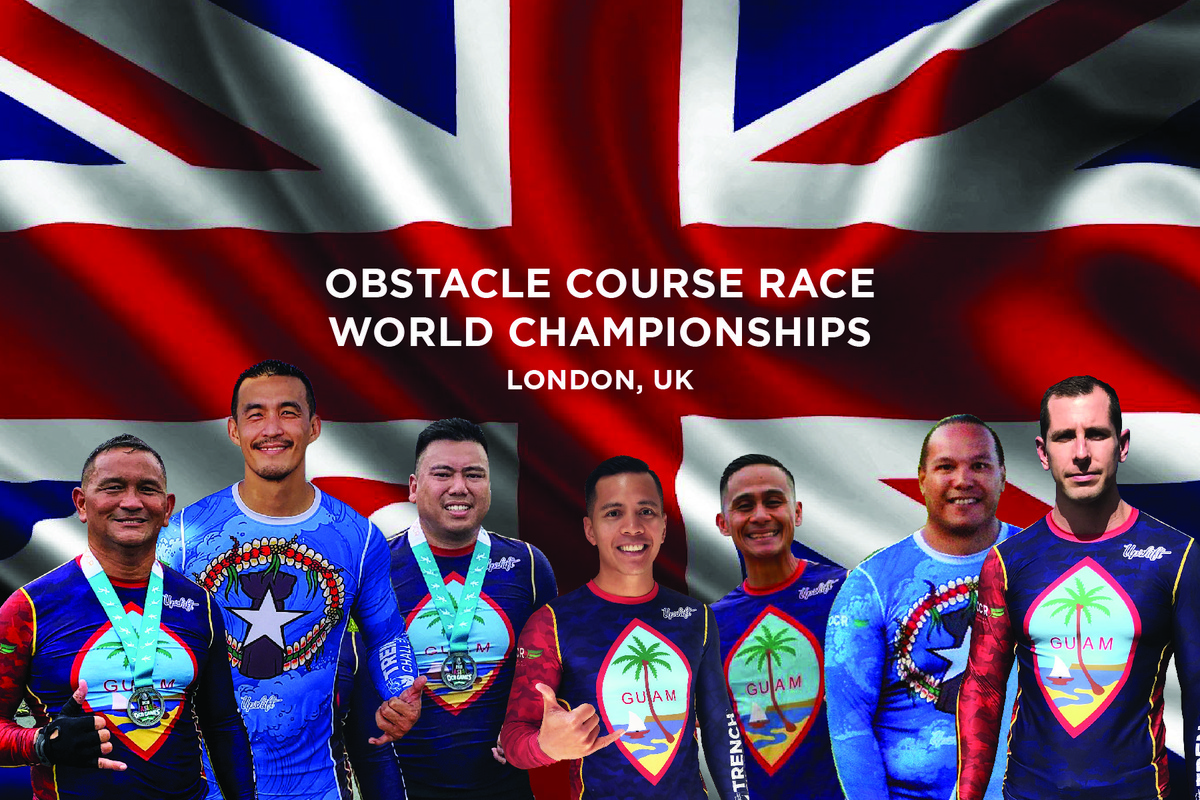 After a successful TRENCH™ CHALLENGE, Guam's Obstacle Course Race that took place at the Guam International Raceway on Sunday, September 29th with over fifteen hundred people in attendance, qualified athletes and representatives from Guam and Saipan are heading to the United Kingdom, London to compete in the Obstacle Course Race World Championships October 11-13. This will be Guam's 3rd time and the CNMI's first time at the event.
Guam and Saipan will be among 68 countries in attendance with over 5,000 athletes this weekend.  
Representing Guam:
Brian Johnson (Age Group 35-39) 15km Championships, 15km Team Relay
Billy Navarrete (Age Group 30-34) 100m, 3km, 15km Championships, Team Relay, 7km Charity.
Deren Perez (Age Group 35-39) 100m, 3km, 15km Team Relay
Tom Akigami (Age Group 35-39) 3km
Jeffrey Rios (Age Group 45-49) 3km
Representing CNMI:
James Lee (Age Group 35-39) 3km, 15km
Rodney Camacho (Age Group 35-39) 3km, 7km Charity
Live updates to be posted on Trench Challenge Instagram and Facebook. Results will be sent out via press release.

TRENCH CHALLENGE 2019:
Featured several newly built obstacles like a giant 60ft long Monkey bar obstacle, bridges across containers, large rubber buoys to get over, 6ft and 8ft walls, a cargo net pulled across the ground with Ford trucks to name a few to the total of 34+ obstacles.
Simultaneously happening as part of the FitAid General Fitness Competition, a total of 16 teams of 4 from different Gyms around the island participated in the event. Hundreds of Recreational Division entries had combined teams as big as 50 people of all shapes, sizes, and athletic ability. Companies enrolled to use it as a team building and bonding exercise. Families and friends joined together as a team and challenged the course together. 
Official charity partners Special Olympics Guam had a dedicated start time where all of the proceeds of that start time will be donated to the organization.

The competitive side of the event featured 40 entries in the Elite Division (Qualifier for the 2020 OCR World Championships + 2020 North American Championships in Vermont) and 22 teams in the 4-Man Team Challenge. (Complete results posted on trenchevents.com)
RESULTS
Elite Division Male Top 3
Brian Johnson (1:10:04)
Ryan Matienzo (1:12:52)
Angelo Macugay (1:16:12)
Elite Division Female Top 3
Jaime Jones (1:40:16)
4-Man Team Challenge
Team Steel Athletics – JJ Ambros, Akmal Khozehiev, Desi Eay, Genevieve Rapadas (1:17:29)
Double Date 2.0 – Ivee Illao, FJ Chargualaf, Kent Silva, Taylor Crisostomo (1:25:59)
Team Texas – Damien Khoo, Len Thompson, Bret Casimiro, Janice Avanzado (1:35:45)
TRENCH CHALLENGE 2020 is already set for September 20, 2020. Early Bird Registration opens this weekend. For more information on this event, find Trench Events on Facebook, @trenchchallenge on Instagram , visit trenchevents.com or email: [email protected]