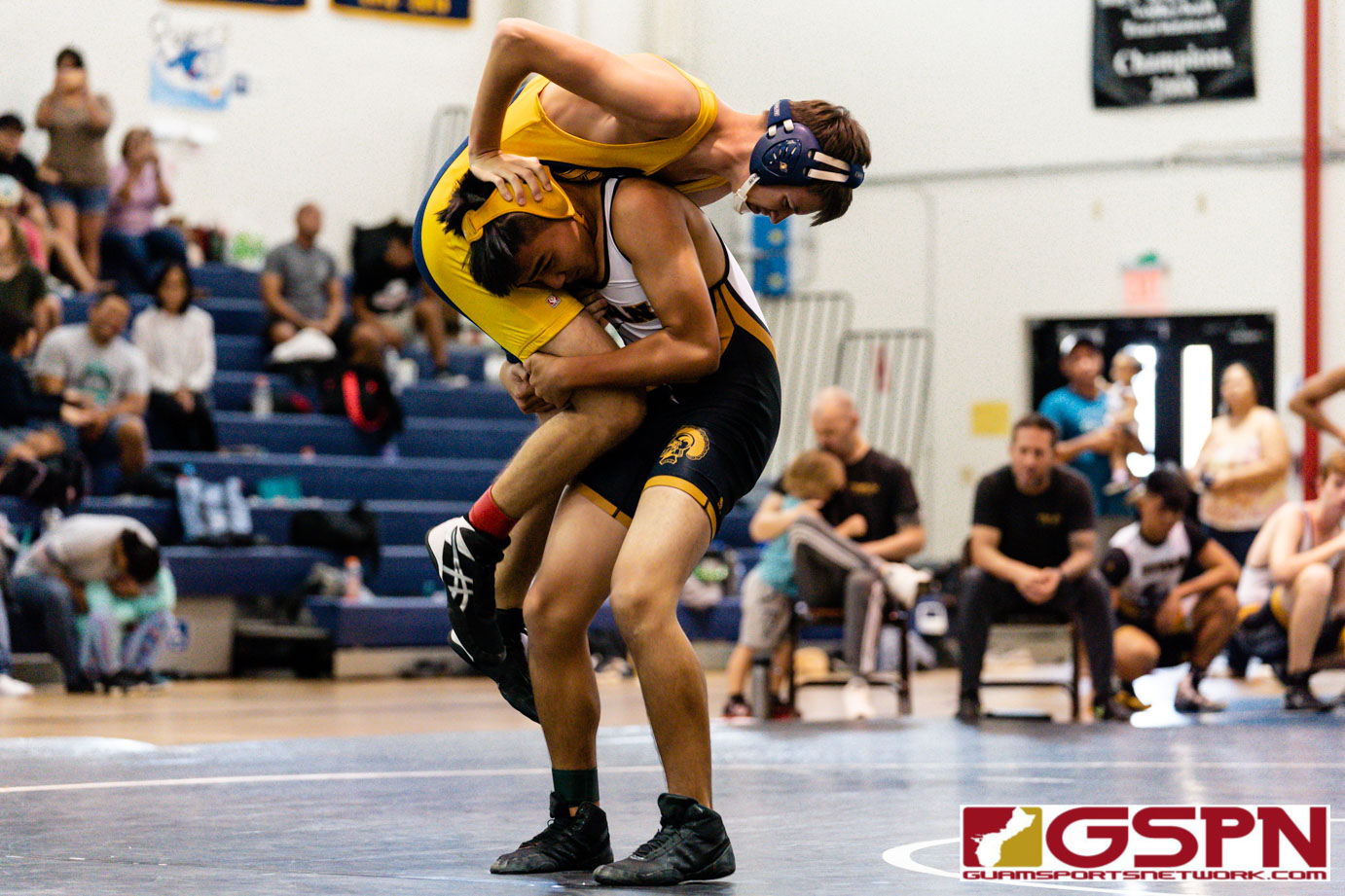 By Jay Leon Guerrero
The Tiyan Titans and FD/Academy Friars each added wins to their record in the IIAAG Wrestling League during dual meet action Saturday at host Guam High School. It's going to be an exciting All-Island this year with no clear frontrunner to win the title in both divisions.
With two weeks in the regular season, the Titans are heading into the all-island meet with a ton of confidence. The Titans are strong in the light-to-mid weight divisions with several potential wrestlers looking to make it to the gold medal matches.
"Our team can do it for both boys and girls as long as we continue to keep pushing each other in practice," said senior Tiara Fernandez. Fernandez, a senior, helped the Titans improve to a 7-2-1 record in the girl's division.
Fernandez won both of her matches on Saturday via pin fall, she looks to contribute by making the All-island finals to give her team some much needed points to win a championship. The other top female teams include GW, Southern High and Academy.
"I still need to work on some stuff," said Fernandez "But I still feel confident heading into the All-Island."
Tiyan boys improve to 9-1
The Tiyan boys improved to 9-1 for the season, they were the only team to defeat the FD Friars. Caleb Quitugua, a freshman wrestling at 145 lbs., recorded a win via pin fall to help the Titans defeat Guam High 54-12.
"My coaches were intense during my match and I was just listening to their instructions," said Quitugua. "I was a bit worried because my opponent today was very tall but it all worked out in the end".
The Titans boys suffered their only defeat to the Okkodo Bulldogs two weeks ago, they will have a rematch next week.
FD/Academy get wins
Both teams recorded convincing wins versus Guam High and Sanchez to also build momentum heading into the all-island meet. The Friars improve to 9-1 and will go against JFK and GW next week. Academy improves to 8-2, suffering losses against GW and Southern High.
Gambala vs Whitt
Despite the loss, the Sharks got a huge victory in a much anticipated match between Kaleb Gambala and Gavin Whitt. Both wrestlers are very popular in the league and have been demolishing their opponents in their respective weight divisions. On Saturday, they matched up against each other on neutral ground.
It was a very technical match with both wrestlers showing good offense and defense. In the end, Whitt garnered enough points to take the 11-4 victory after three rounds.
"I was originally supposed to wrestle at 132 lbs. but I missed weight by one pound. So I ended up wrestling in the 145 lbs. division against Guam High and 138 lbs. against FD, a weight that Kaleb (Gambala) bumped up to face me," said Whitt.
Whitt maneuvered his way to a key takedown in the second round to go ahead on points and never trailed thereafter.
"He's strong for his weight and he has a lot of heart, something you can't teach," said Whitt about his opponent. "I may wrestle the all-island at a heavier weight division, though, it all depends on my training and how that goes."
The fans were treated to a nice technical matchup, they applauded both athletes as they displayed good sportsmanship after the match.
Meet results
Girls:
FD/Academy 42, Guam High 12
Tiyan 42, Sanchez 6
FD Academy 48, Sanchez 0
Tiyan 42, Guam High 18
Boys:
Tiyan 54, Guam 12
FD 50, Sanchez 16
Tiyan 38, Sanchez 28
FD 63, Guam High 15
PHOTO GALLERY BROUGHT TO YOU BY: