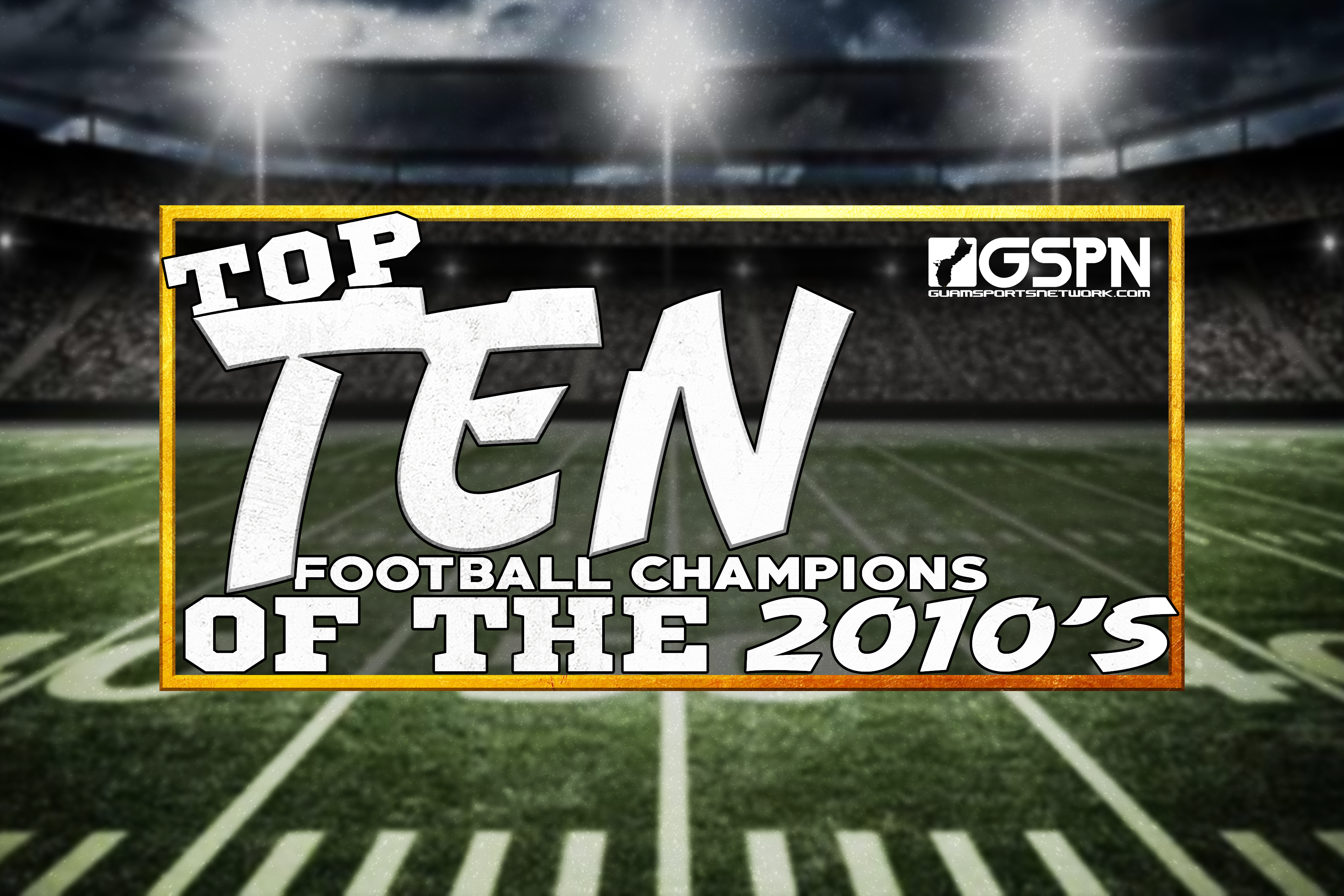 By Michael Cruz
The 2010's ended with five straight titles by FD, a 48-game winning streak (Guam Prep Football Record), and early candidate for team of the century. FD won 5 titles, GW 2, Sanchez 2, and Guam High 1 this past decade.
Guam High's Matthew Eaton (2009-2010) was the first Division I football player since FD's Brandon Knapp from the 1990s. He also was the first NFL player to play pre-season since Sanchez's Andy Haase from the 1980s. The 2010's was a record decade for prep players going on to play collegiate football.
The start of the GSPN All-Star Game and Chad Ikei's annual combine has given players a chance to shine in the post season.
Current college players include: De'Aundre Cruz (FD/Southwestern JC), Christopher Parker (JFK/DeAnza College), Kai Akimoto (FD/Macalester College), Brian Anderson (FD/Macalester College), Andrew Fichter (FD/Ave. Maria College), Chase Spotanski (JFK/Moorpark College), Sincere Powell (Guam High/Mayville State), Jonah Hahn (JFK/Linfield College), and Kini Makaneole (Guam High/Western New Mexico).
#1 FD Friars (2017)
This team was loaded with talent. De'Aundre Cruz was a first team running back and senior transfer Xavier Naputi won Offensive MVP All Island as a wide receiver. Daniel Phillips played QB and never lost a game as a starter. Isaiah Reyes should have won Defensive MVP. The Friars rolled to a 34-0 win over a strong GW team in championship. Arguably, the best FD team of All-Time and dare I say the greatest Guam prep team ever?
#2 GW Geckos (2011)
A very strong team that won every game by 14 points or more. Rebounded from 2010 Championship loss to Guam High and poleaxed every team week to week. This video is proof:
#3 Guam High (2010)
The best Guam High Panthers team in school history. Loaded with college talent and only 30 on entire roster. Known as the Dirty 30, they overcame a spirited effort against GW to make school history.
#4 FD Friars (2018)
The Friars didn't just rebuild, they reloaded. Kein Artero, Anderson Brothers, and a new revamped defense rode to another championship. The championship game versus GW was game of the year in 2018. Former player Nick Akimoto put together a tribute video to the season:
#5 FD Friars (2016)
Friars repeat as De'Aundre Cruz wins Offensive MVP and Joaquin Mesa wins defensive MVP. This was the first back-to-back Friar title in their run.
#6 FD Friars (2015)
The start of the streak ended with decisive win over GW in Championship game, a year removed from losing to the Geckos in 2014.
#7 FD Friars (2019)
Kein Artero ended career as offensive MVP for the second straight year and the FD defense dominates all season.
#8 Simon Sanchez Sharks (2012)
Sharks overcome loss to regular season champion Guam High and advance to win championship over Guam High conqueror GW.
#9 Simon Sanchez Sharks (2013)
The wishbone reigns again as an early forfeit loss to Guam High ends with a championship win over Guam High conqueror GW.
#10 GW Geckos (2014)
The Geckos rebound from back to back championship losses to Sharks in 2012 and 2013. The last team to beat FD before the streak.
Offensive Player of The Decade
De'Aundre Cruz – FD Running Back (2014-2017) – Once in a generation talent who started at running back for Friars for 4 years. He is currently a freshman linebacker at Southwestern Junior College in Chula Vista, California.
Defensive Player of the Decade
Michael Hocog – GW Nose Guard – Played only two seasons of high school football and won defensive MVP, All Island twice in 2010 and 2011. Hocog paved the way for his younger brothers Kelvin and Damon, who also went on to win defensive MVP in their own rights!


QUICK HITS
Bishop Obispos beat Mt. Carmel for the IIAAG Middle School Girls Basketball championship 37-25.
—————————————-
The Benavente Roadrunners crushed the Agueda Pirates 17-1 to win the 76 PONY Middle School Baseball League. Rodney San Nicolas was a beat, striking out 13 batters in a complete game while going 4-for-4 at the plate, including a homer and 4 RBI.