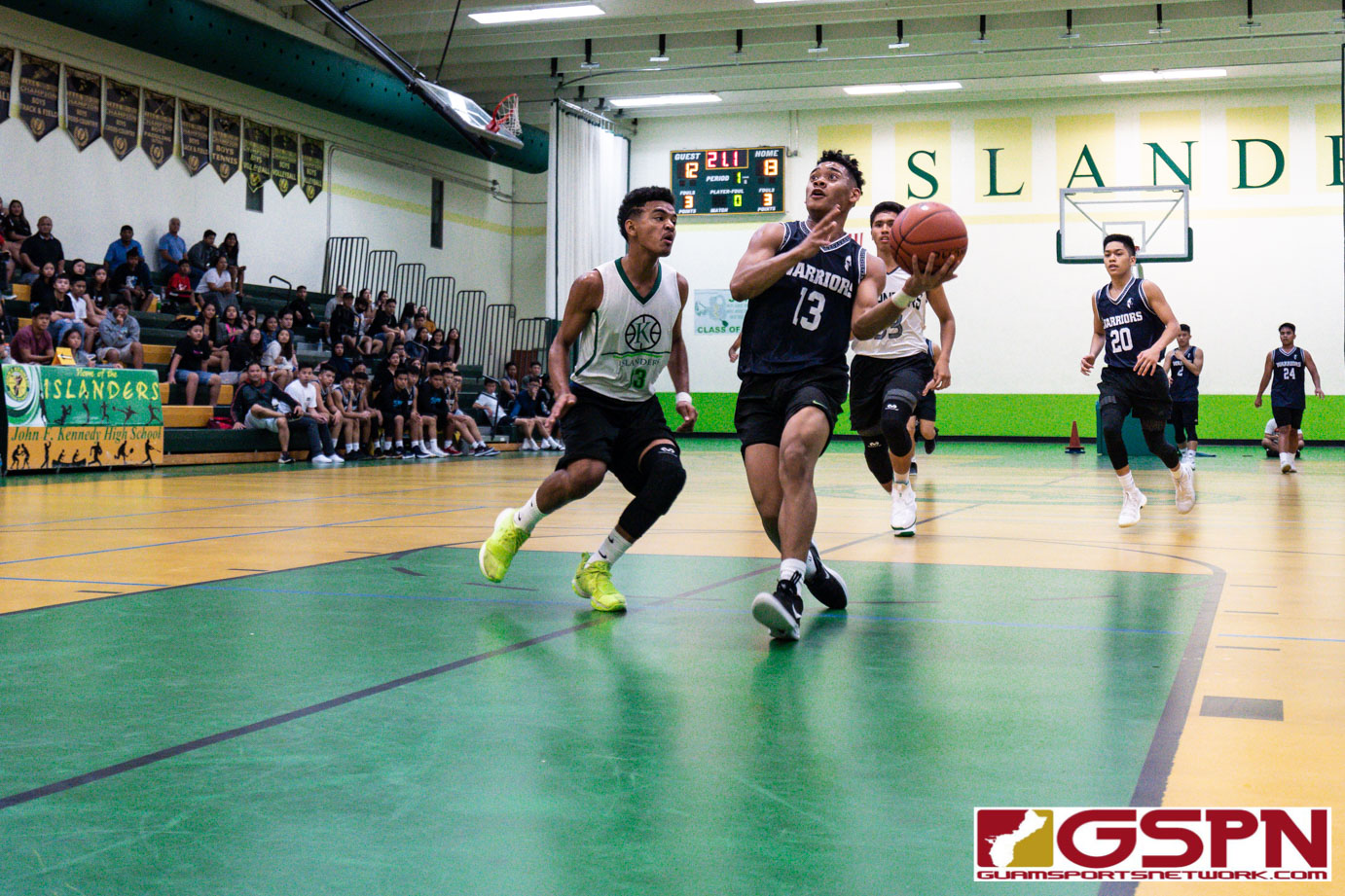 By Jay Leon Guerrero
The St. Paul Warriors came to play Saturday night. The Warriors made a statement by defeating the JFK Islanders 59-39 at JFK to improve to 2-0 in the IIAAG Boys Basketball League.
It may be an early regular season game, but the significance may show later for playoff home court advantage purposes. Three lead changes occurred in the first quarter in what previewed to be a close game between two teams in the same division. However, the Warriors had other plans and opened up the second quarter on a 10-2 run after the Islanders committed four turnovers.
The Islanders were not the same team as the night before, showing intensity and most importantly confidence in their victory against divisional rival Okkodo.
JFK scored a season low six points in the second quarter and quickly dug a hole they were unable to get out of.
"We started to get into a rhythm in the second quarter and started to play better defense which turned into our offense," said St. Paul guard Jahmar White.
JFK point guard Jerry Ngiraremiang provided a heavy load of the offense in the opening quarter, nailing two deep three-pointers to grab an early 10-9 lead.
Ngiraremiang and White guarded eachother in a showdown of the league's premier scorers. Both dazzled the crowd with nifty moves and drives to the basket. The difference seemed to be the Warrior bench which continued to score as the starters rested. Brandon Miranda scored on a pair of drives to the basket and later netted a three-pointer to help the Warriors capture a double-digit lead.
Warrior starter Reo Aiken closed out the half with a three-pointer to lead 35-19 by the break. Aiken, White and Thelo Orichiro continued to add insurance points in the third quarter as JFK fans headed for the exits with the home team trailing 45-25 after three quarters.
Ngiraremiang had 11 points to lead the Islanders. Chris Morikami chipped in nine points and center Lawrence Tisalona grabbed a game high 12 boards. The Islanders suffered their first loss of the season and drop to 2-1. The Islanders will have another chance at revenge when they play the Warriors at St Paul next month.
White and Aiken each scored 13 points, Miranda scored nine points off the bench.
"We were still able to pull off the win as bad as we played. The win gives us a good feel of what is to come for the playoffs," said White.
In the junior varsity game, the Warriors pulled away late in the fourth quarter to win 41-36. Jeffrey Labanza from the Warriors led all scorers with 18 points.
PHOTO GALLERY BROUGHT TO YOU BY: