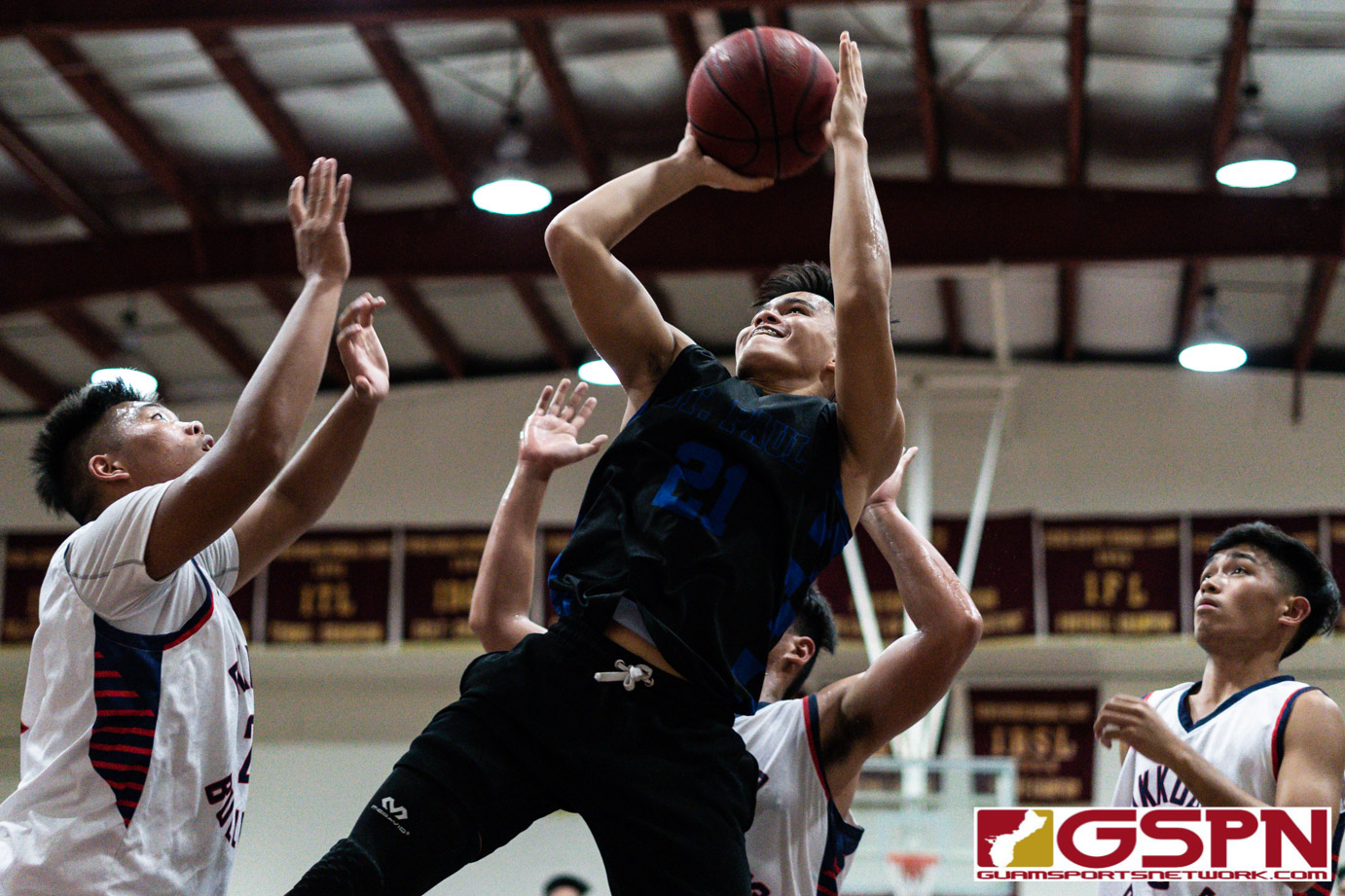 By Robert Balajadia
The GSPN Preseason Basketball Tournament is winding down and the St. Paul Warriors have already earned their bid to the Championship Game after beating the Okkodo Bulldogs in a 'win to get in' game Tuesday evening. Both teams were entering the night (3-0) as the Warriors held off a furious rally from Okkodo in the 4th to get the win.
The Guam High Panthers defeated the Harvest Eagles in the earlier game to add one more game on their schedule as they will play the 7th place game Thursday evening.
Panthers 47, Eagles 35
With a tournament exit on the line, the Panthers and Eagles were hungry for a win as both teams came into the night (0-3) in challenging Pool A. Winner would get an extra game on the schedule and the Panthers already made reservations for Thursday night.
The Panthers were led in scoring by Ryan Taitague's 15 points and the Eagles got a 13-point night from Jacob Oshiro.
Warriors 81, Bulldogs 66
A competitive first four minutes, followed by two quarters of Warriors domination ending in a Bulldog rally to cut a near 30-point lead to just five made for a fun Tuesday evening of basketball. The top two teams in Pool B were battling for the Championship spot and the win sends the Warriors to the preseason championship game for the second time in three years.
Warrior Jahmar Whites scored a team-high 24 points while overcoming a big night from Bulldog guard Nico Bonita, who scored 25 points which included seven three pointers. Bonita caught fire from deep in the 4th, hitting his third straight three to carve the 27-point Warrior lead to 68-63 with three minutes to go.
The Warriors would clamp down on defense, closing out the final moments of the game on a 13-3 run to secure their spot in the title game.
Standings
Pool A
JFK 3-0
FD 3-0
GW 2-2
Guam High 1-3
Harvest 0-4
Pool B
St. Paul 4-0
Okkodo 3-1
Sanchez 1-2
St. John's 1-3
ND 0-3
Schedule
Wednesday (1/9)
Sanchez vs. ND – 5:30 pm
FD vs. JFK – 7 pm
Thursday (1/10)
7th place game: Guam High vs. St. John's 5:30 pm
5th place game: GW vs. Sanchez 7 pm
Friday (1/11)
3rd place game: Okkodo vs. JFK/FD loser 5:30 pm
1st place game: St. Paul vs. JFK/FD winner 7 pm
PHOTO GALLERY BROUGHT TO YOU BY: