By Robert Balajadia
In the final game on high school basketball's biggest stage, the league MVP in St. Paul Warrior Jahmar White put on one last show.
White scored 28 big points, putting the offense on his shoulders down the stretch to defeat the FD Friars 44-41 to win the 2019 IIAAG Basketball Title at the UOG Calvo Field House Friday evening.
"That guy just refuses to lose. I don't even know what to say about him anymore," said Warriors head coach Neo Pineda on White's performance. "The last minute of the game he had a cramp but he refused to be taken out of the game. He carried us on his back. He is deserving of the MVP and everyone saw it tonight."
"[Jahmar] has been doing this for us since he came into the league; he's the MVP," said Reo Aiken.
And of the two titles he helped bring to St. Paul during his tenure, this one is just a bit sweeter.
"I have to say this one over the other one (sophomore year)," said White on where this title ranks. "Finishing the season as the MVP and how close this game was, it really came down to the wire. But I really wanted to come out and win this one. Winning MVP is fun, but none of that matters if you don't win it all."
The championship game was as good as advertised featuring 10 total lead changes with no lead getting bigger than six points.
With the Friars down 42-41 in the final 20 seconds, a jumper from the right wing was misfired by Friar Tony Quinene as Warrior Thelo Orichiro grabbed a crucial defensive rebound and immediately looked up court. A streaking White was open on the left as Orichiro tossed the ball ahead to White for the lefty bucket, giving Orichiro his eighth assist on the night. White would score the team's final seven points, including the left-hand layup on the break to give his team a 44-41 lead with 11 seconds on the clock.
The Friars burned a timeout and had to go the length of the court to try and extend the game down three points. The pressure defense forced FD into a difficult shot as a heave from guard Isaiah Pelkey proved short against a swarming Warrior defense. St. Paul stormed the court and dog piled White, celebrating their second title in three years.
"It's a great rivalry and every time we play each other we just bring the best out of each other. Hats off to FD man, they really came to play. Eddie Pelkey just made adjustment after adjustment and it was very difficult to beat them. It's just sad that somebody had to lose today," said Pineda.
"FD came out and fought tonight. These are the games you dream about playing and competing in. Mad props to the FD boys for fighting hard tonight," said White.
White led all scorers with 28 points and four steals. Aiken finished with eight and Orichiro grabbed eight rebounds, dished eight assists and had six steals to make up for an off shooting night.
Quinene led the Friars with 17 points and teammates Brandon Soriano and Christian Leon Guerrero added eight apiece.
Game Recap
Orichiro would net the games first bucket off a steal, which would end up being his only field goal of the game. Quinene answered with a jumper from the corner and the Friars took their first lead off an and-one bucket from Soriano 5-2. Jahmar would score his first bucket to get within 8-6, but a corner three from Quinene would put FD up 11-6 late in the opening quarter. The Friars turned the ball over on back-t0-back possessions which led to a deep three pointer from White as the quarter buzzer sounded with the Friars nursing a 13-10 lead.
White started to get going in the 2nd, scoring seven of the teams first nine quarter points. White and Quinene would trade three pointers with FD up 23-22 before the Warriors would take their first lead off a White layup 24-23. Jahmar would heave up another deep three as the 2nd quarter came to a close, but his miss opened the door for a put back from Audrey Dela Cruz to put the Warriors ahead 26-24 at the half.
Even in the heat of battle, White took notice to what Quinene was doing in the game which prompted a friendly exchange between two fiery competitors.
"I like that. I told [Tony] at the half to keep competing because this is fun. This is the kind of match up I wanted to have in my final game so props to him for what he did tonight," said White.
"We've been on trips and worked out together and I love to compete against him because he brings the best out of me. It sucks that we weren't able to get out of this, but I'm happy for him," said Quinene on battling White.
Aiken would make his biggest plays in the 3rd scoring four straight points to go up 32-26, the teams biggest lead of the night. Quinene would trim the lead off a corner three, only to tie the game on the very next possession with a three from the wing to erupt the Friar sideline. Orichiro would net his final point from the free throw line with 7.7 seconds in the quarter to give St. Paul a slim 33-32 lead heading into the 4th.
Friar Matt Fegurgur, who was questionable to play heading into the night, would fly in for a huge rejection on Orichiro that led to a Soriano layup as FD recaptured the lead 36-35 at the quarters midway point. Aiken would convert for a 37-36 Warrior lead and Soriano answered right back with a three from the left wing to get up 39-37.
Then, on the other end, a pivotal play would ensue at the 3:30 mark. Quinene and Orichiro would get tangled up on a rebound with Orichiro getting called for an over the back foul. Quinene would shake loose of Orichiro's hold to which the official would tag Tony with a technical foul for trying to break free. Friar head coach Eddie Pelkey would erupt on the sideline pleading for an explanation on the questionable technical, but the call would stand giving the Warriors two free throws and possession.
White would hit just one free throw as they still trailed 39-38.
Quinene would convert on a jumper from the left wing to go up 41-40 moments later. Up 41-40, Fegurgur would then get stripped from Orichiro after a bad hand off that led to a fast break opportunity. Thelo would miss the layup in transition, but White was there for the put back to go up 42-41 with just over two minutes to play.
FD would force a turnover on the inbound play to set up their offense in the final minute, but the missed shot from Quinene would lead to White's last layup. The Warriors pressed the Friars the whole way down in the final 11 seconds, forcing Pelkey's desperation attempt after a double team got the ball out of Quinene's hands.
Despite the loss, Friar Tony Quinene put on a strong final performance in his final high school game and he reflected on his breakout season.
"There's no better feeling than being here and both teams giving their all. This has to be one of my favorite games ever with my favorite team that I've been with. I knew that this team would make it here, but sadly it just didn't go our way at the end," said Tony.
Editors Note
The Warriors become the first team to win the GSPN Preseason Basketball Tournament and the IIAAG title in the same year. It was believed that whomever wins the preseason title is "cursed" out of IIAAG title contention, but the Warriors win has proven the superstition wrong!
PHOTO GALLERY BROUGHT TO YOU BY:

2022 GSPN I MÅS METGOT COMPETITION
2022 GSPN I MÅS METGOT COMPETITION
2022 GSPN I MÅS METGOT COMPETITION
2022 GSPN I MÅS METGOT COMPETITION
2022 GSPN I MÅS METGOT COMPETITION
2022 GSPN I MÅS METGOT COMPETITION
COMING SOON …
GNYFF Championship Saturday
2nd Annual Greg D. Perez Fishing Tournament on Saturday
GML Playoffs
1st Quarter Sports
QUICK HITS
Team Onslaught represented Guam at the National X-Ball League paintball tournament in Sacramento, CA. The squad finished in 3rd place out of 12 teams in the Division 5 category.
Front L-R: Frankie Borja, Robert Delos Reyes
Back L-R: Marvin Reyes, Ericka Camacho, Gavin Santos, Nick Rivera, Nikki Tan, Adrian Mora, Ralph Sgambelluri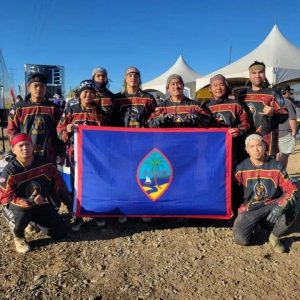 ———————————————–
Purebred Jiu-Jitsu Guam adds three more to their black belt stable. Daniel Cayanan, Cameron Mantanona and Peter Ungacta received their black belts on Saturday from Professor Stephen Roberto.