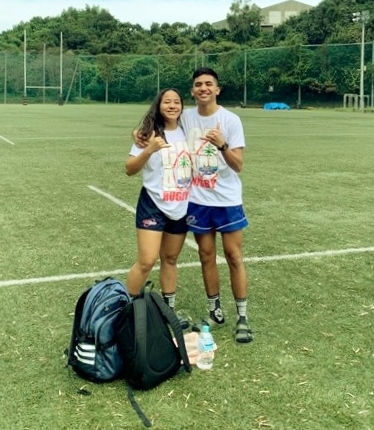 PRESS RELEASE – Miguel and Isabella Hernandez are representing Guam Rugby this weekend in the celebrations in Japan for the opening of the 2019 Rugby World Cup.
Representatives of all Asia Rugby Unions were invited to join Japan Rugby in celebrating "Asia's World Cup" in recognition of the efforts put in by all Asia Rugby members to, firstly, see Japan awarded the hosting rights to the Rugby World Cup and , secondly, to create a positive legacy with close to 2 million new rugby participants identified in the Asia lead up to RWC.
Miguel and Isabella attended a training camp on Thursday at Ryutsu Keizai University. Guam Rugby has a long association with RKU having played therebefore and hosted "Grace", their Women's rugby team, on Guam last year. Thank you Makoto and Yuichi for your ongoing support of Guam and Asia Rugby.
The players will carry Guam's flag in the tournament's opening ceremony on Friday. They will then get to enjoy the opening match – Japan v Russia – on Friday evening.
The Impact Beyond Program is designed to ensure that host country's (and, in this case, all of Asia!) benefit from the exposure to the game of rugby at its best. A lot of hard work has been done in diverse communities in Asia encourage young people to Get Into Rugby and the results will be obvious over the next few years as Asia Rugby develops.