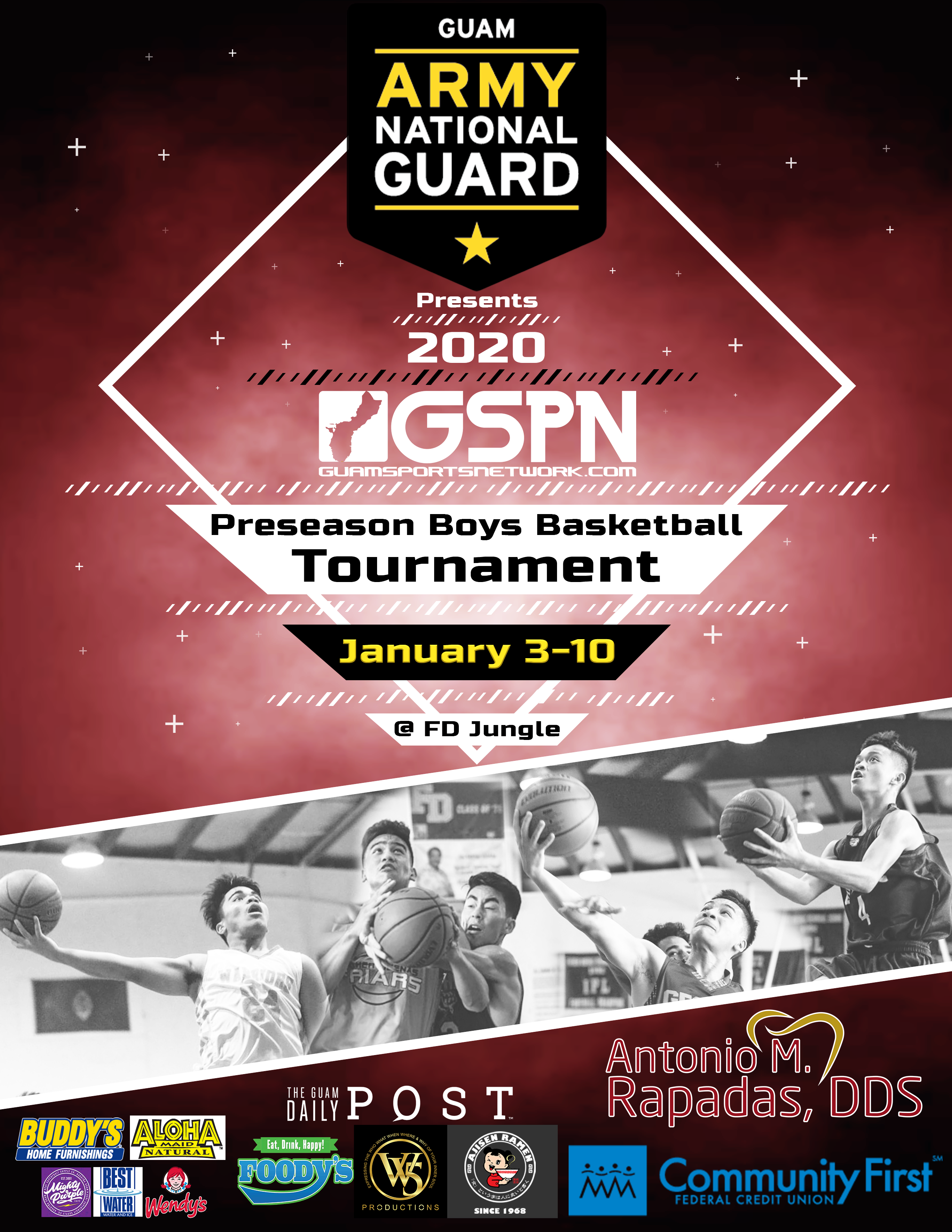 The 6th Annual GSPN Preseason Basketball Tournament is ready for tip-off in 2020 with the action set to begin this Friday, January 3rd at the FD Jungle. 10 teams will battle for a week-long run of games with the Championship Game set to conclude the tournament on January 10th!
The Teams
Pool A
FD Friars
Okkodo Bulldogs
Tiyan Titans
Guam High Panthers
ND Royals
Pool B
St. Paul Warriors
Sanchez Sharks
JFK Islanders
Harvest Eagles
St. John's Knights
The Format
Each team is guaranteed five preseason games, four regular season and one placement game, with their record in pool-play determining their final standing. Teams will challenge corresponding seeds from opposite pool for placement games (no playoffs).
All 12 high school basketball teams had originally committed, which was set to be a tournament first, but a late scratch from the Southern Dolphins had changed the format to a 10-team draw. The GW Geckos were the last to commit, putting them just outside the 10-team draw.
Games will be refereed by GBC Officials and will follow a four-quarter format like a regular high school basketball game. There will be only a five-minute halftime and a three-minute Overtime period, if need be.
The Schedule
Friday 1/3
Tiyan vs. ND – 5:30 pm
St. John's vs. St. Paul – 7 pm
Saturday 1/4
Harvest vs. Sanchez – 10:30 am
Guam High vs. Okkodo – 12 pm
JFK vs. St. John's – 1:30 pm
FD vs. ND – 3 pm
St. Paul vs. Harvest – 4:30 pm
Okkodo vs. Tiyan – 6 pm
Sunday 1/5
Sanchez vs. JFK – 10:30 am
ND vs. Guam High – 12 pm
St. John's vs. Harvest – 1:30 pm
Okkodo vs. FD – 3 pm
Guam High vs. Tiyan – 4:30 pm
St. Paul vs. Sanchez – 6 pm
Monday 1/6
Harvest vs. JFK – 5:30 pm
FD vs. Guam High – 7 pm
Tuesday 1/7
Okkodo vs. ND – 5:30 pm
JFK vs. St. Paul – 7 pm
Wednesday 1/8
Sanchez vs. St. John's 5:30 pm
Tiyan vs. FD – 7 pm
Thursday 1/9
7th Place Game – 5:30 pm
3rd Place Game – 7 pm
Friday 1/10
5th Place Game – 5:30 pm
1st Place Game – 7 pm