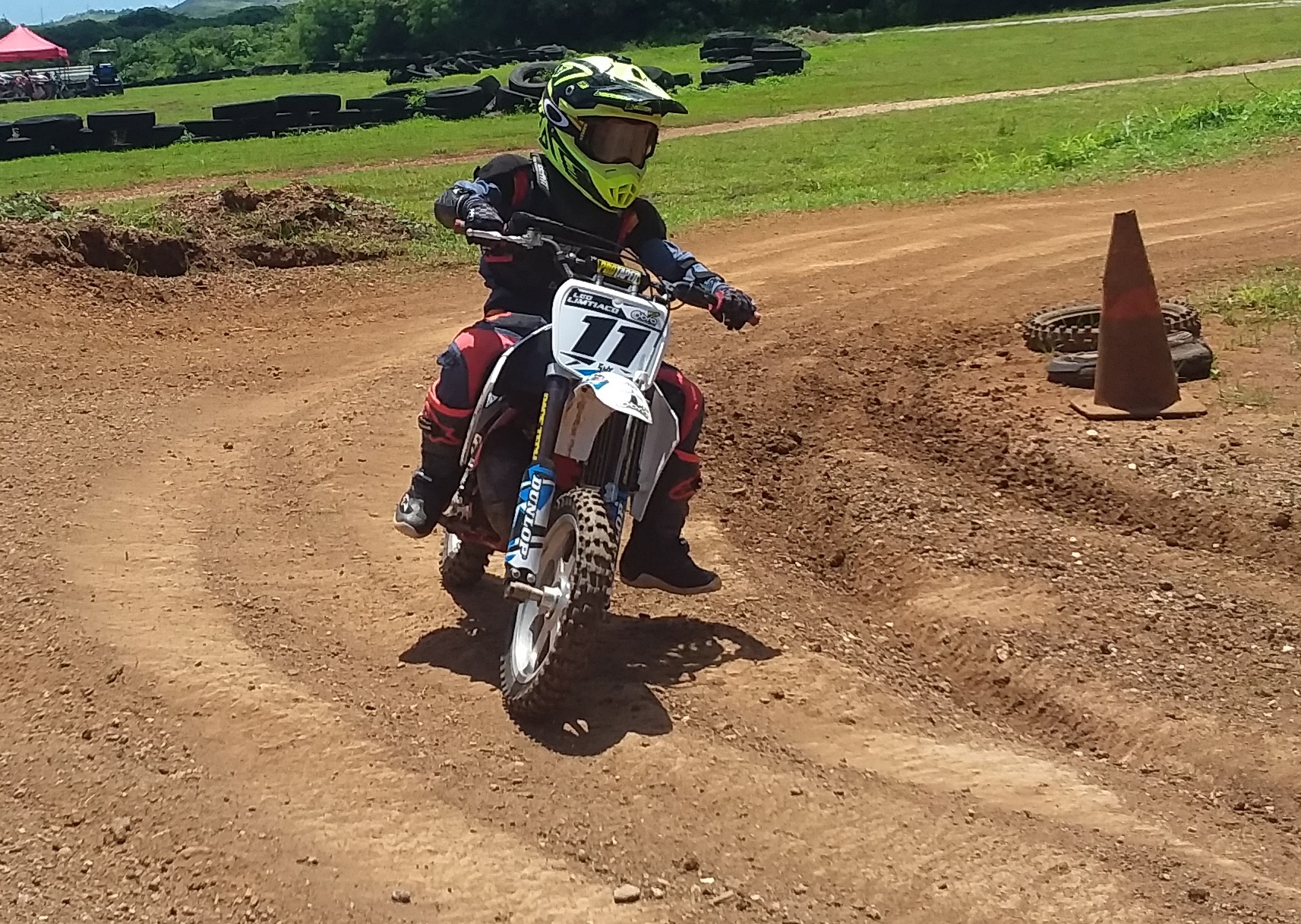 PRESS RELEASE – Round 4 of the 8 round 2020 Monster Energy Guam Motocross Championships was held this past Sunday at the Guam International Raceway in Yigo with strict Covid-19 safety protocols still in place. Racing once again kicked off at 11:30am after a morning of warm up practices. Classes ranged from several sized kids minibike classes along with a women's minibike class up to the larger fuller sized machines of the 250, 450, Open and Over 40 Vet classes. Back on the track for the first time during this seasons championship campaign was the popular Open ATV class. The track was in great condition for some high flying racing with sunny skies and a nice cool breeze blowing off the ocean and the adjacent cliff line. The event was a non-spectator event due to the ongoing Covid-19 precautions, but immediate family members were in attendance and very much a part of the sunny fun day of competition and barbecues.
Highlights and results
In the Open Motorcycle class defending Monster Energy Guam Motocross champion #1 Lil John Aguon aboard his RPM Yamaha supported 450 once again swept the round to take the win and led every lap uncontested to the checkers. #85 Cycles Plus Kawasaki rider Blaze Aiken was the only rider to keep the eventual winner Aguon in sight and took a solid second place aboard the Kawasaki. #90 Blaise Bonin aboard a Yamaha bounced around the top five during the intense battles for third through fifth to take third place overall. #28 Riley Clark aboard a Yamaha faded late in the race to finish fourth while veteran rider #57 Kim Aiken took a fifth place after taking advantage of a bobble by #806 Hunter Hemmelines that had dropped him from the top five position to the back of the field. The remaining top ten finishers are as follows
6th #23 Jordan Leon Guerrero Yamaha
7th #806 Hunter Hemmeline Yamaha
8th #619 Aaron Overstreet Yamaha
9th#193 Franklin Fujihira Yamaha
10th #338 Jonathan Aguon Ktm
In the Open Atv class the reigning champ #1 George Santos aboard a blacked-out Kawasaki 450 beast ATV left no doubt that he was the reigning champ by grabbing the lead right off the start. Santos was quickly being followed by #88 Camillo Lorenzo on a loaned for the event Yamaha Raptor and by #4 Robert Bucek aboard the Cycles Plus Suzuki. As Santos surged away Lorenzo and Bucek fought it out early on with Bucek finally sliding by the Raptor of Lorenzo. Once past Lorenzo Bucek began to inch his way closer and closer to the leader Santos. With half the race left Bucek caught Santos and the two began to battle it out banging bumpers and nerfbars as they swapped positions back and forth. At the checkers it was Bucek taking the win with the #75 Raptor piloted by Lorenzo in second. Reigning Guam Open Atv champ Santos after taking a bad cart wheeling spill in the heat of the battle for first was still able to remount and limp in for a third place finish.
In the 450 class Rpm Yamaha supported Lil Jon Aguon took the win with #806 Hunter Hemmeline on a Yamaha taking second and #19 Zachary Chang in third on his KTM.
In the 250 class #85 Blaze Aiken aboard the Cycles Plus Kawasaki took the win with #90 Blaise Bonin in second and #28 Riley Clark in third. They were followed by
4th #23 Jordan Leon Guerrero Yamaha
5th #57 Kim Aiken Yamaha
6th #619 Aaron Overstreet Yamaha
7th #193 Franklin Fujihara Yamaha
8th #338 Jonathan Aguon Ktm
In the Schoolboy/girl class #23 Jordan Leon Gurrero on his LG Racing supported Yamaha took the win with #193 Franklin Fujihira on a Yamaha in second.
In the Womens Minibike class #12 Jessani Leon Guerrero on a Kawasaki swept the class to take first with #33 Mariana Wenden on a KTM in second and #13 Breane Larance on her Kawasaki in third.
In the Open Kids Minibike class #31 Richard Wenden aboard a KTM took the win with #25 Lawrence Limtiaco who was aboard the team Cycles Plus Kawasaki in second. #22 Wyett Santos on a Ktm placed third with LG Racings #12 Jessani Leon Guerrero on her Kawasaki in fourth. #33 Mariana Wenden took fifth with #75 Jay Whitman aboard a Kawasaki placing sixth. 
The 85cc Kids Minibike class #31 Richard Wenden on a KTM took the win with #25 Lawrence Limtiaco on the Cycles Plus Kawasaki in second and #22 Wyett Santos third. #33 Mariana Wenden on a KTM took fourth with #75 Jay Whitman on a Kawasaki in fifth.
The 65cc Kids Mini Bike class had  #18 Jonboy Aguon taking first on his Yamaha with second being taken by #20 Jace Calvo on a Ktm and fourth place #15 Ty Overstreet also on a Ktm. 
In the 50cc Kids Minibike class #11 Leo Limtiaco left his competition in his dust as he took his Cobra minibike to the win. A heated battle between #13 Charliegh Moore and #20 EJ Larance with Charliegh taking second overall and EJ placing third.
Next race day motocross event will be a Summer Motocross Race Day event on Sunday July 5th. This will be non-championship points event for both the minibike and motorcycle classes but will be counted as championship points earning event for the Open Atv class. Next up for the Monster Energy Guam Championship Motocross Championships will be round 5 on Sunday August 2nd. Interested new or experienced riders are encouraged for more information to visit https://girmac.teamapp.com or contact public information officer Robert Bucek by call or text at 727-5381.


COMING SOON …
High School Football starts Sept. 29
Brawl 3: Oct 13
Guam's Strongest Man and Woman Competition October 29
QUICK HITS
The Figo Islanders 40s women's softball team took gold in the Senior Softball World Championship in Las Vegas. Figo came out of the loser's bracket and beat the Arizona Belles 17-3 in the AA division championship game Sunday afternoon.
Other Guam teams that played in the 40s tournament were: Team SOTTA (women's) and Bud Light Guam, Friars 671 and Sindalun Guahan (men's).
Sindalu finished a respectable 4th out of 24 AAA division teams.