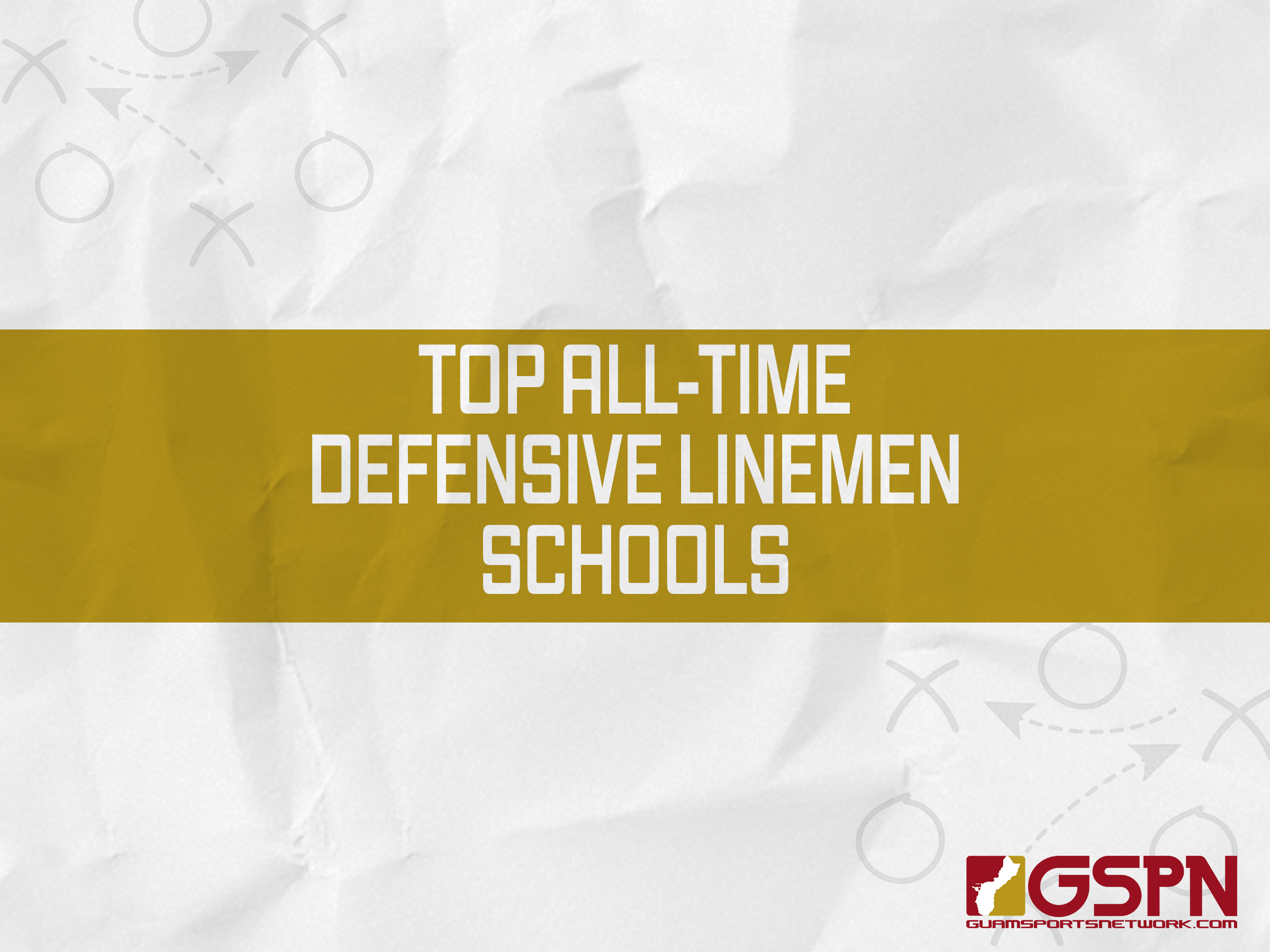 By Roland San Nicolas and Patrick Lujan
War in the trenches. That is where football games are won. While offensive linemen get no glory, that is usually not the case with those on the defensive line. These players come in all shapes and sizes. Some are behemoths that can't be moved. Others seem like track stars with a nose for the ball. Surprisingly, there are some that are short in stature but possess immense power and quickness. Some of these trench warriors specialize in sacking the quarterback, others for stuffing the run. Then there are those rare players that are able to change the outcome of a game with turnovers and touchdowns. Here is our list of the top five defensive linemen from each school.
#1 Father Duenas
It is no surprise that FD is the top school for defensive linemen as their defense is collectively known as the "Maroon Wall". Since 1987, eight Friar defensive linemen have earned the IFL Defensive MVP. The MVP among MVPs that sticks out is "Wild" Bill Ada who was a four-year starter, earned the MVP three consecutive years in 91-93 (a record that still stands today), and won IFL championships in the 92 and 93 seasons. His jersey number 55 is retired at FD to honor his accomplishments.
One of his teammates, Keone Badua was also a multi-year starter and All-Island recipient and earned the MVP in his last season to go along with his third championship season in 94. In Badua's senior season he broke the sack record, with 11 sacks in eight games, and scored four TDs, two of which were game winners. A two-time Defensive MVP that you would be hard pressed to believe at defensive lineman was "The Juggernaut" Baby Joe Taimanglo who played nose guard for the Friars and helped win the title for FD in back-to-back seasons. Baby Joe was known for disrupting plays, catching players from behind and creating turnovers in the backfield. Mike Cassidy was a 1st Team All-Island offensive guard and defensive end in multiple seasons, earned the Defensive MVP in his junior year, and was the first on this list to have his jersey retired (#72) at FD. This list is rounded off with MVP at DT Rylan Napoleon who was the interior strength of FD's championship defense in 2017 and 2018.
Just missed the cut: Francis Reyes, Patrick O'Mallan, Owen Bollinger, Tonu San Nicolas, Jason Cruz, Joe Tedtaotao
#2: George Washington
The Geckos have always had stalwart defenses. Heading this list is +Gerard Cabana, a defensive end who wreaked havoc against QBs in the 1980's. Tony Aguon, Norman Padrones, and Jerard "Noogie" Lujan are all repeats to this list as they were all part of GW's best offensive linemen. Aguon at DT was the consumate run stopper and immovable object. Noogie Lujan at DT was a versatile defender with size, strength and agility. Padrones at DT used quickness and power to dominate those he faced despite being the smallest of this group. These four players all formed the defensive front for the UOG Tritons back-to-back MFL championship teams in 1992 and 1993. Prudencio Aguon joins this quartet in the top 5 as a dominating nose guard. Prudencio was one of the most muscular football players in the IFL, a testament to the hard work Gecko players put in the gym preparing for the gridiron.
Just missed the cut: Kevin Topasna, Manny Cruz, David Taitano, Michael Hocog, Steve Swanson
#3: Simon Sanchez
The Sharks have a rich history of high quality defensive linemen. Sifoa Nunu, the Defensive MVP his senior season, towered over all the players on the field and attacked the ball on every play at nose guard. Teams had to game plan for him as he was virtually impossible to block one on one. Darryl Oshiro may have not have been as tall as Nunu, but he was one of the biggest and agile linemen to ever play in the IFL. Oshiro was a mountain of a man both with and without gear and played DT or NG depending on down and distance and were the opponents strengths were. He is joined by equally as massive Pierce Castro who dominated the line of scrimmage in the mid '80s at DT. Joining this group of interior linemen is the Defensive End Kevin Rivera who was a sack master for the Sharks in the late 80s and Jovan Ignacio.
Just missed the cut: Steve Oshiro, Blu Shiroma, Justin Andre, John Leon Guerrero
#4: Guam High
The military dependents always brought size. The Panthers selection had that and more. Nijee Smith was a DE speed rusher with incredible wingspan. T-Rock Eaton was a man amongst boys while Andrew Galvan was a force of nature and John Gonzales was the lunch pail dude. Jacob Bunch was versatile enough to stop the pass and run at the end position.
#5: John F. Kennedy
As star-studded the Islanders were on the offensive side, they slip in the rankings on the D-Line. Paul Lawrenz was 1st Team All-Island at OT and DT in 1984. His partner in crime and All-Island DE was Angel Bermudez. Together they helped JFK finish with a perfect 10-0 record and the IFL title. Fast forward to the 1990's and you have Big Vic Quidachay and Josh Garrido who by sheer girth put a halt to the running games of most teams and were the backbone of JFK's back-to-back IFL titles. Tom Calugay rounds out the top 5 for the Islanders as a utility D-lineman who fit anywhere he was needed due to his great athleticism.
Just missed the cut: John Camacho, Tom Miyasaki, Albert Molo, Macpin Julaton
#6: GCC
Tony Morrison leads the way for the Tradesmen. Morrison was a wrecking ball in a helmet and could line up at DT or DE depending on his opponents. He was a team leader that led by example. Tony would go on to become a professional body builder and athletic trainer. Ironman DTs Roland Fejeran and Henry Fegurgur were just as dominating on the D-line as they were on the O-line that the make a return to the list. Andy Quinata and Paul Tapao round off this list as consistent performers that played multiple positons over several years.
Just missed the cut: Rob Tupaz, Pete Fejeran
#7: Southern/Oceanview
Travis Meno and Chris Brub head up the list for the southern boys. Both played ironman football and both excelled at playing defense. Brub was a missle once he set on the QB while pass rushing. Meno was a workhorse that never left the field and was rewarded as the only Southern 1st Teamer his senior year. These great athletes are joined by James Barnhart, Ethan Dimla and John Arceo.
Just missed the cut: David Manglona
#8 Okkodo and #9 Tiyan
As in the other position lists, these two teams continue to build on their football programs.

QUICK HITS
Bishop Obispos beat Mt. Carmel for the IIAAG Middle School Girls Basketball championship 37-25.
—————————————-
The Benavente Roadrunners crushed the Agueda Pirates 17-1 to win the 76 PONY Middle School Baseball League. Rodney San Nicolas was a beat, striking out 13 batters in a complete game while going 4-for-4 at the plate, including a homer and 4 RBI.