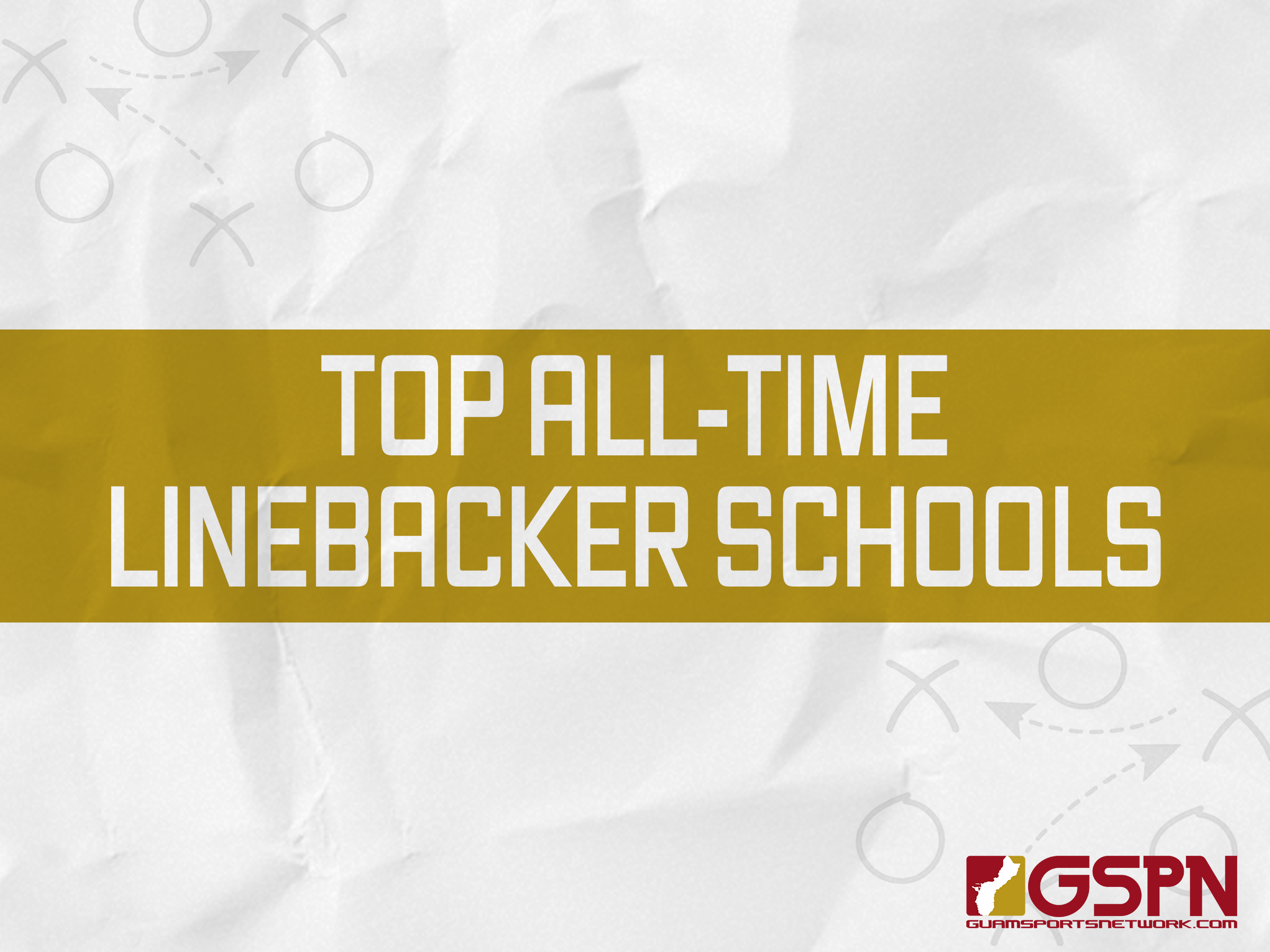 By Roland San Nicolas and Patrick Lujan

Defense wins championships. This is more often than not true at all levels of play on the gridiron. The captain of any defense – the linebacker. The linebacker position is not only one of the most important positions in the game, it is also one of the most physically and intellectually demanding positions on the field. The LB calls the scheme, reads the offense, adjusts the players around him, then either attacks the run or defends the pass, all while avoiding blockers, recognizing the passing routes of WRs, TEs, and RBs, along with reading the eyes and motions of the quarterback. Every year and every era has its fair share of incredible talent at the position. The LBs listed here were chosen for their impact on the game as well as their individual accomplishments.
#1: George Washington
The Geckos are known for their incredible talent at LB and it is no surprise they are ranked 1st. The man among men at this position for GW is Ryan Rios, who incidentally, is the current head coach of the team. Rios played with cat-like reflexes and instincts second to none. His timing on blitzes was incredible to watch and must have been a horror show for the opposing linemen. Rios earned 1st Team All -Island at NG (10th), and LB (11th & 12th), was IFL MVP and Far East Football MVP in the 86-87 season, and was voted MVP for the 1980's All-Decade Team. Rios went on to dominate like no other in the Guam Varsity Football League where he earned eight Defensive MVPs to go along with multiple championships. He still plays up until this day.  Jesse Rosario was undersized but strong and tough as nails during the early years of the Loring Cruz Era. Coach Cruz puts Rosario up to par with Rios as far as their high school level of play. Joe Castro was the team captain and IFL Defensive MVP for the undefeated 1988-1989 Gecko squad that may have had one of the best defenses in Guam's history. Jojohn Quinata makes this list with his two Defensive MVP awards. Quinata was a great leader and a dominant athlete who took the lessons imparted by Coach Rios to heart.
Just missed the cut: Willie Brennan, Tony Roberto, Roland Duenas, Kelvin Hocog
#2: Simon Sanchez
Coming in at a close second for top linebacker school is the Sanchez Sharks. Heading this list is Benjie Pangelinan who is arguably the most feared hitter in all of Guam football. He once hit an offensive lineman so hard that the lineman bit his mouthpiece in half rendering it useless for the rest of the game. Allen Blend comes in at a close second with his superior instincts on the field. Eddie Artero played alongside Pangelinan in the late 80s and was a sure tackler with a high motor. Artero was always on the field, and like Blend, also played at a dominant level on the offensive line. Joining this list is track and field star Justin Andre who threw the hammer and won medals for Team Guam at the Micronesian and Oceania Games. 
Just missed the cut: Paul Quenga, Jose McDermott, Luis Dela Cruz, Larry Saralu
#3: Father Duenas
While the Friars are known for their outstanding defensive linemen, they have had several outstanding LBs over the decades to earn them 3rd on this list. 'Joe Guam' Pereira tops this list. Pereira played all four years and earned multiple awards which include: 1st Team honors at LB (10th, 11th, and 12th), the IFL Defensive MVP (11th & 12th) and broke the sack record his senior season with 17.5 sacks. Pereira also successfully walked on and made the Division I San Jose Spartans football team. Big hitters Ralph Mesa and John Balajadia earned their place on this list with multiple years of solid play. Mesa was a ball hawk with great all-around skills and earned 1st Team honors. Balajadia was a member of the vaunted Maroon Wall defense that went undefeated in the 94-95 season. As an underclassman, Jojo Perez played alongside Pereira on a couple of championship teams and took over as team leader in his senior season.
Just missed the cut: Benjo Aguon, Joe Hernandez, Frankie Arriola, Chris Sgro
#4: John F. Kennedy
Next up are the Islanders who are also loaded with talent at LB. Topping this list is Kin Salas who earned Defensive MVP his senior year. Salas was dominant on both sides of the ball as he was also named as a top offensive lineman for JFK. Richard Lindlan was the starting LB for the 10-0 champions in the 83-84 season and earned 1st Team honors at the position. Frank Arriola earns a spot on this list because of his high level instincts, big play ability and leadership. Arriola earned 2nd Team honors (10th) and 1st Team honors (11th & 12th). He also earned 1st Team honors for wrestling (11th & 12th) and a black belt in Judo at Tokai University in 1985. Chase Spotanski was a 2-time IFL Defensive MVP for JFK while attending Notre Dame High School. Spotanski was undersized at the position, but made up for it with his speed, elusiveness and sure tackling.
Just missed the cut: Gerald Cruz, Albert Sampson, Shawn Gomez, John Matanane
#5: GCC
The Tradesmen were known for Iron Man Football. The players on this list often played two or more positions on the field. This list starts with Kin Fernandez who was also a top rated baseball player for Guam in the 90s. Wayne Quinata was a solid hitter and had a nose for the ball. Mark Leon Guerrero always played with no fear and went 100% every play despite playing every snap of the game. Mike Palacios had to switch gears from avoiding tackles as GCCs top RB to making tackles at LB.
Just missed the cut: Joe Ulloa, Mike Salas
#6: Guam High
Paul Floyd was a big-time two-way lineman for the Panthers. Kort Murdock did the dirty work, usually taking on the opposing lead blockers. Logan Dimmick was undersized but arguably the hardest hitter Guam High has produced. Finally, Trip Chauret's size and speed at the 'Will LB' position made him the only player to have the opportunity to play at the Division I level straight out of Guam High.
#7: Okkodo
Short history, but already a solid core to build off with former Defensive MVP Justin Santos, Lee Ray Zapatos and Jesse Karl Cruz.
#8: Southern/Oceanview and #9: Tiyan
It's been a while Southern had some impactful LBs, while Tiyan brings up the rear.

COMING SOON …
High School Football starts Sept. 29
Brawl 3: Oct 13
Guam's Strongest Man and Woman Competition October 29
QUICK HITS
The Figo Islanders 40s women's softball team took gold in the Senior Softball World Championship in Las Vegas. Figo came out of the loser's bracket and beat the Arizona Belles 17-3 in the AA division championship game Sunday afternoon.
Other Guam teams that played in the 40s tournament were: Team SOTTA (women's) and Bud Light Guam, Friars 671 and Sindalun Guahan (men's).
Sindalu finished a respectable 4th out of 24 AAA division teams.