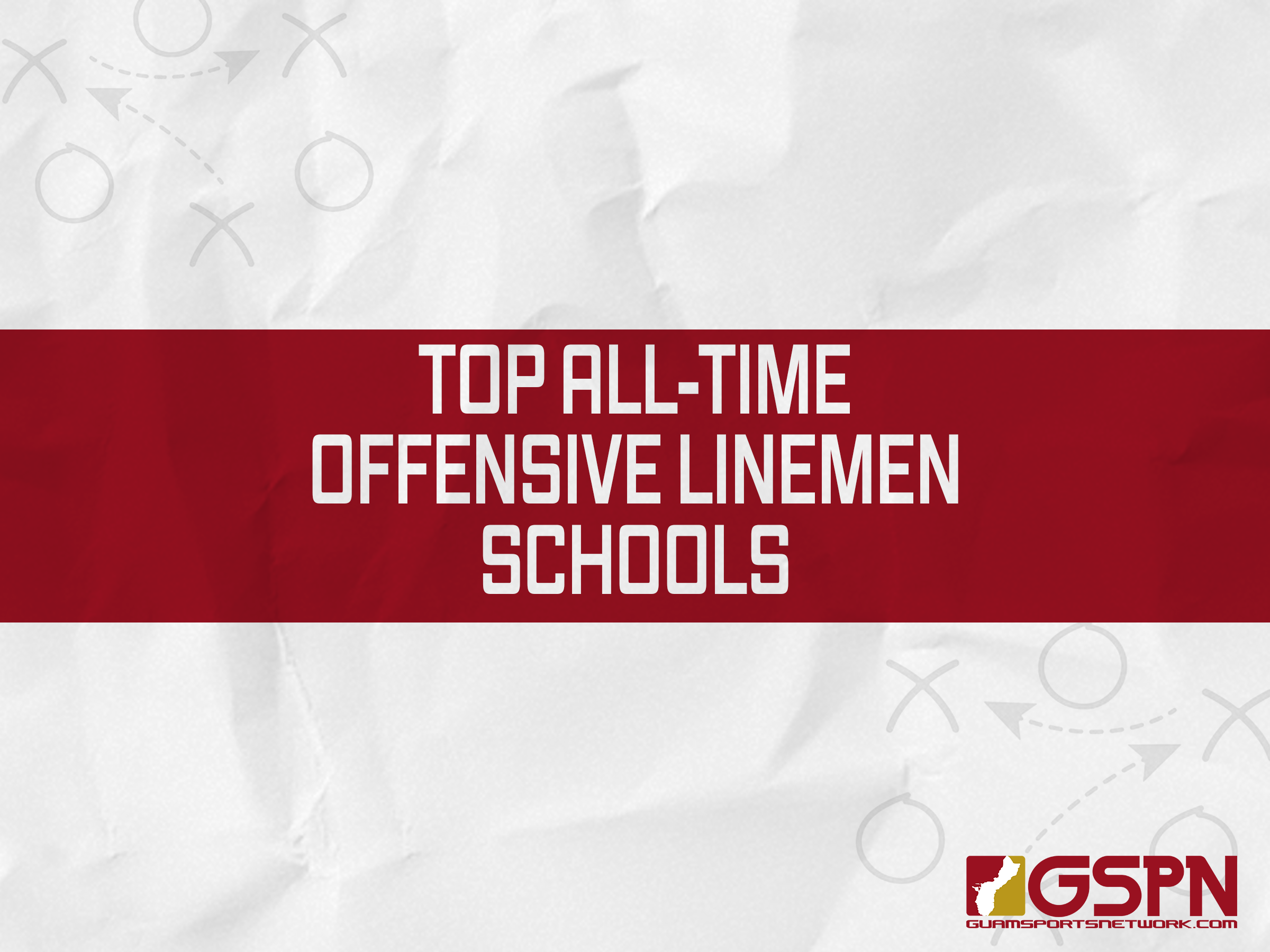 By Patrick Lujan
Many say that defense wins championships. However, coaches of the game know and understand that the game is won in the trenches, with linemen. Due to the complexities of blocking assignments and the technique required to dominate at these positions, these players need to be big, strong, quick, and most importantly, intelligent.
While offensive line is where games are won or lost, it is also arguably the hardest position to list and rank because of the lack of statistics to go by.
We, however, feel comfortable enough to put together a solid list of big boys up front.
#1: JFK
Guam offensive lineman is synonymous with the name Jimmy Naholowaa. The strength, the speed, the techniques and most especially the IQ at the position starts with Naholowaa, who molded his art at JFK before a legendary career with the UOG Tritons. Still coaching today with the Sanchez Sharks, Naholowaa has been sharing the trait with generations of our players both high school and adults. The other four on the list – big Vic Quidachay, Kin Salas, Bill Detry and Richard Cotelesse – makes JFK a no-brainer as the top school for offensive linemen. Quidachay was a fun-loving earth mover, Salas was just mean (in a good way), Detry was big but with quick feet and Cotelesse was built off the same cloth as Naholowaa.
Just missed the cut: Joey Terlaje, Henry James, Josh Garrido
#2: Father Duenas
You want big? We got big. The Friars front five that made the list are large men. Roland San Nicolas, Joey Salas and Joe Shinohara make Mike Cassidy look small. And despite his lack of height, Freddy Tupaz brought the punch to the fight. Interestingly, Jimmy Naholowaa was the coach who molded most of these linemen in the late 1980's. Roland San Nicolas and Freddy Tupaz went on to dominate in the MFL in the 90's and 2000's and were linemen coaches for FD over the years helping FD win over 13 championships between them.
Just missed the cut: Gabriel Jugo, Alex Shinohara, Austin Shelton, Elijah Dudkiewitz, Joaquin Rivera, Peter Sgro
#3: George Washington
The Geckos were known for their pure strength (ga'ga' strength I call it) as where the Islanders had speed and technique and the Friars had size. Put Noogie Lujan, Ton Aguon and Norman Padrones in a strength competition and my money is on them.  Mike Meno is the father to Travis Meno from Southern High making for the only Father-Son duo on this list. 'Malojloj Madness' Mike was also known for scoring TDs on Tackle Eligible plays. Football was a family tradition for John Lujan at GW as his brothers James, Jerard "Noogie" and Jesse all played. John was a technician on the line with solid technique and was the fastest center ever on the snap.
Just missed the cut: Frank Camacho, Will Parkinson, Jesse Camacho
#4: Simon Sanchez
When you play the wishbone under Coach Naholowaa, the O-Line is the heart and soul of the team. Tim Rozborski, Anthony Calvo and Angelo Barcinas were big, strong and fast linemen that led to championship runs in the late 90's. Drew Palomo (yes, the jiu-jitsu Drew), who looks nothing like an offensive lineman, says he gave up zero sacks while at Sanchez and Pele Smau helped add two more titles during the run-heavy years nearly a decade ago.
Just missed the cut: Kevin Rivera, Eddie Artero, Matt Sojo, Arnolfo Aserios
#5: GCC
Most of GCC's O-Line were Big Hosses as well. Roland Fejeran, Bob Salas, Henry Fegurgur, and Robert Tupaz were all big bruisers who often played on under-manned Tradesmen teams. Meanwhile, Keith Rosario was a sound technician at the center position.
Just missed the cut: Wilbur San Nicolas, Paul Tapao, Randy Barcinas, Andy & Wayne Quinata
# 6: Guam High
Ricardo "Rhino" Granados is considered the meanest offensive lineman in Guam High history while center Carlos Mendiola was the backbone to their undefeated championship season in 2010. Andrew Galvin and Aaron Shilleto paved the way for the likes of D.J. Cruz and Tegan Brown while Jacob Bunch was known for his attention to detail.
#7: Oceanview/Southern
Travis Meno joins his father Mike Meno (GW) on this prestigious list.
#8 Tiyan and #9 Okkodo are still building their young football history.

QUICK HITS
Bishop Obispos beat Mt. Carmel for the IIAAG Middle School Girls Basketball championship 37-25.
—————————————-
The Benavente Roadrunners crushed the Agueda Pirates 17-1 to win the 76 PONY Middle School Baseball League. Rodney San Nicolas was a beat, striking out 13 batters in a complete game while going 4-for-4 at the plate, including a homer and 4 RBI.