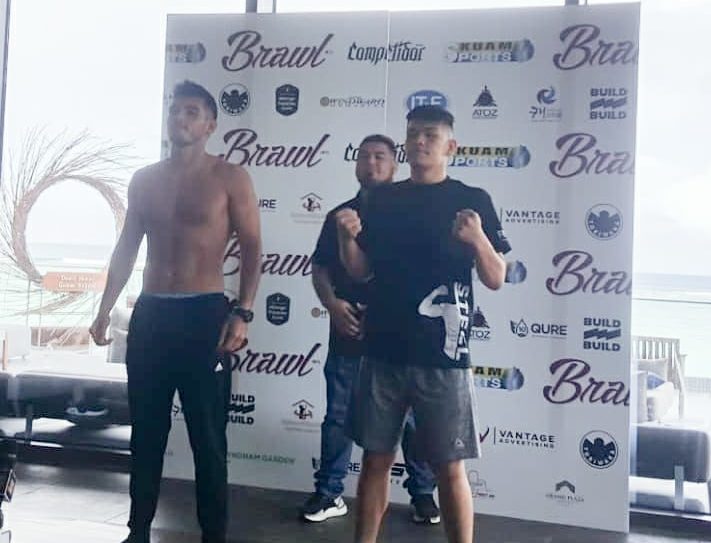 By Jay Leon Guerrero
The wait is over for Guam Mixed Martial Arts fans! Tomorrow night, "Fight Night Friday" returns with a good mix of local and International fighters with Brawl INTL ring at Dusit Thani Resort in Tumon.
Guam's most decorated heavyweight fighter Roque Martinez said he's excited for the event and the local fans. "We want to give the fighters the opportunities and the local fans to see some good fights," said Martinez.
The fight card:
*Araian Scherer (GUM) vs Brian Ramiro (GUM)
*Austin Petros (GUM) vs Kyung Taek Hong (KOR)
*Seung Jung Lee (KOR) vs Ben Scheneider (UK)
*Gonzo Quintanilla (GUM) vs Kyle Palomo (GUM) <grappling bout>
*Rob Wusstig (GUM) vs Jung Min Choi (KOR)
*Ito Kuya (JPN) vs Sang Won Kim (KOR)
*Seay Camacho (GUM) vs Masato Nakamura (JPN)
*Akmal Khozhiev (RUS) vs Jose Ramirez (GUM)
Main Event:
Joey Crisostomo (GUM) vs Jae Hyuk Bang (KOR)
"It feels amazing, I feel blessed to have this opportunity," said Crisostomo. "I'm grateful for Brawl to bring this event here and I'm excited to represent Guam."
"There's a little bit of added pressure to fight and having that home crowd, but pressure brings diamonds and I'm excited," added Crisostomo.
Crisostomo said that this event will mirror Pride MMA fighting rules so there will a little more excitement and strategy.
"It adds more excitement with adding soccer kicks to the ground and knees to the ground against your opponent. Its going to push guys to finish because there's more opportunities to finish (a fight) without worrying about the ref stopping you for an illegal blow," said Martinez.
Another local fighter eager fight in front of the home crowd is Seay Camacho. Camacho will fight against Masato Nakamura from Japan.
"I found out I was going to fight him just a week or two ago so I don't know too much about my opponent. My coaches in the gym just said we got to prepare for anything and stay ready," said Camacho. "Its been two and a half years since I've competed and I'm excited to do it front of the home crowd," said Camacho.
Doors open at the Dusit Thani main ballroom at 6pm, the first fight starts at 7pm.
"These rule sets give fighters the best way to express themselves and we are looking to have them put on a good show and a good fight and that's what we are going to see tomorrow night," said Martinez.