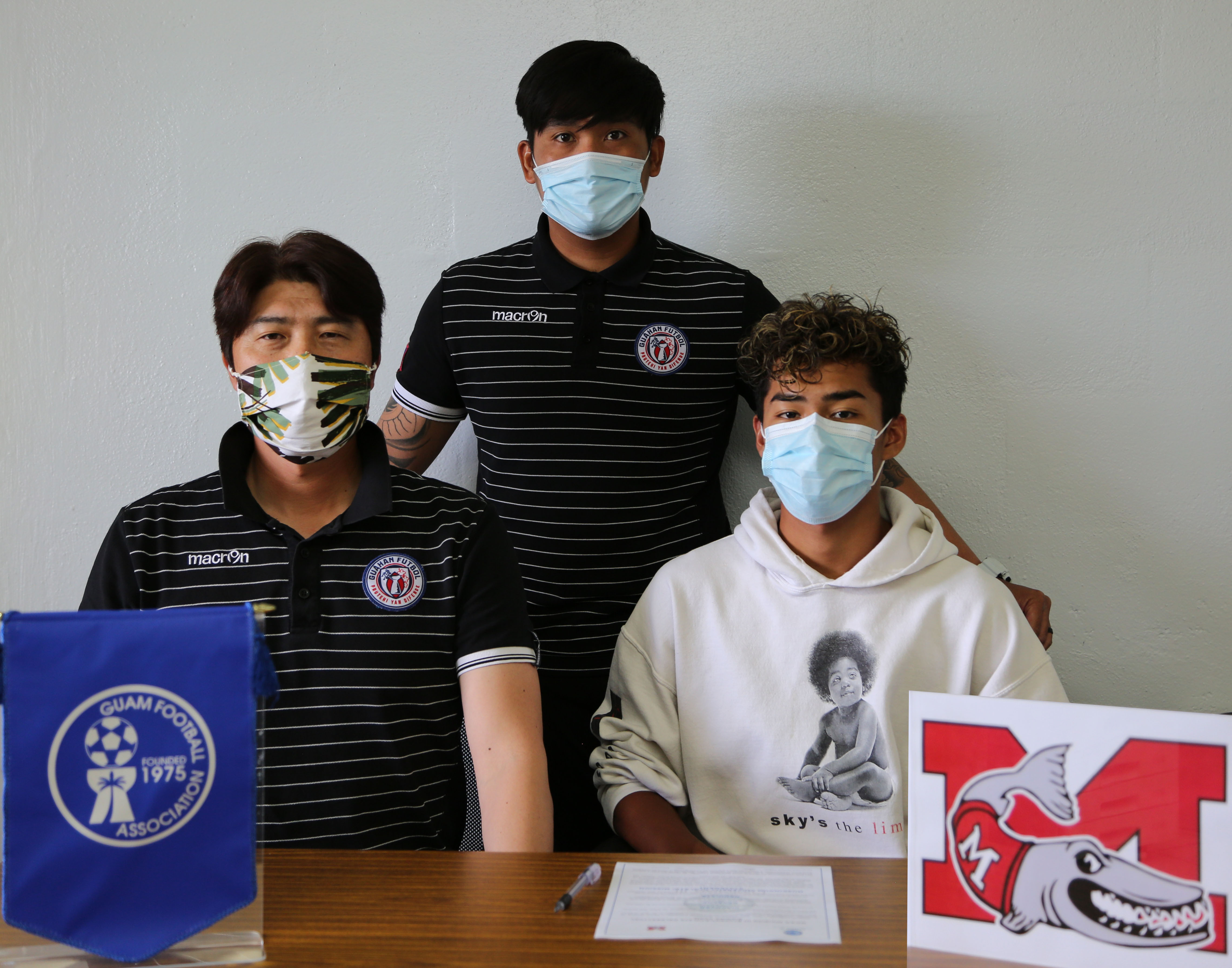 PRESS RELEASE – A second Guam Youth National Team player – Michael Castaneda – recently committed to play intercollegiate men's soccer at Muskingum University, following an official announcement by the Fighting Muskies earlier this month.
Castaneda, a John F. Kennedy High School 2020 graduate, joins fellow national teammate Morgan McKenna at the Ohio university this fall.
"I am very proud of Michael and that he is joining a college soccer program," said Sang Hoon Kim, Guam Football Association Technical Director. "His parents have been working really hard for him, and I would like to thank his parents and family for their support on behalf of GFA.
"Michael is a role model for the U20 National Team with his technical ability in football, as well as his positive mentality. When he is finally at college, I want him to adapt to his team as soon as possible and to always perform at his best. Once again, I would like to congratulate and thank Michael for his great effort to always instill the philosophy of the Guam National Team," Kim added.
Castaneda, who was born in Korea Republic, later moved to Guam the latter part of his eighth-grade year at F.B. Leon Guerrero Middle School and developed an interest in professionally playing the sport.
"Football is one of (Korea Republic's) top sports, and that's what first got me into the sport," Castaneda said. "I started (playing recreationally) on the streets and when I came to Guam, that's when I started joining school and club teams.
"I have passion for this sport – a big passion, and my ultimate goal is to be the best player in the world. (This opportunity for me) is a step closer to becoming professional," the Tamuning resident added.
Castaneda played in both the Aloha Maid Minetgot Cup Elite Youth League and the Budweiser Soccer League Premier Division, featuring for the Tigers, Quality Distributors, NAPA Rovers, Islanders FC, and Manhoben Lalahi in different seasons.
In Castaneda's freshman year at JFK, the Islanders captured the IIAAG Boys High School Soccer League title and again in 2018, while also making finals appearances in 2017 and 2019. In November 2019, Castaneda traveled with the Guam U19 National Team to Vietnam for the AFC U19 Championship Qualifier.
In May this year, Castaneda joined his U19 National Team teammates in a Zoom conference call with Muskingum University Men's Soccer Head Coach Adam Ponder to learn more about the university and the college soccer recruiting process. After teammate McKenna signed with the university's team in June, he helped Castaneda reach out personally to Ponder for opportunities at the intercollegiate level.
"After speaking with Michael, he was a great surprise," Ponder said. "We actually first spoke about how to help him find a school, and he ended up enjoying what we are building. A big thing that stuck out with Michael is his determination to improve and get better every day. Physically, he looks like he can play at this level and I believe he has potential to really be dangerous for us in the attack.
"We will continue to find ways to help Michael and Morgan to improve and to better their chances to get called up by Guam FA (for international competition). Our team is excited to welcome them into our family and to take care of these guys here in Ohio," Ponder added.
The Muskingum University Fighting Muskies compete in NCAA Division III's Ohio Athletic Conference. Castaneda plans to major in Athletic Training/Health and Fitness.
"I would love to thank my Coach, (Eladio) Manansala, Coach (Jack) Kido, and Coach Karl (Dodd) for helping me improve throughout my time in Guam," Castaneda said. "I would also love to thank my families and friends who have always supported me and helped me get better, as well as GFA and GFA executives for all the opportunities.
"Special thanks to all my JFK teammates," Castaneda added.
Castaneda is the son of Antonio and Genie Castaneda and has two brothers, Joshua and Brandon, and one sister Nicole.