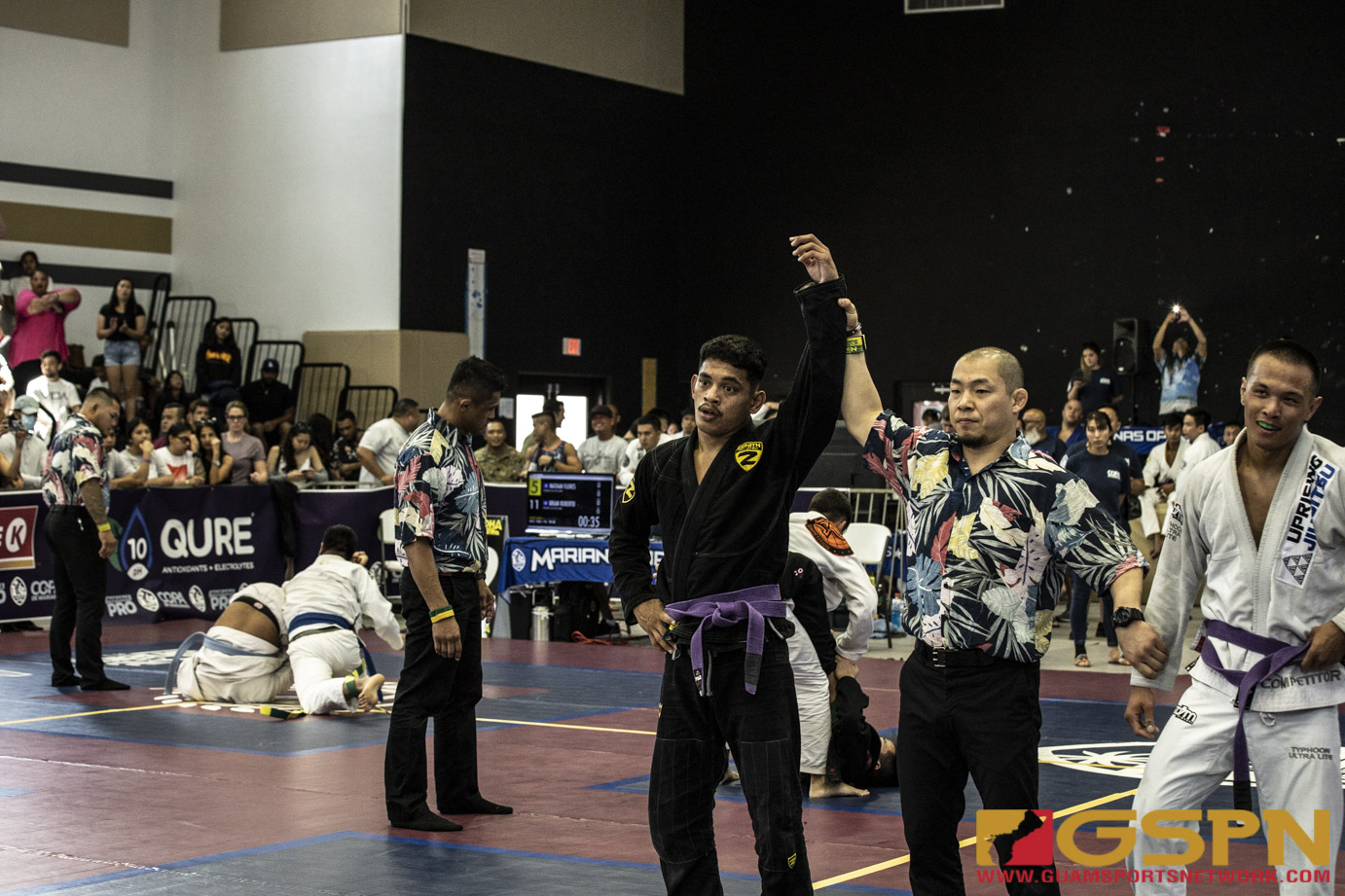 By Brandon Kinsella
Guam's jiu-jitsu community gathered at Tiyan Gym on Saturday to witness athletes showcase their technique and submission abilities. The event took up most of the day and featured all belt, weight, and age divisions.
Gi – Men's Division Winners
Black Belt Division Winner (176-190lbs) – Oliver James Cruz
Purebred jiu jitsu Black Belt Oliver James Cruz won the 176-190lb division securing a victory in the Championship bout against fellow Purebred teammate David Harris.
Brown Belt Division Winner (205lbs)
Anthony Cruz
Carlson Gracie Brown Belt Anthony Cruz won the Brown Belt division at 205lbs in a match against fellow Carlson Gracie teammate Kyle Mafnas.
"Super thankful for the opportunity to compete. Whenever I see my jiu jitsu game transfer over to the competition, it's always a beautiful feeling. Win or lose I always look forward to giving my best performance. I love competing anywhere but competing in front of a home crowd is a special. Happy to get the gold medal in my division."
Purple Belt Division Winners
-Collin Eddington (206lbs and over)
-Kyle Palomo (176-190lbs)
-Peter Benavente (146-160lbs)
-Chris Dela Cruz (131-145lbs)
Gi – Women's Division Winners
White Belt Division Winners
-Annabelle Basto (130lbs)
-Jenna Reyes (131-145lbs)
-Airian Diaz (146-160lbs)
Women's Absolute Division Winner – Airian Diaz
Fighting out of Carlson Gracie Yigo, White Belt Airian Diaz secured the Women's Absolute Division after defeating opponent and teammate Jenna Reyes.
"I've been training for less than a year. This is my second competition, and my first time winning the absolute division. I started doing jiu jitsu to be an inspiration to my daughter. When she first started, she was a little intimidated and I wanted to be an example for her and show her that there's nothing to be scared of. My husband and kids also do jiu jitsu, it's become a family thing. My jiu jitsu team has also become my family and I thought this was a great event."
Gi – Absolute Division Winners
Following the belt and weight class competition was the absolute division, where athletes who place on the podium, compete against opponents with the same belt, with no weight restrictions.
Brown Belt Absolute – Anthony Cruz
Cruz climbed the absolute bracket division with ease, and ended up facing his teammate, Mafnas again for the absolute championship. He won the match on the scoreboard 27-4.
Cruz had nothing but respect for his teammate/opponent and thanked him for a great fight.
Purple Belt Absolute – Collin Eddington
Fighting out of a Caverna Jiu Jitsu family in Okinawa, Purple Belt Eddington performed well in a close match against championship match against Carlson Gracie's Kyle Palomo.
"I've been training jiu jitsu for just under four years. I was invited to Copa de Marianas a year and a half ago after winning a competition in Tokyo, which qualified me for an invitation out here. This is my first time being on Guam and I love the island already, the food, the weather. All of these teams and athletes are good, they have a refined game here on island, and it was not easy to take the gold.
No Gi Division Winners
Advanced Division Winners
Oliver James Cruz (146-160lbs)
Zachery Benavente (161-175lbs)
Collin Eddington (206lbs)
JJ Ambrose (176-190lbs)
Fighting out of Steel Athletics, JJ Ambrose had a hard-fought match against Anthony Cruz in the NoGi division. It was a very technical match up between the two as neither fighter scored a point on each other by the time wound down to zero. As a tiebreaker, the winner of the match would be the first to score. Ambrose eventually secured a take down to score points and win the match.
Ambrose praised his opponent following the match and talked about the opportunity that Copa de Marianas presents. 
"Anthony is an amazing competitor; he's always doing international competitions and going off-island to represent Guam. He's the future of jiu jitsu, he's going to be the guy that goes off-island and wins worlds, I have no doubt about it. CopeDe Marianas and Marianas Open presents a great opportunity for our athletes to compete without having to leave island. Guam is truly an island of fighters and these events showcase that."
NoGi Novice Winners
David Lara (146-160lbs)
Patrick Whitener (167-175lbs)
Dennis Pacheco (176-190lbs)
Anthony Diaz (191-205lbs)
Kyle Cruz (206lbs)
PHOTO GALLERY BROUGHT TO YOU BY:

QUICK HITS
Guam MTB National Championship: Edward Oingerang and Jennifer Camacho are your 2023 MTB national champions. Oingerang finished the course in 1:13:24 while Camacho won her second straight title in 54:08.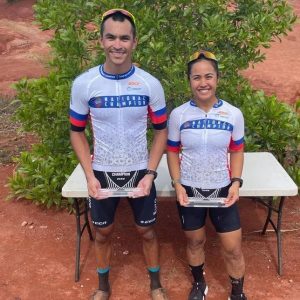 ——————————————
Kobe Miyashita, with St. John's coach Arvin Flores, was named the 2023 IIAAG Middle School Boys Volleyball MVP!