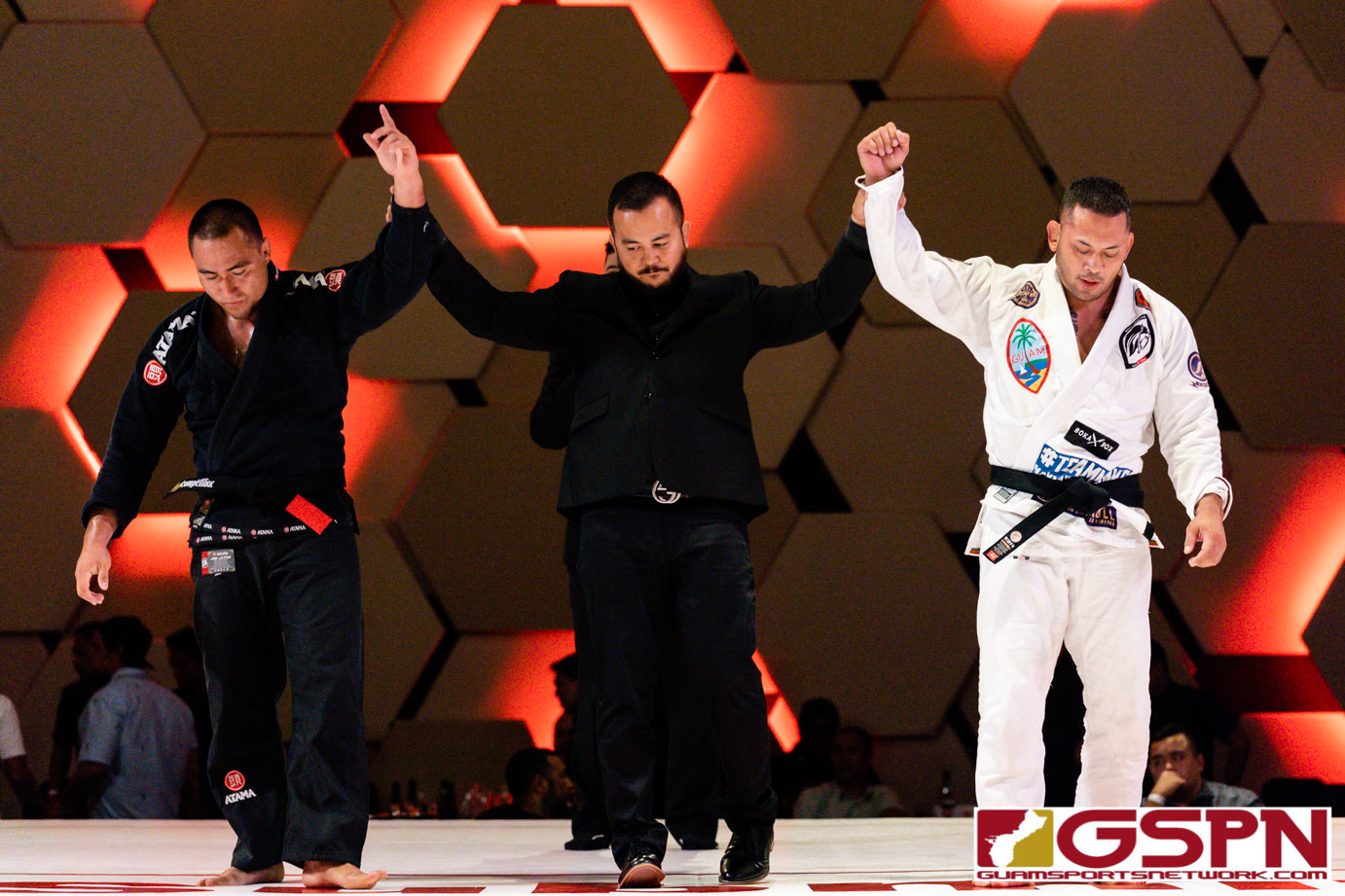 By Brandon Kinsella
Guam's long-awaited jiu-jitsu showcase did not disappoint the sold-out crowd at the Dusit Thani Guam Resort on Friday night.
"The fine wine of submission grappling," lived up to its name as the crowd enjoyed multiple drinks in formal attire at the classy event, while appreciating the art of jiu-jitsu. Even fighters got a chance to show off some fresh looks and mingle with friends and family following their matches.
Guam MMA fighters in Jon Tuck, Frank "The Crank" Camacho, Kyle Aguon and Roque Martinez were also in attendance enjoying the action. Tuck, who is a black belt and Abu Dhabi World Pro Champion commentated the action for KUAM's live broadcast. The former UFC fighter recently signed a one-fight deal with Bellator, and is expected to fight in Ireland this month, on the 27th.
Submission of the Night
While there were some grueling submissions that had potential to win submission of the night, the eventual winner left no doubt in anyone's mind with his finish. Jun San Nicolas walked away with the award, after a flying armbar in the early moments of his 10-minute bout forced opponent Ryan Gomez to tap. San Nicolas described how he felt following his exciting performance.
"I feel really blessed right now, couldn't have done this without my loved ones. This submission was a technique that I always practice at the gym. Once I saw the opportunity to pull it off, I was able to apply it. It was nice to pull it off at a prestigious event like Submit. Glad I was able to give the people their money's worth, it's what we came here to do," said San Nicolas.
Fastest Submission
San Nicolas walked away with two awards by the end of the night, as his flying armbar was also the fastest submission of the night.
Takedown of the Night
Jarome Cruz, fighting out of Figo Bansai Jiu Jitsu, earned Takedown of the night after an electrifying matchup against Spike 22's Joey Crisostomo. Their no-gi match featured lots of takedown action and got the crowd on their feet.
Bryant Pangelinan vs Javier Mirelez
While there were several matches that ended in a draw, the action in each draw was exciting, nonetheless. In jiu-jitsu, every move is calculated, and the sport can be compared to that of a chess-match.
For the main event of the evening, a draw would also be the case.
The skill and technique of both black belt fighters was on display as both black belts were cautious with every move implemented. Towards the end of the match, Mirelez had several attempts at a kimura but the experienced veteran in Pangelinan was able to avoid tapping. Mirelez described some of what went down, for audience members that may not be well versed in the technicality of the sport,
"He's a very technical fighter, strong base, it was hard to take him down. Ended up pulling guard at the beginning. As the fight went on, I was able to get a sweep from half guard. Eventually went to mount, tried some attacks from there. Went for the key lock, which is an arm attack then tried for a kimura. As the clock winded down I tried to take his back, but it was a short amount of time to work with. But overall, really happy with end result. It was an honor competing with a Pan Am and World Champion veteran," said Mirelez.
Trevin Jones vs Hayato Atalig
The co-main event of the evening also ended in a draw. The matchup between Trevin Jones and Hayato Atalig gained lots of attention on social media in the moments leading up to the fight.
The fight was very back and forth, as both fighters traded dominant position off of technical sweeps. Towards the end of the fight, Jones gained good positioning at mount and was on the attack. He almost pulled off a lapel choke but the clock winded down and the match ended in a draw.
Armed Forces Combative Matches
Army vs Army
The highly anticipated rematch between the Guam Army National Guard's black belts Scotty Eclavea and Kenji Okiyama ended in a draw, as neither opponent was able to force a tap. The match consisted of lots of calculated moves, sweeps, and attacks from both fighters. Both men gave some input following the match.
"It was a real chess match out there. I know we ended in a stalemate but I'm glad we were able to put on a show for fans with the action and represent the Guam Army National Guard." -Scotty Eclavea
"It's always a pleasure fighting Scotty. We've fought each other many times and it's almost like fighting a mirror, we have the same style." -Kenji Okiyama
Navy vs Army
Active Duty Navy Member Maxton Soviak pulled off the victory against Army's Rico Respicio after a painful kimura forced Respicio to tap in the final seconds of the bout. Soviak, a multisport athlete who trains religiously at Custom Fitness, received quite the applause from the gym's owners in the Claros Brothers and Samantha Sablan.
Quotes from other Fighters
The first submission victory of the night came from 22-year-old blue belt Anthony "NoNo" Rivera. A Gi-choke on his opponent would cause his opponent to pass out.
While some fans might have been a bit startled, his opponent did not bear any significant injuries and regained consciousness fairly quickly. While it may be a rare occurrence, it is all part of the game. The Submit team knew how to handle the situation appropriately. Rivera gave some thoughts following his victory.
"It's an honor to compete in an event like this one, jiu-jitsu is a sport that really saved my life. I used to be really overweight at about 270, and now I'm fighting at the 190-205 division. Happy I got the submission victory, but win or lose I just love to compete, and it was a great experience. Shouts out to my opponent, very strong and technical fighter," said Rivera.
"Even though I was the youngest fighter to compete, I didn't let the pressure get to me. I'm a little bit disappointed in my game, I felt like I could've pushed more but at the same time I'm happy to take a draw over a loss. Submit is such a prestigious event, and I'm honored to compete at this age, this will definitely open up other opportunities for me to fight in other events." – Colin Cruz
PHOTO GALLERY BROUGHT TO YOU BY:

QUICK HITS
3rd place: Big ups to the Para Todu Rugby Club for finishing 3rd out of 16 teams in the Manila 10's Rugby Tournament today. Biba Guam Rugby!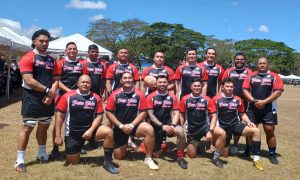 ——————————————
Guam MTB National Championship: Edward Oingerang and Jennifer Camacho are your 2023 MTB national champions. Oingerang finished the course in 1:13:24 while Camacho won her second straight title in 54:08.