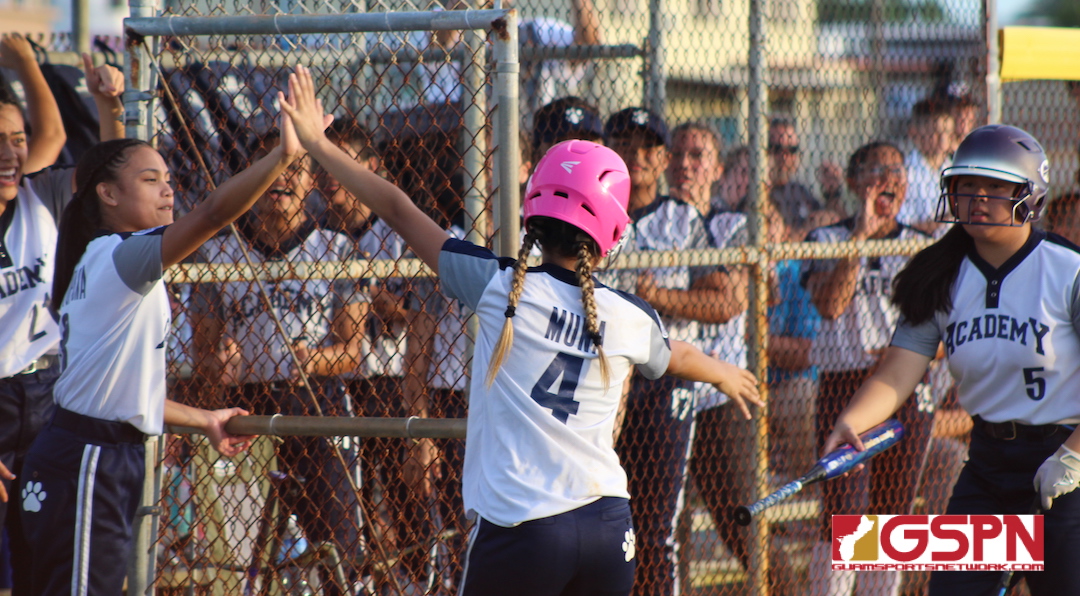 By Robert Balajadia
The Academy Cougars were one out away from leaving the 6th inning down 9-5 against the home team Guam High Panthers Thursday afternoon in a ISA Softball League showdown. Instead, the Cougars put together a two-out rally that translated into 10 runs to jump ahead 15-9 in the inning.
Their defense would hold off a Panther rally in the 7th to win the game 15-13 to improve to (3-0) on the season. Guam High suffers just their second loss falling to (3-2).
The pressure was on for the Cougars as they were running out of innings and daylight down 9-5 to start the 6th inning. With two outs away, Cougar Branwen Saville stepped up for a huge at bat to start the rally with a two-RBI single to get within 9-7.
Panther Lexi Blyth would hit three Cougar batters that would bring in runs to tie the game at 9-all before a big hit from Talen Topasna would keep the rally going. Topasna had three balls in her back pocket and decided to swing on a perfect pitch, resulting in a two-run single to take a 12-9 lead.
"Our motto is pressure is a privilege," said Talen on the Cougars shifting gears in the 6th. "When I heard everyone screaming that we had two outs, I just had to block out all the noise and tell myself 'no, I'm going to get these runs and get my girls in'."
The bats stayed hot two batters later as Olivia Salas chose the perfect time to hit her first home run of the season. With the Cougar dugout already going wild, Salas would turn her second plate appearance of the inning into a two-run homer right down the center of the field.
"Coach just told me that my sisters were on base and I needed to take them home, so I took them home," said Salas on the motivation behind her big home run.
Cougars relief pitcher Isabella Dangan would strike out two Panther batters in the bottom of the 6th after giving up a run early in the inning. A pop-fly out would preserve the Cougars lead 15-10 heading into the 7th.
Guam High shut the Cougars out in the 7th going three up and three down for one final shot at a comeback. Kailee Guerrero would get a hit on Dangan in the 7th with a fielders choice getting a run in for Guam High. Panther Amanda Espinal would get an RBI to chip at the lead still down 15-12 and Espinal would eventually score after stealing home after a Cougar strikeout.
Cougars catcher Aimiah Cruz would snag the final out after a foul ball from Panther Kina DelaSierra fell just inside Cruz's reach to end the game.
"We always tell the girls that morale is the biggest part of the game, which is the mental game. We have to have fun, even if we make the mistakes, we call it 'fast pitch softball but short term memory' because we need to forget the mistakes and not worry about them during the game," said Topasna.
The defending Champion Cougars have gotten off to a (3-0) start this season with plenty of new faces and young players on their roster. Even after losing a strong senior crop, the team is slowly finding their identity and are winning games in the process.
"We're just work our hardest. We work ten times harder in practice and we're always giving it 110%, all of the time," said Salas.
Cougars pitcher Dangan gets the win after stepping in as relief in the 4th inning and Panthers Blyth takes the loss pitching all seven innings.
Cougar Isabella Muna had a strong day at bat going 3-of-4 on the day with three runs. Panthers leading hitters were sisters Lexi and Victoria with both going 3-of-3 with Lexi scoring two runs.
PHOTO GALLERY BROUGHT TO YOU BY:

National Guard Athletes
Scott Eclavea
Scott Eclavea is a jiu-jitsu black belt and an accomplished MMA fighter. The Guard has given him an outlet in combatives to display his martial art skills, where he's become a head instructor for that program. Eclavea has served since coming out of high school and the Guard has only changed his life for the better.
COMING SOON …
LIVE FOOTBALL ON GSPN
Semifinals: #1 FD vs. #4 Southern (Friday 7 pm)
GSPN Preseason Basketball Tournament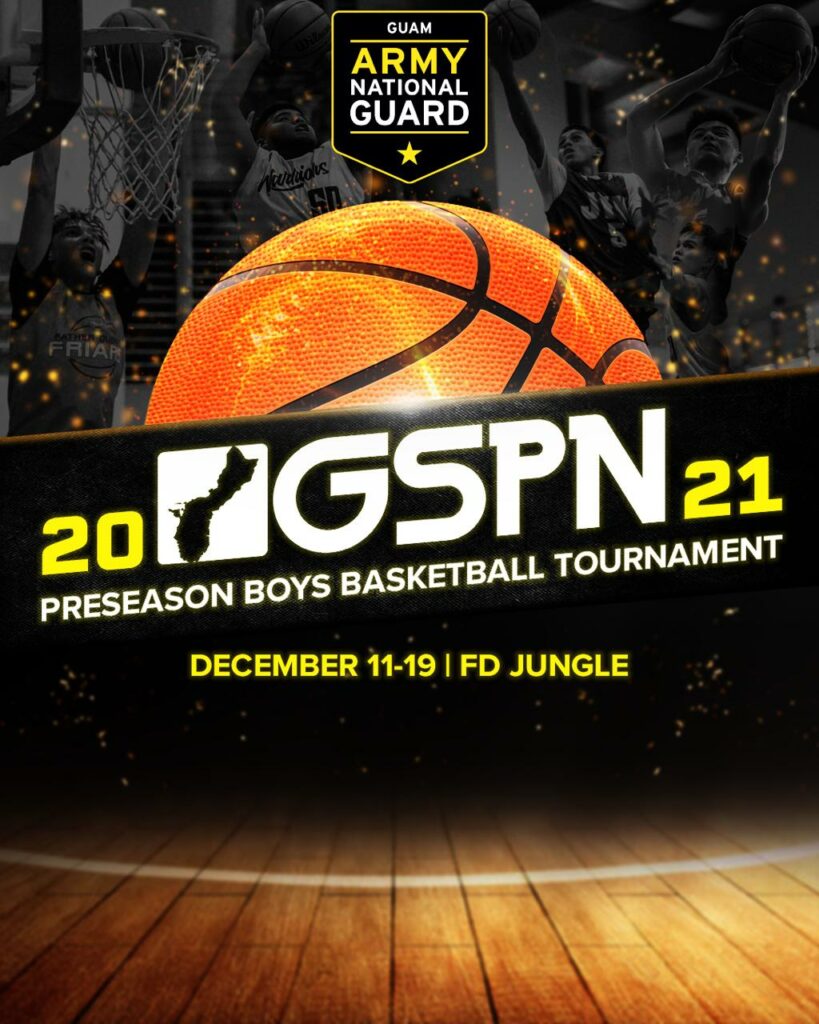 QUICK HITS
Robert Artero Maley recently captured the 182-lb. division of the Costa Mesa Classic, winning via pin in 4 out of 5 matches. Robert is a 4-year varsity wrestler at San Clemente HS (Tritons) and is currently ranked 15th in California's high school scene. He is the son of Jacque Artero Maley (AOLG 1991).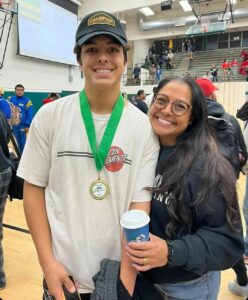 ——————————————–
Pat Taitano and Rich Abiador, teammates on the 1995 SPG volleyball team, have led their high school girls volleyball teams to the Washington State Championships in Yakima, Wa.
Taitano coaches Mt. Rainier High while Abiador leads North Creek High.
There for support is Dr. Mark Perez, a health professor at Central Washington University and a former UOG volleyball player.