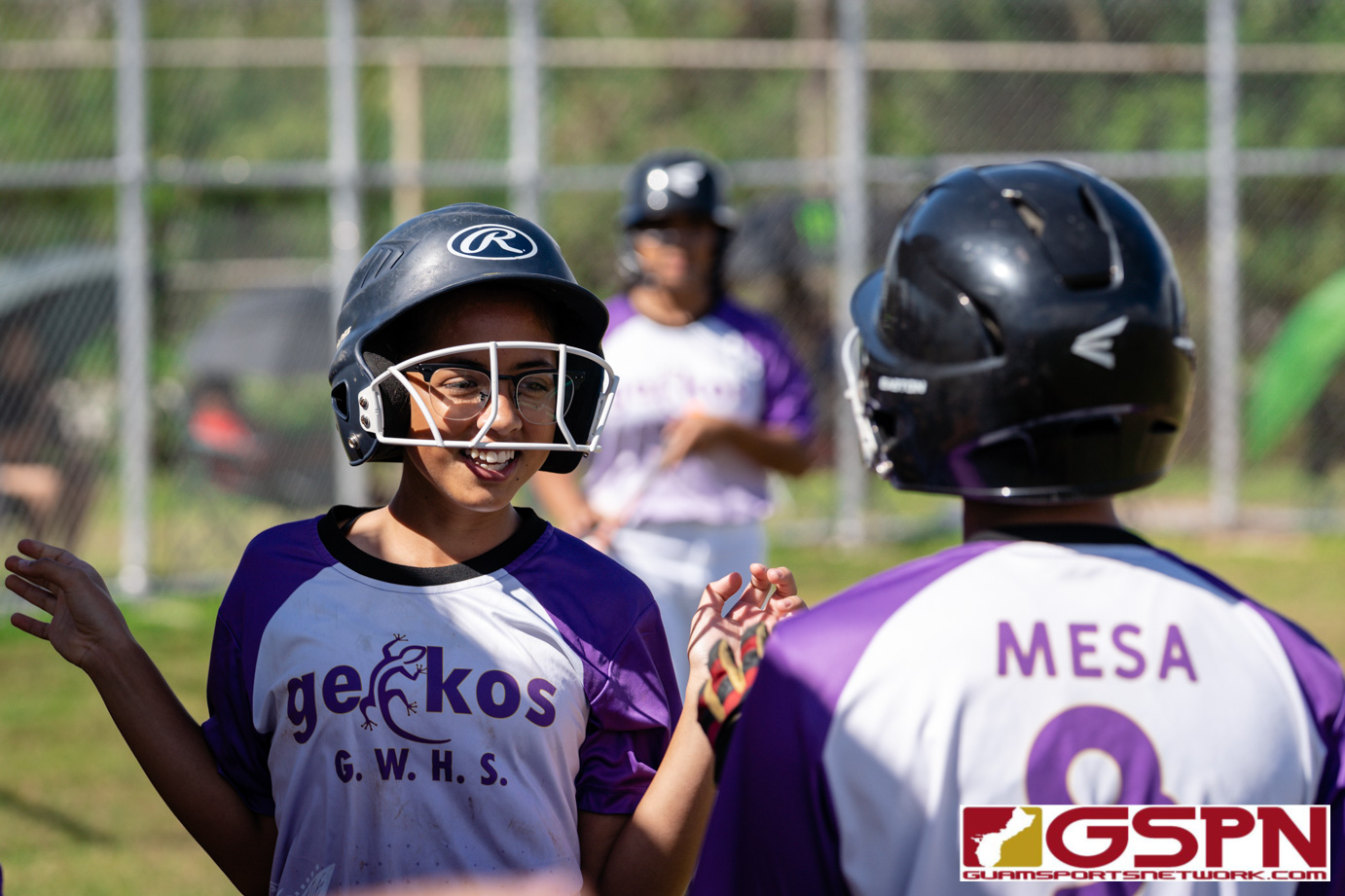 By Robert Balajadia
The GW Geckos were sharp in all areas Saturday morning's ISA Softball League game as they wrapped up action against the visiting Okkodo Bulldogs in four innings with a 17-0 victory via 15-run mercy rule.
Highlighting the day was Gecko Rocki Mesa who hit an in-the-park home run on her first at bat, a triple on her second and another in-the-park homer to end the game in the final inning.
"I'm just glad that I got my hits in," laughed Rocki on her big day.
The Geckos are coming off a loss to Southern Dolphins Tuesday, their first of the season. Having a few days to soak it all in, GW came into Saturday more fired up to put their loss behind them.
"We just had to keep our heads up and work as a team," said Mesa on how the team managed to rebound from their loss.
Geckos pitcher Rhonamae Salvador was on her way to a no-hitter before giving up her lone hit in the 4th inning. Salvador ended the day with six strikeouts while helping her team improve to (4-1).
Mesa opened the flood gates for GW's runs with her opening inning two-run home run to take a quick 2-0 lead. Bulldog short stop Kiana Clark would snag all three outs in the inning with two Gecko runners on base.
GW would tack on six more runs in the 2nd inning starting with efficient hitter Savannah Grant getting home after an outfield error. Grant was staring down her fly ball as she trotted to first base before the dropped ball prompted her to dart home, putting GW up 5-0.
Joresha Quichocho would make her own mark on the game with the teams second in-the-park homer to go up 6-0 before two more RBI's would leave GW up 8-0.
Grant would help preserve the lead in the 3rd after snagging back-to-back grounders to beat the runners to first, setting up another fruitful scoring inning. Grant would lead with a triple in the 3rd and a Quichocho RBI would put GW up 10-0. Clark would grab the final out down 14-0 to give Okkodo another inning.
Salvador would get two strikeouts in the 4th with the game ending on Mesa's final home run.
"It was a good game. I started to feel in the groove while the game was going on," said Salvador on her smooth game.
GW will travel to JFK Tuesday and the Bulldogs will play the Cougars on the same day.
PHOTO GALLERY BROUGHT TO YOU BY:

QUICK HITS
The Figo Islanders 40s women's softball team took gold in the Senior Softball World Championship in Las Vegas. Figo came out of the loser's bracket and beat the Arizona Belles 17-3 in the AA division championship game Sunday afternoon.
Other Guam teams that played in the 40s tournament were: Team SOTTA (women's) and Bud Light Guam, Friars 671 and Sindalun Guahan (men's).
Sindalu finished a respectable 4th out of 24 AAA division teams.