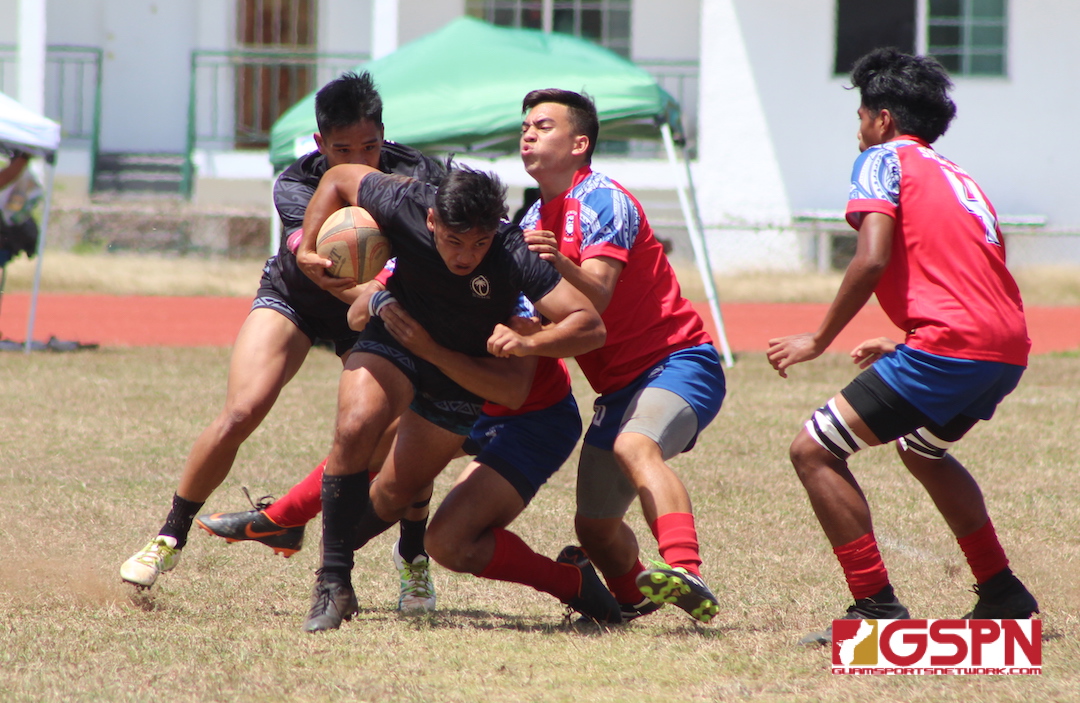 By Robert Balajadia
The top eight girls teams and top four boys teams entered Saturday, but only two were left standing on each side as the playoffs for the GRFU/ISA Rugby League took over the GW Field.
The top four seeds in the Girls Quarterfinals advanced with no upsets, leaving the ND Royals vs. Sanchez Sharks and Tiyan Titans vs. GW Geckos to compete for a spot in next weekend's Cup Game.
Royals vs. Geckos rematch for Finals
Girls Quarterfinals:
ND 26, Guam High 0
GW 14, Okkodo 7
Tiyan 31, Academy 0
Sanchez 19, Southern 0
Girls Semifinals:
ND 32, Sanchez 0
GW 14, Tiyan 0
The Royals got off to a quick start scoring the games first try in the first two minutes of the game. ND's dynamic fly half Hana Takano was filling in at scrumhalf for an injured Faith Moylan and Takano found her groove from the go. Takano scored the games first try and added two more in the second half as ND ran away to a 32-0 win.
"I was really nervous, but [Faith] really helped me learn that position and my team picked me up. We made a game plan and we stuck through with it. Everyone knew what we needed to do," said Takano on the teams performance.
Even with the banged up squad, ND isn't planning on taking too much rest before their final game next weekend.
"I'm hoping we find a real good balance between the both," said a laughing Takano.
The Titans and Geckos were battling in a stalemate until the four-minute mark where GW broke the scoreless game on a try from Tasilyn Cruz, followed by an Aveah Garrido conversion. The Gecko defense would force a late turnover that would lead to another try, this time from Garrido, to seal the game.
Friars to play Sharks in battle of top seeds
Boys Semifinals:
Sanchez 10, Okkodo 3
FD 58, GW 0
The FD Friars looked as sharp as they have all season, putting down 10 tries over the Geckos to punch their ticket to the Cup game next weekend.
The Sanchez Sharks scored two first half tries and held their lead playing strong defense all-game long to grab the semifinals win over the Bulldogs. Okkodo had stolen the win over the Sharks on a late-game play in the opening week of the season, but Sanchez has always been a team that plays their best ball in the season's later half.
"Every team progresses as the season goes on, but we didn't have all of our players in the first game against [Okkodo]. We definitely got to train and work with those players, and the more numbers you have in your practice allows you to actually practice," said Sablan.
The Sharks got their first try within the first 10 minutes of the game as Sedyn Bell got through the left side of the Bulldog defense after advancing from an advantage. Bell's score quickly put the Sharks up 5-0 after a missed conversion.
Okkodo would turn the ball over near midfield which set up a try for big man Petey Benito, who powered through with a big push from his team to break the try line up the right side. Another missed conversion left the score 10-0.
Okkodo would get on the board with a field goal off a penalty right before halftime 10-3. Defenses would prevail for the remainder of the game to keep the score at 10-3, putting the Sharks back in the title game after a one-year absence.
Team Captain Josh Sablan is just one of three brothers on the team, but a red card in the semis kept him out of the Championship in 2018.
"I'm excited, a little nervous, but I'm going to take this serious because it's do or die," added Josh.
He finally gets to play in his first ever Championship game and having the rest of his brothers there only sweetens the experience.
"I'm just grateful for the opportunity to play. I didn't get to finish the football season with them because of injuries. And win or lose, but I'm hoping for a win, I'm just happy being able to hit the field with them."
PHOTO GALLERY BROUGHT TO YOU BY:

2022 GSPN I MÅS METGOT COMPETITION
2022 GSPN I MÅS METGOT COMPETITION
2022 GSPN I MÅS METGOT COMPETITION
2022 GSPN I MÅS METGOT COMPETITION
2022 GSPN I MÅS METGOT COMPETITION
2022 GSPN I MÅS METGOT COMPETITION
COMING SOON …
GNYFF Championship Saturday
2nd Annual Greg D. Perez Fishing Tournament on Saturday
GML Playoffs
1st Quarter Sports
QUICK HITS
Team Onslaught represented Guam at the National X-Ball League paintball tournament in Sacramento, CA. The squad finished in 3rd place out of 12 teams in the Division 5 category.
Front L-R: Frankie Borja, Robert Delos Reyes
Back L-R: Marvin Reyes, Ericka Camacho, Gavin Santos, Nick Rivera, Nikki Tan, Adrian Mora, Ralph Sgambelluri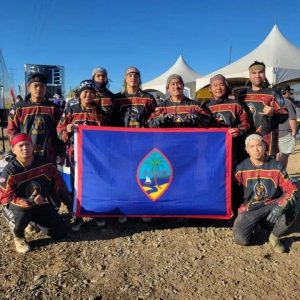 ———————————————–
Purebred Jiu-Jitsu Guam adds three more to their black belt stable. Daniel Cayanan, Cameron Mantanona and Peter Ungacta received their black belts on Saturday from Professor Stephen Roberto.