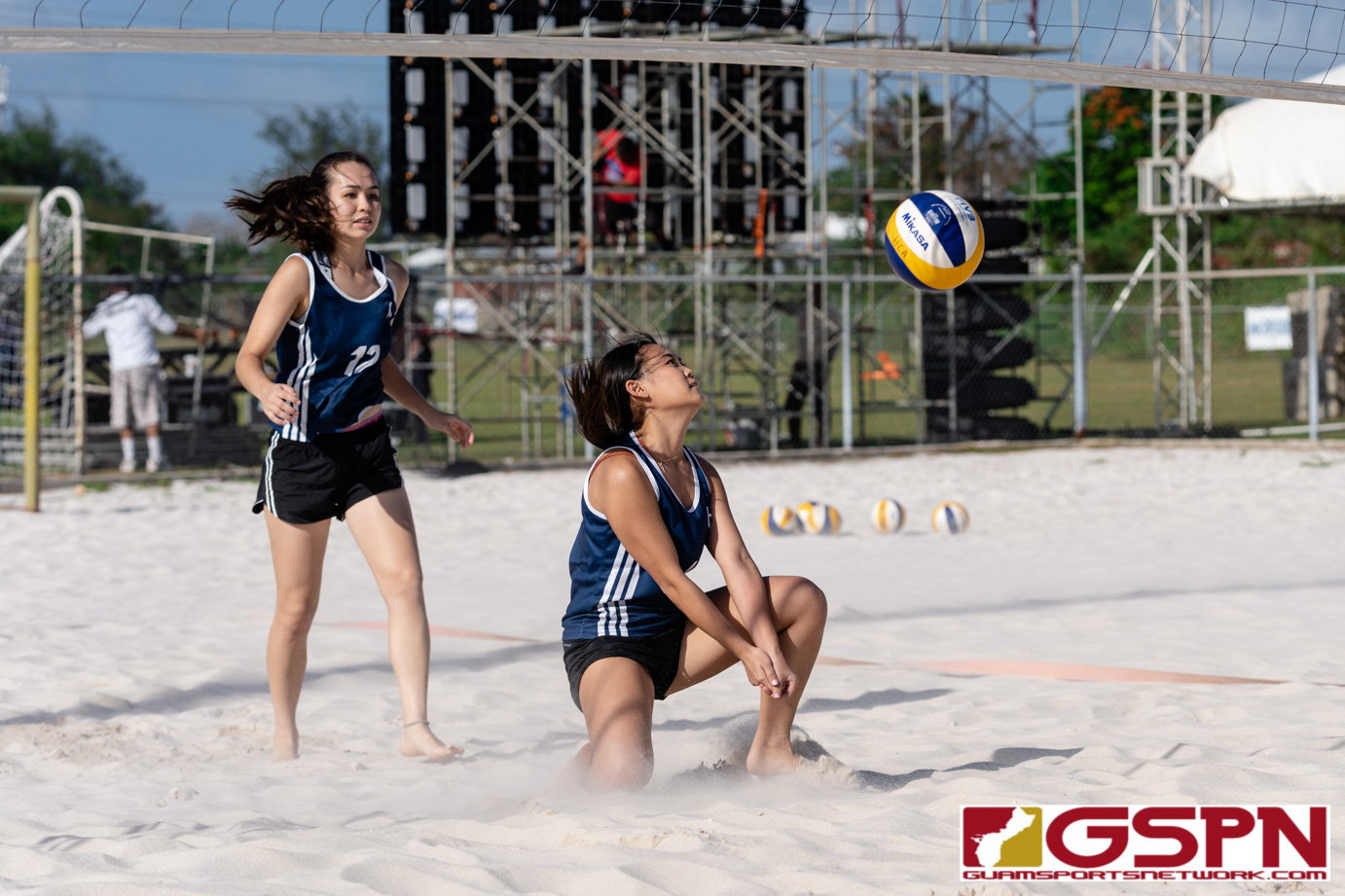 By Robert Balajadia
The first official season of IIAAG Girls Beach Volleyball has reached its midway point after going through a successful exhibition season last year. Thursday featured a showdown between the top two teams at the GFA Sand Courts between with the Harvest Eagles handing the St. John's Knights their first loss winning two games to one.
Thursday Games
Team 3 Winners: Harvest def. St. John's 14-21, 21-14, 15-6
(Harvest) Selina Navarro & Samantha Kenny
(St. John's) Lane Murrell & Page Murrell
Game 2 Winners: Harvest def. St. John's 21-15, 21-15
(Harvest) Vanessa Kim/Aya Cathey
(St. John's)Yasmeen Lopez/Nikki Mathews
Game 1 Winners: St. John's def. Harvest 21-7, 21-10
(St. John's) Hallie Wigsten/Tylee Shepherd
(Harvest) Trinity Terlaje/Samantha Lorzano
Knights Tandem still perfect
St. John's may have taken their first team loss, but the 'Cookies & Cream' duo of Hallie Wigsten and Tylee Shpeherd have yet to lose a set. Thursday, the pair put on a show from the service line in their dominant win looking even more comfortable than ever.
"Being on the sand, I'd say we're pretty comfortable. We've played as a pair since I was a freshmen and we won the Marianas Cup in Saipan," said Hallie on how long the two have been playing together.
The Knights won last years exhibition season with Sheperd and Wigsten going unbeaten and the pair is just as dialed in after the IIAAG officially adopted the sport.
"I think we've still got the same mind set which is to play your hardest and win every game you possibly can. The sport being 'official' doesn't make a difference how we play because we should be playing our best no matter what," said Tylee.
The leagues growth still has a lot of potential and the resurgence of beach volleyball is starting to take shape.
"We're seeing [beach volleyball] a lot more on social media and some teams in the league have a lot of girls. I think that next year and the years on we'll see more numbers, but sadly I won't be here to be playing, but I think competition will be good in the upcoming years," added Wigsten.
2020 will also be the last time we see the duo of 'Cookies & Cream' in high school with Wigsten set to graduate this summer. Shepherd reflected on the reality that this season will be their last ride.
"It's a bittersweet moment, especially since beach volleyball is the last volleyball-related sport of the year so we're going to make the most of it, have the most fun and get better together and grow."
PHOTO GALLERY BROUGHT TO YOU BY:

QUICK HITS
The Figo Islanders 40s women's softball team took gold in the Senior Softball World Championship in Las Vegas. Figo came out of the loser's bracket and beat the Arizona Belles 17-3 in the AA division championship game Sunday afternoon.
Other Guam teams that played in the 40s tournament were: Team SOTTA (women's) and Bud Light Guam, Friars 671 and Sindalun Guahan (men's).
Sindalu finished a respectable 4th out of 24 AAA division teams.