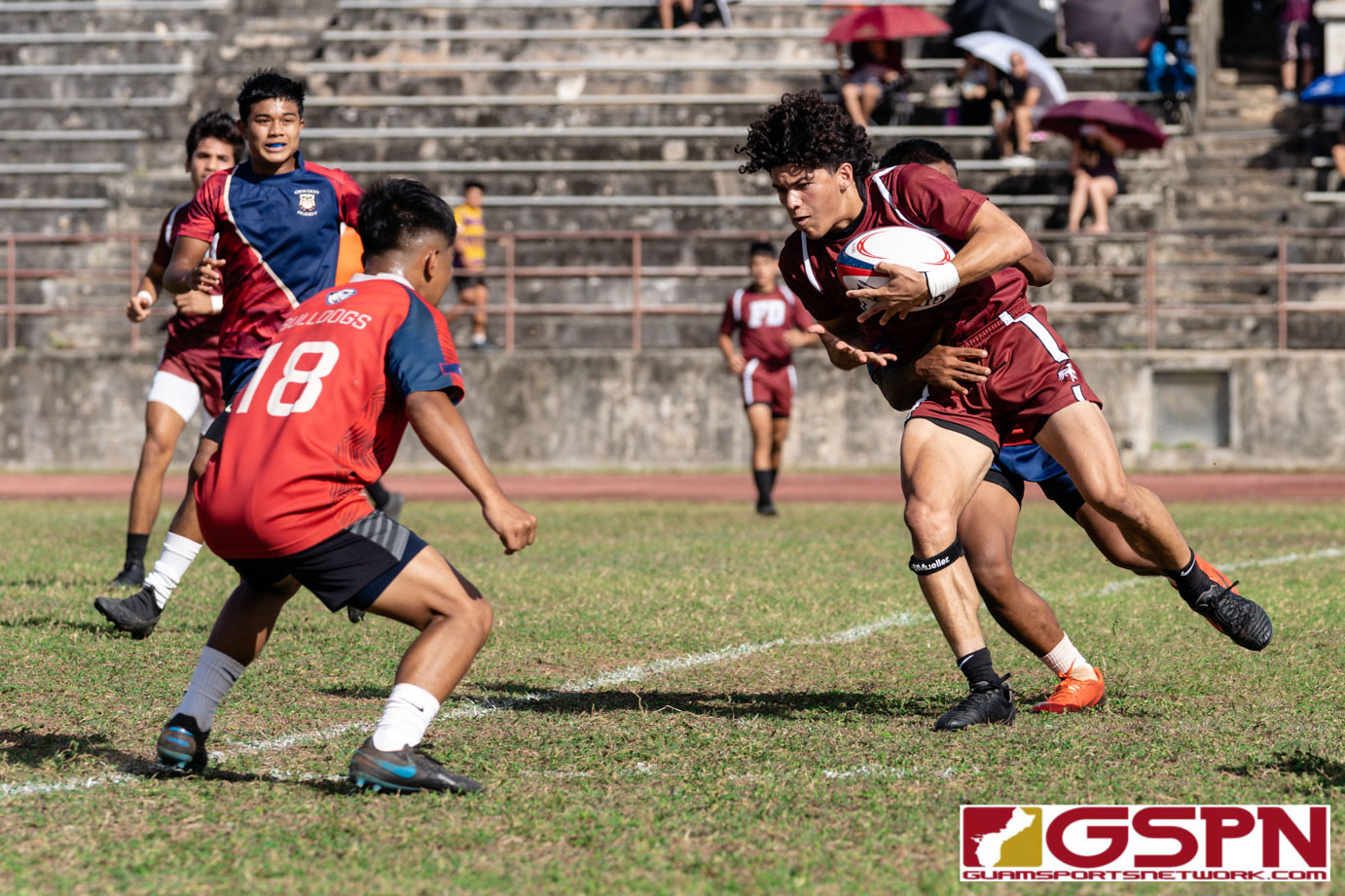 By Robert Balajadia
A windy Saturday down South was highlighted by another busy day of Rugby with the Southern Dolphins hosting action for the first time this season. The day featured an undefeated showdown between the FD Friars and Okkodo Bulldogs (both 4-0) in the afternoon while the Tiyan Titans nearly ended the ND Royals unbeaten streak in the morning games.
Friars run free in 40-7 win
The battle for the leagues top spot went to the Friars after posting a 26-0 halftime lead, stretching to a 40-0 lead with Okkodo scoring on a late-game try.
New addition Kein 'Ghost' Artero appears to be fitting in seamlessly into the team in just his first season of rugby. Artero's first touch came early along the side line where he spurned four different Bulldogs on his way to the games opening try.
Tobin Perez would add to the lead moments later after taking full advantage of a dropped kick recovery from Okkodo to quickly put FD up 12-0. Perez and Artero would add another try on the day with Jose San Nicolas and Elijah Calvo also getting in on the scoring.
"He's turning into a really intelligent player, which I'm really excited about," said Perez on Artero, who has witnessed Artero's abilities on the football field as well. "It's exciting to see him tearing it up on the rugby field and he's helping the team out as we try to get back the title."
The Friars remain unbeaten for the fourth time in five years, but their regular season record has become an after thought with the team thinking bigger picture.
"Personally, I don't care about the record. I'm only concern is about bringing back home that trophy for Mr. Thompson, 'X', Mr. Santos and Mr. Roth," added Perez.
The Friars still have the Sanchez Sharks to play in the regular season finale, but will own the tie-breaker in point spread to remain as the top seed.
Dolphins rebound vs. Bulldogs, Titans come close to tie Royals
In the girls division, the Southern Dolphins got their homecoming off to a slow start after falling to the Academy Cougars in the afternoon game. After a short break, the Dolphins rebounded to beat the Okkodo Bulldogs 10-5.
The Tiyan Titans almost played spoiler to the ND Royals songfest night after a late-game turnover negated what would have ended in a tie. ND held a 14-7 lead with the Titans getting near the try line on the games final play. Tiyan had tried to put the ball down for the potential game-tying try, but the sideline ref said the ball had went out of bounds negating the try.
| | | | | | | | |
| --- | --- | --- | --- | --- | --- | --- | --- |
| TIME | | VISITORS | | HOME | | DIVISION | |
| 09:00 | | NDHS | 26 | SHS | 0 | Girls Varsity | |
| 09:30 | | AOLG | 0 | GWHS | 17 | Girls Varsity | |
| 10:00 | | SSHS | 32 | GHS | 0 | Girls Varsity | |
| 10:30 | | NDHS | 14 | THS | 7 | Girls Varsity | |
| 11:00 | | GHS | 17 | OHS | 14 | Girls Varsity | |
| 11:30 | | SSHS | 5 | GWHS | 22 | Girls Varsity | |
| 12:00 | | AOLG | 14 | SHS | 12 | Girls Varsity | |
| 12:30 | | ***15min BREAK*** | | | | Girls Varsity | |
| 12:45 | | SSHS | 5 | THS | 19 | Girls Varsity | |
| 01:15 | | SHS | 15 | OHS | 10 | Girls Varsity | |
| 02:15 | | GWHS | 19 | THS | 5 | Boys Varsity | |
| 03:30 | | OHS | 7 | FDMS | 40 | Boys Varsity | |
| 04:45 | | GHS | 7 | SHS | 24 | Boys Varsity | |
Attachments area

PHOTO GALLERY BROUGHT TO YOU BY: