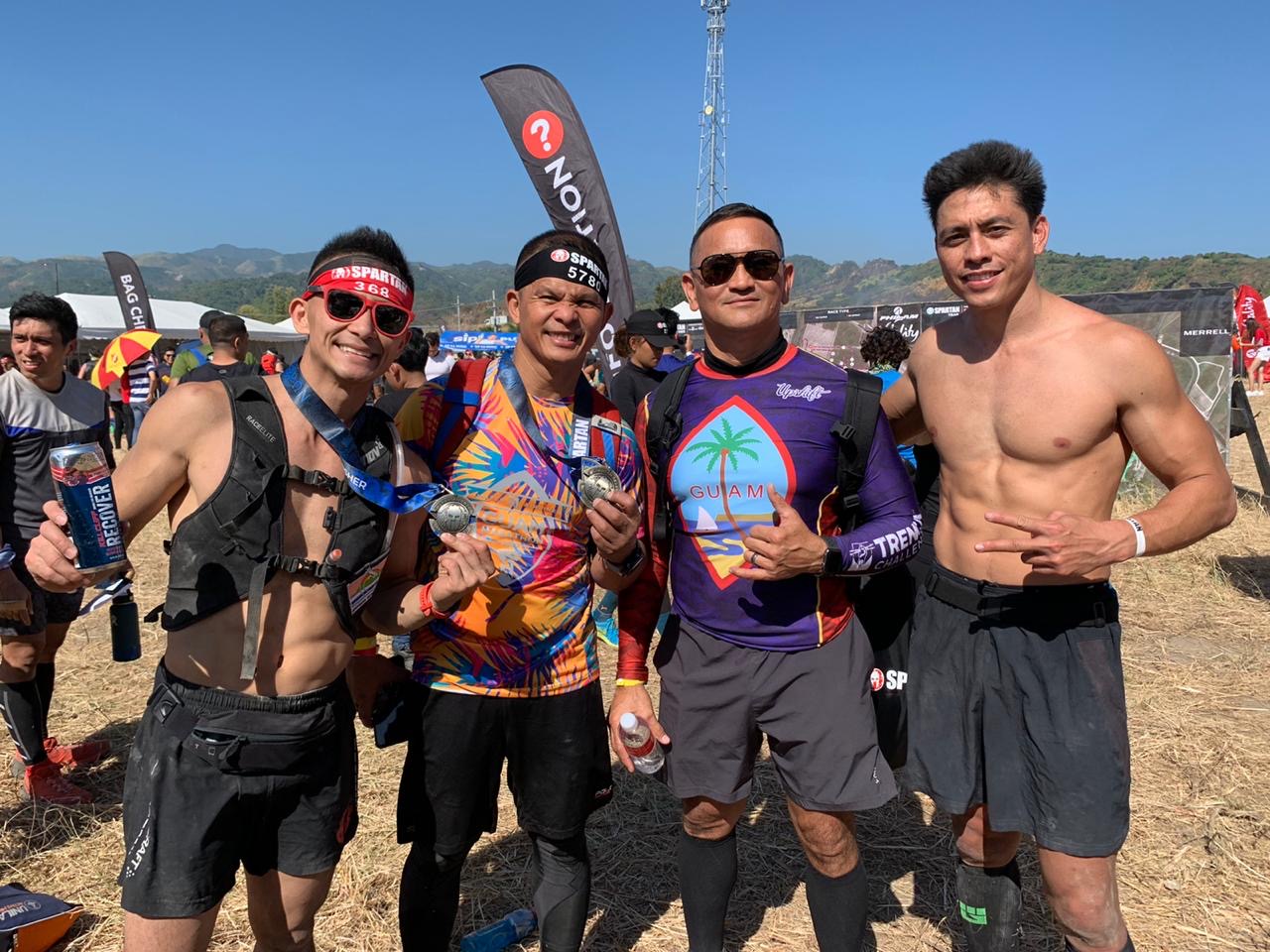 February 22, 2020 Alviera, Porac, Pampanga Philippines – Guam athletes Patrick Camacho, James Sardea, Jeffrey Rios, and Billy Navarrete participated in the first Spartan Race of 2020 on Saturday and are bringing home some hardware.
Patrick Camacho a well-known Guam national team Triathlete and Cyclist competed in his first ever competitive Obstacle Course Race in the Spartan Super 10km Elite Male division and finished top 6/36 and 6/53 overall with a time of 1:06:23.
James Sardea (Guam Adventure Racer and Trench Challenge Athlete) finished the Spartan Super 10km race and placed 1st to take home Gold in the 50-54 age division. Ranking was 46/448 overall with a time of 1:23:42.
Billy Navarrete (Ninja Warrior, OCR World Championship and Trench Challenge Athlete) finished the Spartan Super 10km race placing 3rd in the 30-34 age division and 7/238 overall in the age group with a time of 1:11:27.  Billy then ran the Sprint 5k as a cool down finishing it in 50:04.
Jeffrey Rios, Trench Challenge Logistics Director participated in his second Spartan Race Sprint 5km distance / 20 obstacle race placing 8th in his age division, a big improvement from 19th last year. Ranking was 284/1655 overall. "This race was a lot of fun. My goal was to complete all the obstacles this time without doing penalty burpees. I missed the spear throw and cramped on the Z wall. The 2 things I spent little to no time working on. You train for hard stuff and fail on the easy ones… My take away from this is to train for everything 100% all the time."
**TRENCH CHALLENGE Guam's Obstacle Course Race is scheduled for September 20th 2020.
Registration has opened since January 1st. Stay tuned for upcoming pocket events like trail runs and training camps. For more information, find Trench Events on Facebook, visit trenchevents.com or email: [email protected]
***TRENCH KIDS Obstacle Course Race just for kids is scheduled for March 22nd at the Gov. Joseph Flores / Ypao Beach Park during the 2nd annual GVB Ko'Ko' Kids Fest.
PHOTO GALLERY BROUGHT TO YOU BY:

QUICK HITS
The Figo Islanders 40s women's softball team took gold in the Senior Softball World Championship in Las Vegas. Figo came out of the loser's bracket and beat the Arizona Belles 17-3 in the AA division championship game Sunday afternoon.
Other Guam teams that played in the 40s tournament were: Team SOTTA (women's) and Bud Light Guam, Friars 671 and Sindalun Guahan (men's).
Sindalu finished a respectable 4th out of 24 AAA division teams.