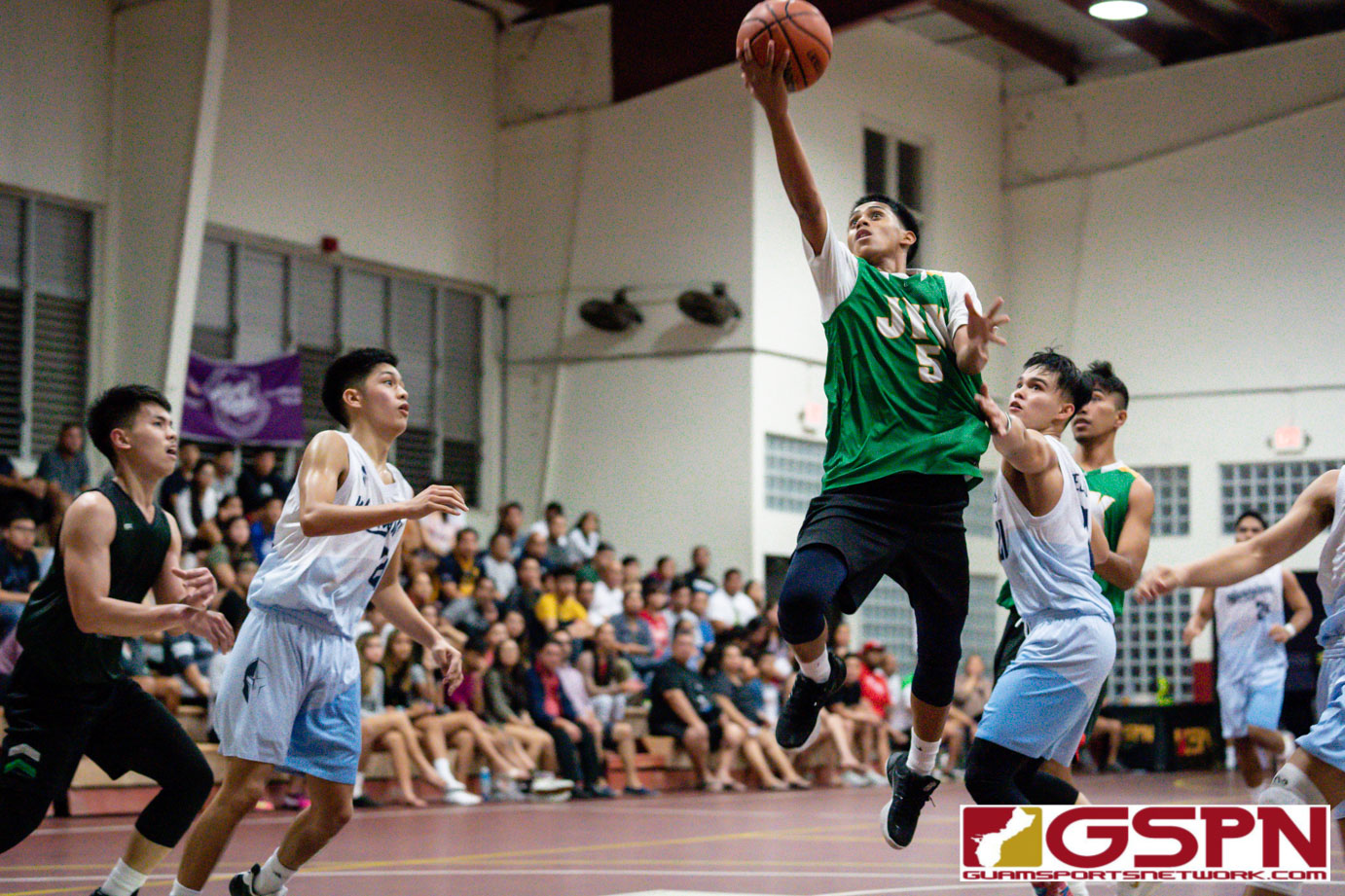 Tuesday night's game between the JFK Islanders and St. Paul Warriors was as good as advertised as the top two unbeaten teams in Pool B battled for a spot in the Preseason Championship Game. The Islanders stayed close behind before making their move in the second half to take the victory and the Bulldogs lock in their spot as the 3rd seed in Pool B.
Pool A
FD 3-0
Okkodo 3-1
Guam High 2-2
ND 1-3
Tiyan 0-3
Pool B
JFK 4-0
St. Paul 3-1
Sanchez 1-2
Harvest 1-3
St. John's 0-3
JFK 68, St. Paul 59
The Warriors had the hotter start, but the Islanders turned the tables in the second half after a streaky series of three-pointers started falling and layups off breaking the Warriors press. JFK trailed no more than eight points and managed to string a pair of threes from Rodson Simina and Jeremiah Kintoki to get within 33-29 at the half.
JFK took their first lead of the second half in the third after Kintoki converted on a three from the wing to go up 44-42, a lead that the Islanders would hold going in the 4th. JFK would close out the 4th scoring 19 points, holding a double-digit lead on the Warriors for the later moments of the 4th.
Simina led all scorers with 21 points and Kintoki added 18. St. Paul guard Thelo Orichiro scored 18 points and sixth-man Hayato Tsuji scored 15 off the bench.
"We just kept the game moving. We didn't come out prepared in the first half, some of us were feeling the pressure… Our chemistry reflects everything we do in practice. We put in a lot of work, share the ball, and that's how we play," said Kintoki.
Okkodo 67, ND 52
The Bulldogs secure their spot as the #2 seed in Pool A after beating the ND Royals and they will face the St. Paul Warriors in the 3rd place game Thursday evening. Jon Michael Lorena had a strong night, scoring 13 points in the win and teammate and fellow big-man Rylen Cajigal added 12. ND got an 11-point night from Shawn Lamparero.
Wednesday's Games
5:30 pm Sanchez vs. St. John's
7 pm Tiyan vs. FD
PHOTO GALLERY BROUGHT TO YOU BY: