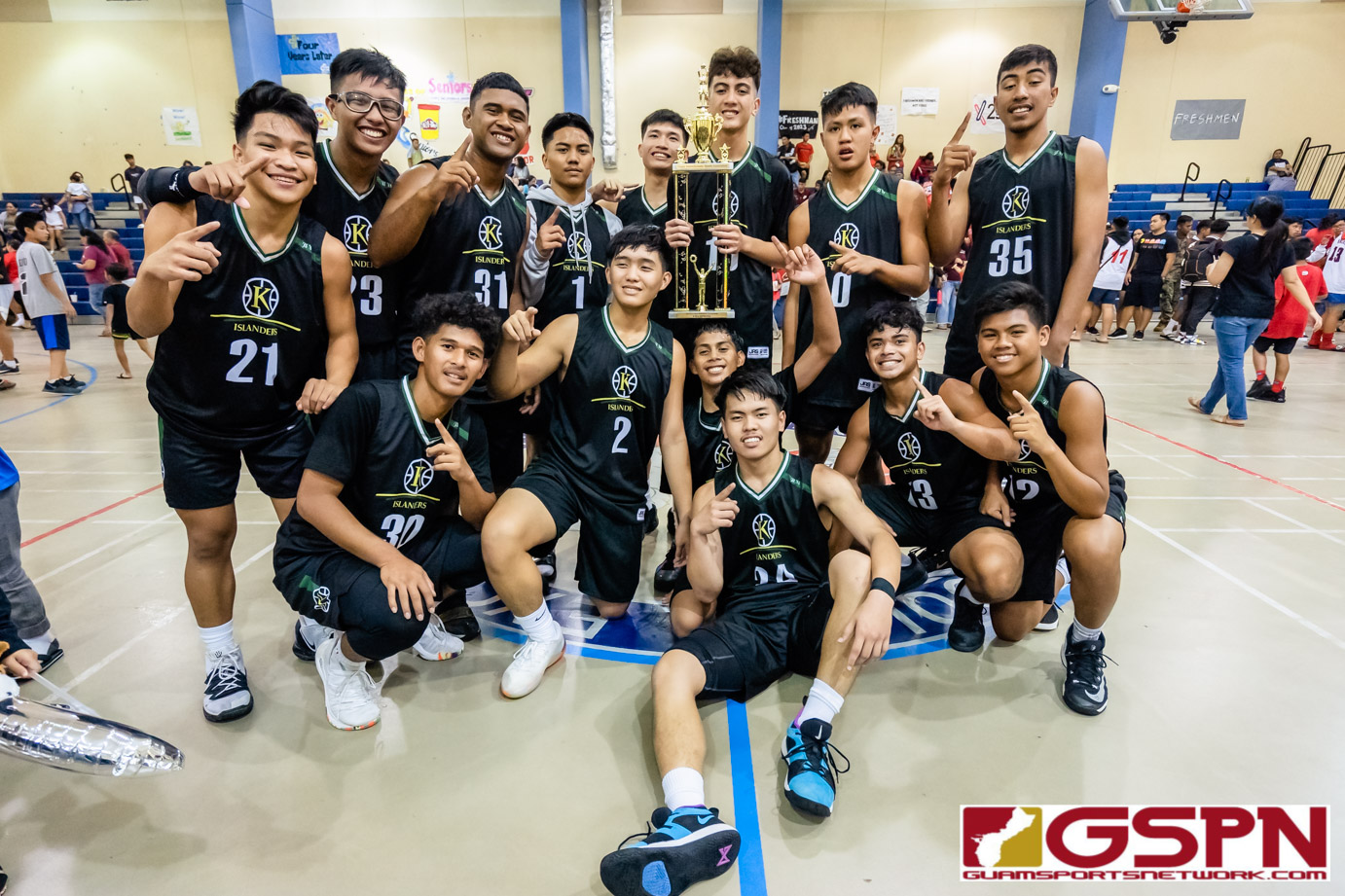 By Brandon Kinsella
On Saturday night, the JFK Islanders were crowned Champions in the first ever ISA Boys Basketball Title Game. The Islanders won 80-68 against the home team Okkodo Bulldogs behind dominant three-point shooting from the "Splash Brothers" in Jeremiah Kintoki and Rodson Simina.
Simina and Kintoki got hot from beyond the arc in the third quarter, showing their dead-eye shooting abilities as they frequently pulled up from way behind the line and still managed to knock down shots while making it look easy. Simina finished with 28 points and Kintoki with 18 on the night, as the two combined for 46 of the Islanders 80 points. 
Before the backcourt duo got hot, the game had been neck-and-neck, as both teams exchanged several lead changes and momentum shifting plays in the first half of action.
ISA League MVP Jon Michael Lorena had a hot start to the game, scoring eight points in the first quarter and bullying his way into the paint for buckets. But the Islanders were able to make their adjustments later in the game, and their suffocating defense in the interior would hold Lorena to just 13 points on the night.
"I told my boys, we have to contain him, stay in front of him, because he's dangerous when he starts bulldozing his way in the paint. We made our adjustments and tightened up our defense in the paint. We let him take jumpers instead of shots in the paint, and that strategy worked for us tonight," said Head Coach Serafico on slowing down MVP Lorena.
Splash Brothers Take Over
At the start of the 3rd Quarter, the Islanders held a slim two-point lead at 31-29. It was a three-point shot by Simina two minutes into the 3rd Quarter that would start the 3rd Quarter three-point barrage.
Following the three, Lorena was quick to answer, driving to the paint and drawing contact to get to the line. He nailed both free throws at the charity stripe to cut the deficit to two at 36-34.
But Simina looked to build momentum off of his last three and on the ensuing possession he tried his luck from almost 30 feet out. He converted on the shot which gave the Islanders a five-point lead at 39-34 and put the Islanders crowd on their feet.
The Bulldogs managed to keep themselves in the game with big shots down the stretch by Tristan Valdes and Lorena. But another deep three by Simina, followed by back-to-back threes by Kintoki would give the Islanders lots to cheer about and the home team crowd not so much.
Simina would hit one more three before the end of the 3rd Quarter which was a major momentum boost for the Islanders heading into the final quarter of play with a 60-47 lead.
Bulldogs Fight Til the End
The Islanders looked to run down the clock in the 4th Quarter and did a good job doing so. But Okkodo showed tremendous heart, fighting for every possession. The Bulldogs were able to trim a 17-point deficit at 66-49 deficit to eleven points, but the Islanders proved to be too much to overcome.
Lorena led Okkodo with 13 points and seven rebounds and Kevin Cabral finished off the night with 10 points.
MVP chants greeted JFK's Rodson Simina as he closed off his senior season at the free throw line. Simina was all smiles following the game and gave a big thank you to his team for pushing him to play this season.
"If it wasn't for my boys, I wouldn't be here, so I thank them. It feels good to win the championship, especially because it's my first-time playing ball for high school, and it's also my last year," said Simina.
Kintoki elaborated on his hot third quarter shooting and thanked the fans for their support.
"It took me a while to warm up. It's really a lot of hard work to make it and win this championship. Winning this championship is great motivation for me, I still have one more year to play. It's also big because last season, this is what my cousin Jerry was always pushing me for. I want to thank the crowd for bringing all the energy and the hype."
In previous interviews, Ralf Manalac has expressed how important this title meant to him and his team, as it has been a goal for the Islanders since the start of the season. The senior's heart was on display all night and Head Coach Ray Serafico credited Manalac's play, praising his ability to do the dirty work for the team. Manalac finished with 12 points and was also a huge factor on defense, slowing down League MVP Lorena all night.
This championship was a sweet victory for Head Coach Rey Serafico as his team endured many ups and downs throughout the season. He elaborated on how much the Championship means to him:
"This Championship was our motivation all season. We struggled a bit throughout the season, we had our ups and downs, but at the end we got it going. I told them let's go all in for this ISA Championship. Let's be the first to win it. We got it done tonight and I'm proud of these boys."
Despite both IIAAG and ISA Champions being crowned, Boys Basketball is not over. The GBC will host the High School Boys National Championship which is set to take place next week. Following the split of the leagues, this will be an opportunity to crown one national champion.
PHOTO GALLERY BROUGHT TO YOU BY:

Foody's Fun Facts
Foody's Fun Facts with Makayla Atoigue
ND Royals Rugby Player Makayla Atoigue lays down her Foody's Fun Facts and shares her dream vacation spot
Foody's Fun Facts
Foody's Fun Facts with Makayla Atoigue
ND Royals Rugby Player Makayla Atoigue lays down her Foody's Fun Facts and shares her dream vacation spot
Foody's Fun Facts
Foody's Fun Facts with Makayla Atoigue
ND Royals Rugby Player Makayla Atoigue lays down her Foody's Fun Facts and shares her dream vacation spot
COMING SOON …
YOUTH FOOTBALL LEAGUE KICKOFF June 4
Todd Gurley Football Camp on Andersen
GSPN Boys Volleyball All-Star Game
Pacific Mini-Games in Saipan
QUICK HITS
Sisters CiMara-Lei (10th) and CiHara-Lei (9th) Wessling both made the Academic All-District Team playing for Veterans Memorial High softball team in Converse, TX.
They are the daughters of former star quarterback and pitcher Chris 'Cool Breeze' Wessling and wife Missy.
CiMara-Lei was also named the league's Newcomer of the Year after the family moved from Dallas to San Antonio.