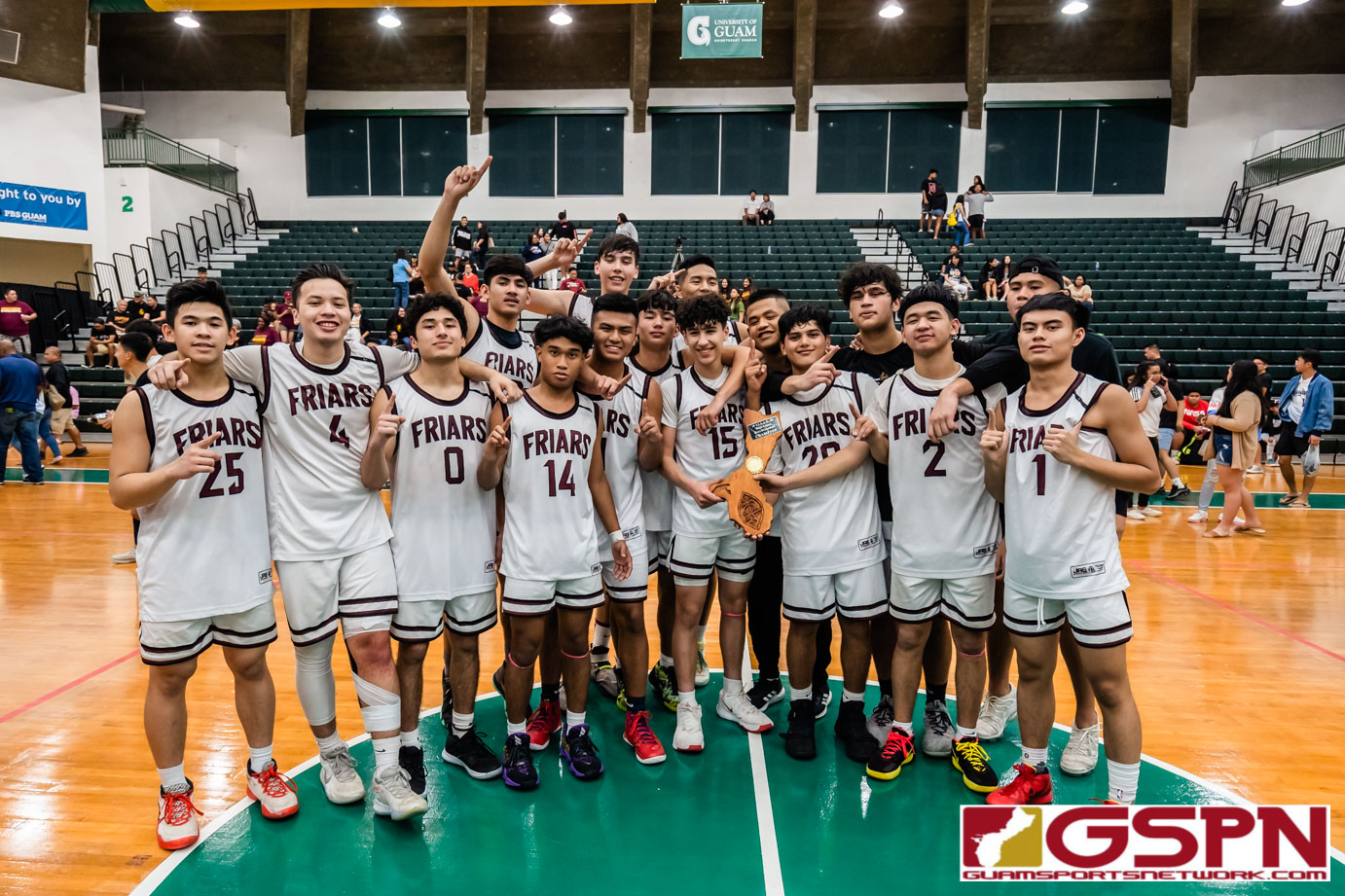 By Jay Leon Guerrero
One year ago, FD point guard Isaiah Pelkey walked off the court dejected after losing to the St. Paul Warriors in the Boys IIAAG Basketball Championship game. Pelkey, along with his fellow seniors and Friar teammates, decided to make it a mission to get back to the championship game and win.
On Friday night, the Friars pulled away in the fourth quarter and defeated their rivals 55-36.
"It feels so good to win this on my senior season," said Pelkey. He dedicated the victory to Joey Santos, Tony Thompson and Xavier Akima. "The underclassmen don't know who they are, but it means a lot for us to win this for them."
6'9″ FD Center Matt Fegurgur did not have any highlight dunks, but he got the job done with 13 points, 16 rebounds and five big blocks.
"All the hard work paid off. I never been a part of a team that works so hard and with so much compassion," said Fegurgur.
"It wasn't the five guys out in the court that got us the win. Everyone did their part on the team and contributed from 1-to-15 (on that roster) to get us where we are at," added Fegurgur. 
Game sequence
FD's defense stood their ground and led 7-2 to open up the contest. St Paul's Thelo Orichiro finally got things going with an "and-one" basket and the Warriors were trailing 7-5.
FD's Christian Leon Guerrero answered on the next possession with a deep three-pointer and FD held on to lead 10-5 after the first quarter. The Warriors played a zone once again to limit touches in the paint forcing the FD guards to make shots.
Leon Guerrero nailed another 3-pointer and the Friars were suddenly leading 23-10 with three minutes left before halftime.
The Warriors claw back after Orichiro hits a tough floater over Fegurgur. Audrey Dela Cruz followed with a 3-pointer and St. Paul was trailing 23-15. After a basket by Fegurgur, Orichiro banks a buzzer beater to trail 29-19 at halftime. 
St. Paul guard Brandon Miranda scored four points in the third quarter and the Warriors slowly chipped away at the lead and trailed 38-31 after three quarters.
FD's Kyle Camacho started off the fourth quarter with an "and-one" and FD was back ahead by 10. The Friars continued their momentum with Matt Santos scoring six points in the final period to put the Friars ahead by 16 points. The Friars and Warriors emptied their benches in the final minute with FD winning 55-36.
"Chris' threes brought fire to the team," said Fegurgur.
"That's been my role on this team for the last four years. When Matt is having problems with the zone, I have to step up and help them by hitting my shot," said Leon Guerrero.
The Warriors walked off the court with the second place trophy but put up a good fight. Orichiro led all scorers with 15 points and seven rebounds. Dela Cruz hit big shots when his team needed them and finished with 11 points and seven rebounds; Miranda had seven points. The Warriors have another shot at redemption and will play the JFK Islanders on Monday at the GBC High School National Boys Championship.
The Friars had a balanced scoring attack with Pelkey scoring eight points. Leon Guerrero, Blaise Ada, Santos, and Nathan Perkins-Fuesser each scored six points for FD.  The Friars will host the GW Geckos in the opening round of the GBC Championships on Monday. 
Rivalry continues next season Both teams will have good squads again next year and the task to repeat will be hard one for FD. Josiah Quintanilla, Xander Sanchez, Mac Dois, and Jon Sevilla will return next season with incoming freshman talent and possible transfers. 
"The next ones up, they know what they got to do next season," said Pelkey.
Key players Matt Santos, Blaise Ada, Brock Ada, Daryll Robles, and Nathan Perkins-Fuesser will all be back next season.
"We also got some dogs on the bench in Elijah Garrido and Caleb Espaldon to return after injury. They are all going to be legit next season," said Pelkey.
Stay tuned next year as the heated rivalry continues.  
Consolation game:
Guam High Panther Nick Keefe sent the game into overtime after he hit a jumper to tie the game 46-46 against the Harvest Eagles in the third place consolation game. In overtime, the teams went back and forth but heads up plays by Matt Park and Gye Kim had the Eagles winning 53-52. 

PHOTO GALLERY BROUGHT TO YOU BY:

COMING SOON …
High school girls volleyball playoffs
Brawl 3: Oct 13
Guam's Strongest Man and Woman Competition October 29
QUICK HITS
The Figo Islanders 40s women's softball team took gold in the Senior Softball World Championship in Las Vegas. Figo came out of the loser's bracket and beat the Arizona Belles 17-3 in the AA division championship game Sunday afternoon.
Other Guam teams that played in the 40s tournament were: Team SOTTA (women's) and Bud Light Guam, Friars 671 and Sindalun Guahan (men's).
Sindalu finished a respectable 4th out of 24 AAA division teams.