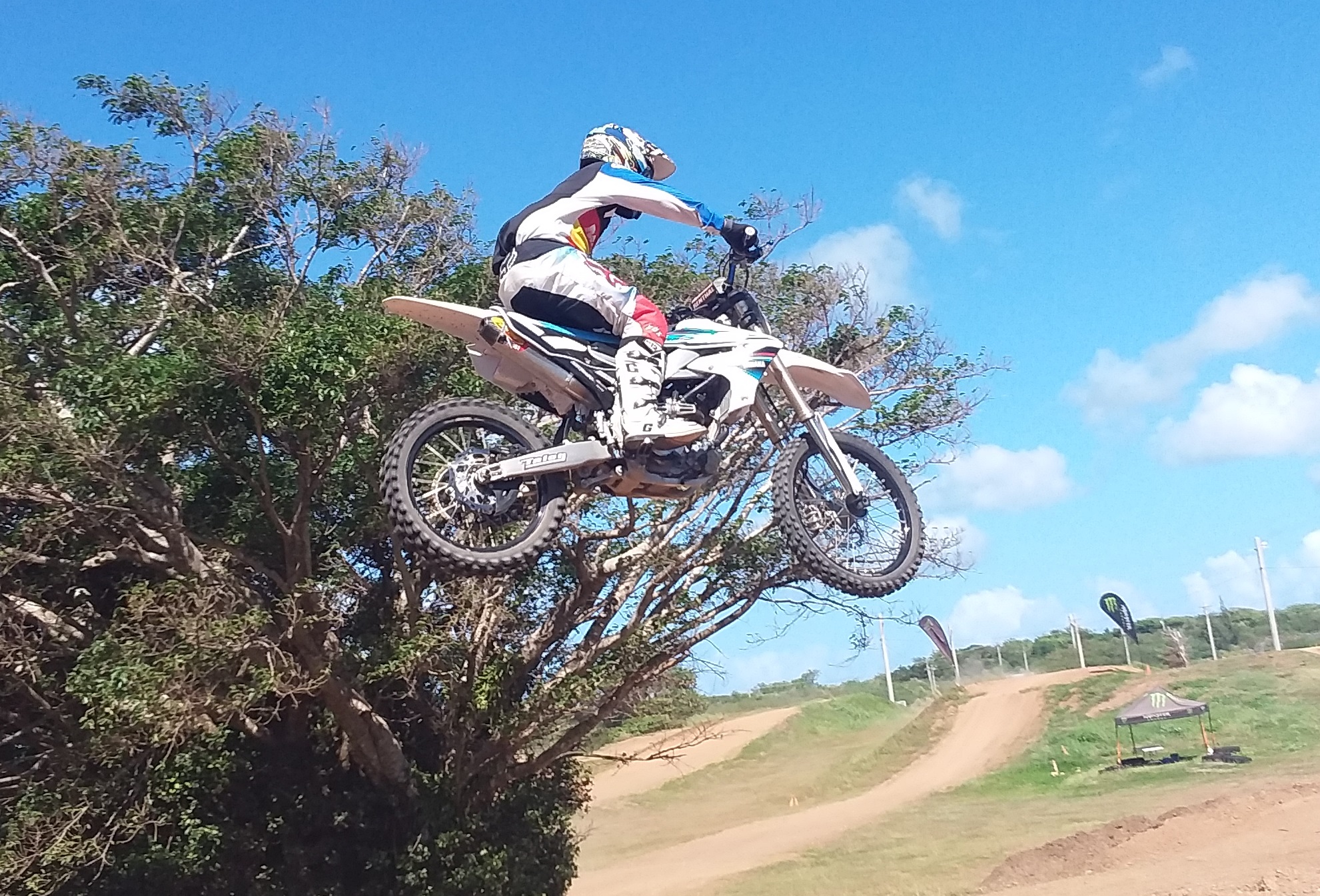 PRESS RELEASE – Guam International Raceway Motorcycle and Atv Corporation
2020 Monster Energy Guam Motocross Championships Round 2 
Round 2 of the 8 round 2020 Monster Energy Guam Motocross Championships was held last Sunday (March 16th) at the Guam International Raceway in Yigo.  With a large turn out of competitors and a course that had a new feature added to the already busy layout to challenge the racers round 2 of the series was another exciting all day bar banging day of close racing.  Racing kicked off at 11:30am after a morning of warm up practices. Classes ranged from several sized kids minibike classes along with a womens minibike class up to the larger fuller sized machines of the 250, 450, Open and Over 40 Vet classes. 

Highlights and results
In the Open Motorcycle defending Monster Energy Guam Motocross champion #1 Lil John Aguon aboard his RPM Yamaha supported 450 once again swept the round to take the win but had several challengers on his way to the round 2 win. #7 JR Cepeda aboard a Yamaha 250 had snatched an early lead and was able to fend off the charging Little John Aguon for most of the race before finally being overtaken by the relentless champ. Back in third a battle between #85 Cycles Plus Kawasaki rider Blaze Aiken and #11 Mike Limtiaco on his Kawasaki was developing with both swapping the third place position back forth.
At the checkers it was #1 Aguon taking first with #7 Cepeda in second and #11 Mike Limtiaco in third after the #85 of Aiken went down spectacularly on the newly added feature on the course. Aikens was able to remount and still manage a top five finish. The rest of the results are as follows.
4th #20 Riley Clark Yamaha
5th #85 Blaze Aiken Cycles Plus Kawasaki
6th #29 Marvin Pangelinan Yamaha
7th #338 Jon Aguon KTM
8th #23 Jordan Leon Guerrero Yamaha
9th #22 Sade Pitter KTM
10th #57 Kim Aiken Yamaha
11th #19 Zachary Chang KTM
12th #74 Damian Manibusan Yamaha
13th #806 Hunt Yamaha
14th #619 Aaron Overstreet Yamaha
15th #193 Franklin Fujihira Yamaha
16th #75 Owen Rios Husqvarna
17th #8 Seph Clark Honda
In the 450 class Rpm Yamaha supported Lil Jon Aguon took the win with #11 Mike Limtiaco in second on his Kawasaki and #22 Sade Pitter on KTM in third.
In the 250 class aboard his Yamaha #7 JR Cepeda swept the class with #20 Yamaha mounted Riley Clark in second and Cycles Plus Kawasaki team rider #85 Blaze Aiken taking third.
In the Over 40 Vet class #11 Mike Limtiaco took the win with #57 Kim Aiken in second.
In the Schoolboy/girl class #23 Jordan Leon Gurrero on his LG Racing supported Yamaha flew his way to the win with #75 Owen Rios on his Husqvarna in second. #74 Damian Manibusan on his Yamaha took third with #193 Franklin Fujihira Yamaha taking fourth..
In the Womens Minibike class #33 Mariana Wenden on a KTM swept the class to take first with #13 Larance on her Kawasaki in second and #12 Jessani Leon Guerrero on a Kawasaki in third.
In the Open Minibike class #25 Lawrence Limtiaco who was aboard the team Cycles Plus Kawasaki took the win with #22 KTM mounted Wyett Santos in second. #31 Richard Wenden aboard a KTM placed third. Fourth place went to #10 Jerren Nauta on his Honda with #33 Mariana Wenden in fifth and #75 Jay Whitman sixth. LG Racings #12 Jessani Leon Guerrero placed seventh.
The 85cc Kids Minibike class #25 Lawrence Limtiaco on the Cycles Plus Kawasaki took the win with #22 Wyett Santos on a KTM in second and Richard Wenden on a KTM in third. #33 Mariana Wenden on a KTM took fourth with Kawsaki mounted #75 Jay Whitman in fifth.
In the 150cc Kids class #10 Jerren Nauta took the win aboard his Honda with Kawasaki mounted LG Racing #12 Jeassani Leon Guerrero taking second.
The 65cc Kids Mini Bike class had  #18 Jonboy Aguon taking first on his Yamaha with second being taken by #20 Jace Calvo on a Ktm. Taking third was #75 Jay Whitman with #15 Ty Overstreet in fourth.
In the 50cc Kids Minibike class saw a dominating win by #11 Leo Limtiaco with #98 Caden Castin in second. Taking third was #13 Charliegh Moore.
With the postponement of Aprils 40th running of the APL Guam Smokin Wheels Weekend due to the corona virus next up tentatively round 3 of Monster Energy Guam Championship Motocross may be rescheduled with a new date to be announced soon. Interested new or experienced riders are encouraged for more information to visit https://girmac.teamapp.com  or contact public information officer Robert Bucek by call or text at 727-5381.

QUICK HITS
Bishop Obispos beat Mt. Carmel for the IIAAG Middle School Girls Basketball championship 37-25.
—————————————-
The Benavente Roadrunners crushed the Agueda Pirates 17-1 to win the 76 PONY Middle School Baseball League. Rodney San Nicolas was a beat, striking out 13 batters in a complete game while going 4-for-4 at the plate, including a homer and 4 RBI.