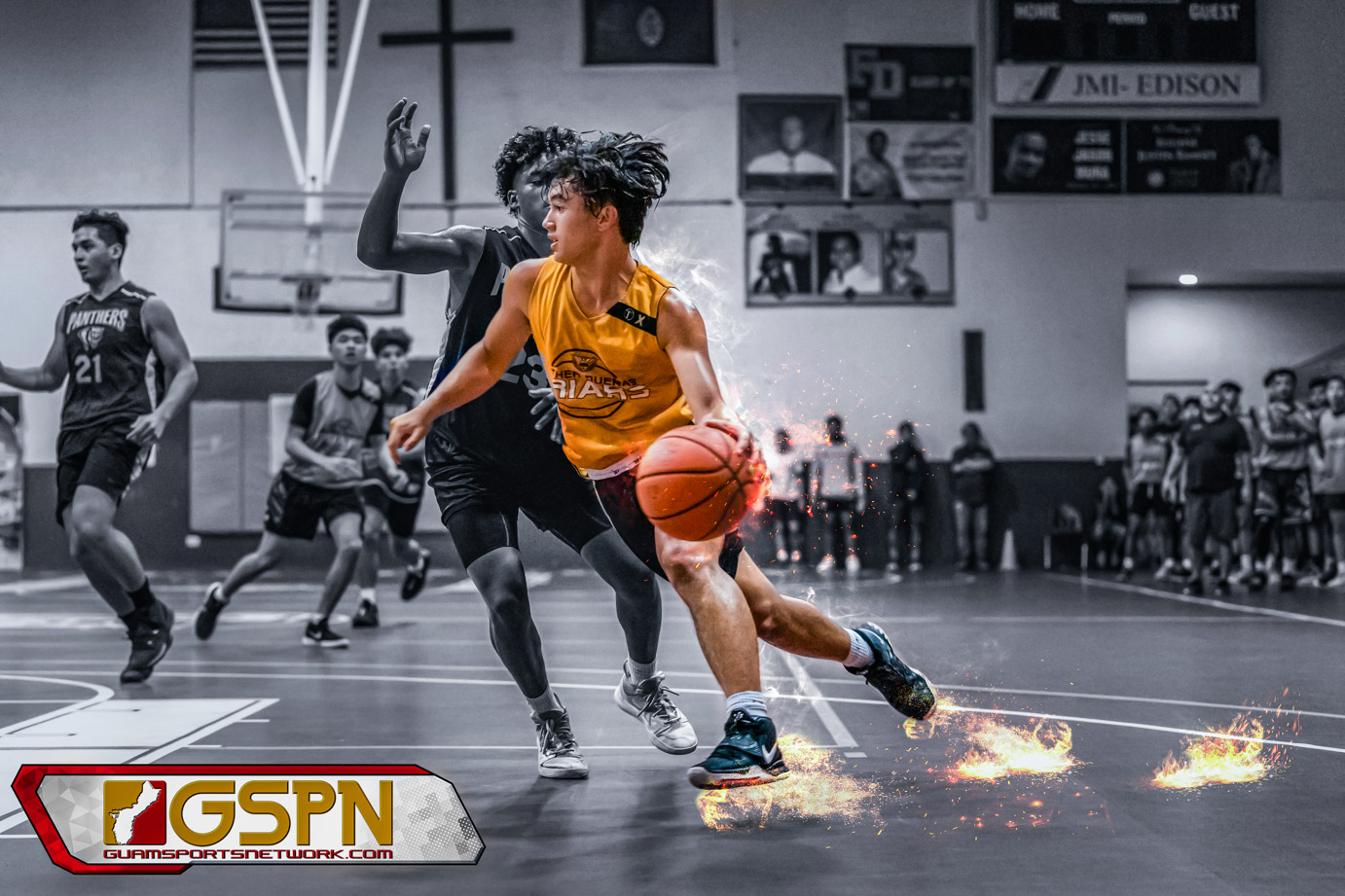 By Robert Balajadia
Blaise William Ada is basketball's next big star, but he arrived much sooner than most were expecting. In just his freshman season at FD, Blaise led the undefeated Friars in scoring throughout the season at a shade under 10 points per game on the loaded FD roster, which also includes league MVP Matthew Fegurgur, and helped the team win every basketball accolade they could in 2020.
Ada wasn't even able to finish his final year at Bishop Baumgartner after breaking his left hand early in his 8th grade season. His injury only made him hungrier as he was not only putting time in on the court, but in the weight room as well.
"When I broke my hand I was bummed that I couldn't win a championship at Bishop. Once I got out of my cast, I was in the gym working four times a week and on the basketball court three times a week. I needed to get stronger for the next level," said Ada.
Blaise started to work on all aspects of his game during the summer of 2019. He worked on speed and explosion with Jordan Tingson, fundamentals and shooting with coach Brent Tipton and skills/ball handling with Guam National Team's Daren Hechanova.
Ada is a freshman by age, but his game has always been ahead of his time. Since the age of 10, Blaise had been playing in older divisions, like being 13 on the U17 Jr. Nationals roster, which mentally prepared him to take a chance at FD's varsity team. Blaise earned his spot on the varsity roster and his head coach Eddie Pelkey only had one job for him.
"I told Blaise his first official practice after making the varsity team that people were going to think I'm crazy, that moving up a freshman will bring a lot of criticism. But I believed him. [I told him] his job was to go out there and make me look good. I think he's done a pretty good job at that," said Friars head coach Eddie Pelkey.
Blaise was also selected to the IIAAG 1st Team All-Island list as a forward, proving other coaches in the league were believers in Ada as well.
Blaise's role went from prominent sub who was making the most of his minutes to starting most games while playing in big moments of crucial games.
"At first it started in Japan when two of our players got injured. [Pelkey] told me don't be afraid to shoot, play good defense and you'll be fine," said Ada.
The Friars suffered a season ending injury to forward Elijah Garrido in the Kanto Classic, on top of already having lost junior forward Caleb Espaldon due to a season-ending injury playing volleyball last year.
Blaise showed promise during the GSPN Preseason Tournament, and his confidence only started to grow. Blaise would hit inferno, leading the Friars in scoring through four of their first six regular season games and finished the season averaging 12.7 points in inter-league play.
"I think it was just my confidence level. I wasn't that comfortable at the beginning of the season in a new system playing for a new coach. But I trusted my coaches and my teammates and they showed they trusted me as well," said Ada on what the cornerstone for his strong play was.
Blaise isn't the only Ada on the roster with older brother in junior Brock Ada also on the team. Being able to have his older brother there to help him settle into the varsity grind played a big factor in finding comfortability with the team.
"After practices, I'd sometimes have a hard time understanding plays and he'd be able to break it down with me and talk to me about it. It was really great having him there for me," said Blaise.
One of Ada's most memorable moments of the season came in the Guam Basketball Semifinals game where he stripped Warrior Audrey Dela Cruz at mid-court and finished off the fast break with an and-one to start an eventual lead-changing run.
"I don't feel pressure because I trust in what I'm able to do and I just let the game flow," said Ada on playing in those big moments.
That play also brought out the most emotion shown all season from the usually reserved Ada. He's got an assassins mentality and often lets his game do all the talking.
"I think that's what I want to be known for. I want to be humble and just work hard," said Ada.
Ada's aware that he's set the bar really high in just his first season, but we haven't seen his best yet as he continues to grow in game and in stature.
"This off season I'm just going to work hard in the gym and in the classroom, no distractions. I'm really just going to work on all my weaknesses and get stronger," said Blaise.
Blaise is the son of one of Guam's greatest football players of all time in Bill Ada and the young Ada hasn't ruled out hitting the grid iron in the coming years.
"Maybe next year," said Blaise with a chuckle.
With a name that already resembles being on fire, no nickname would quite be able to hold a candle to 'Blaise'.

QUICK HITS
Bishop Obispos beat Mt. Carmel for the IIAAG Middle School Girls Basketball championship 37-25.
—————————————-
The Benavente Roadrunners crushed the Agueda Pirates 17-1 to win the 76 PONY Middle School Baseball League. Rodney San Nicolas was a beat, striking out 13 batters in a complete game while going 4-for-4 at the plate, including a homer and 4 RBI.