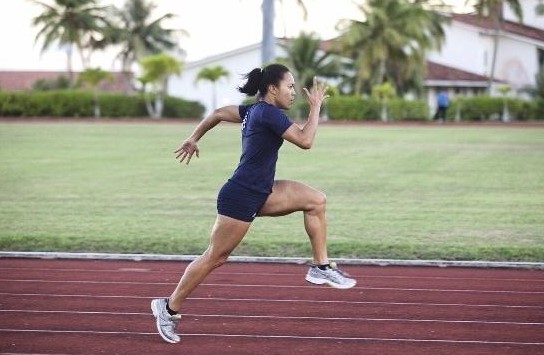 Name: Pollara Cobb
Sport: Running/Sprints
Awards:
Shieh Su Ying Guam Female Scholar-Athlete of the Year Award, June 2010
United States Army Reserves Female Scholar-Athlete of the Year Award, June 2010
Shieh Su Ying Scholar-Athlete of the Year Keynote Speaker, May 2014
John F. Kennedy High School Most Inspirational Athlete, 2007
Emory University Track and Field (Aug 2012 – May 2014)
Emory All-Time Top 10, #4 Outdoor Triple Jump, April 2014
Emory All-Time Top 10, #8 Outdoor Long Jump, April 2014
Emory All-Time Top 10, #10 Indoor Long Jump, April 2014
Emory University Track and Field Most Improved Award, April 2014
All-University Athletic Association Conference Long Jump, Silver, April 2014
All-University Athletic Association Conference Triple Jump, Bronze, April 2014
All-University Athletic Association Conference 4×100 Relay, Gold/Champions, May 2013
NCAA Championship participant, 4x100m Relay, National Rank 16th, May 2013
Guam Track and Field Association (May 2006 – May 2014)
Guam National Record
Outdoor
Long Jump, 5.34 m, 2014
Triple Jump, 10.88 m, 2014
Outdoor 100m, 12.55, 2011
Indoor
Long Jump, 4.98 m, 2014
55m, 7.53, 2013
Triple Jump, 10.36 m, 2013
14th Pacific Games, Noumé, New Caledonia, 2011
13th IAAF World Championships, Daegu, South Korea, 2011
100m preliminary, 12.64
100m heats, 12.55
9th Oceania Youth Athletics Championships, 2008
100m, Silver, 12.92
Triple jump, Silver, 10.02 m
3rd Micronesian Championships in Athletics, 2007
60m, Bronze
Long jump, Silver
4×100 relay, Gold
6th Micronesian Games, Saipan, 2006
Youngest member of Guam's National Team then at age 14
Former Guam sprinter Pollara Cobb, who is still in medical school, has spent most of her quarantine time studying and preparing to return to clerkships, which includes learning about telemedicine and the ins-and-outs of COVID-19. She is set to graduate in May 2022.
How do you compare your new career with your events as a sprinter? Is it a sprint or a marathon?
Currently, I am training to become a medical doctor. The joy I feel learning about medicine and using my knowledge and skills to help others is similar to the joy I felt sprinting 100-meters down the track. The training is difficult and exhausting, but I show up nonetheless because I absolutely love what I do. The main difference, however, is the approach and the mentality. Without a doubt, becoming a physician is a long and arduous course that requires resilience and tactical distribution of energy. In that sense, it is a marathon: endurance over speed. However, I am untraditional in my views in that I don't see my process being any sort of race. I've liberated myself from the mental trap that there is a time to beat, a set distance to cover, or a finish line to cross in regards to my life goals. Rather, I embrace my journey and devote myself to learning, challenging, reinventing, forgiving, and ultimately embracing who I am.
What's some of your fondest memories representing Guam?
One of my fondest memories representing Guam would be the 2011 World Championships in Daegu, Korea. Many people proclaimed my track career over after I tore my meniscus and ACL playing rugby in 2008. After extensive recovery, physical therapy, and training with limited resources, I returned to set a new 100m national record for Guam while competing against the world's best athletes at the World Championships. That day, I learned a very important life lesson: never limit yourself to the beliefs of others. I cannot thank my coach Carl Cruz enough for teaching me the meaning of "trust the process." I am a strong believer that diligence and resilience will prevail against any setback. I always try to keep these lessons in mind.

QUICK HITS
3rd place: Big ups to the Para Todu Rugby Club for finishing 3rd out of 16 teams in the Manila 10's Rugby Tournament today. Biba Guam Rugby!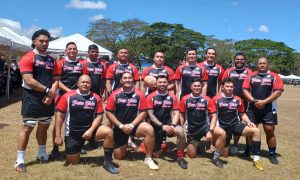 ——————————————
Guam MTB National Championship: Edward Oingerang and Jennifer Camacho are your 2023 MTB national champions. Oingerang finished the course in 1:13:24 while Camacho won her second straight title in 54:08.