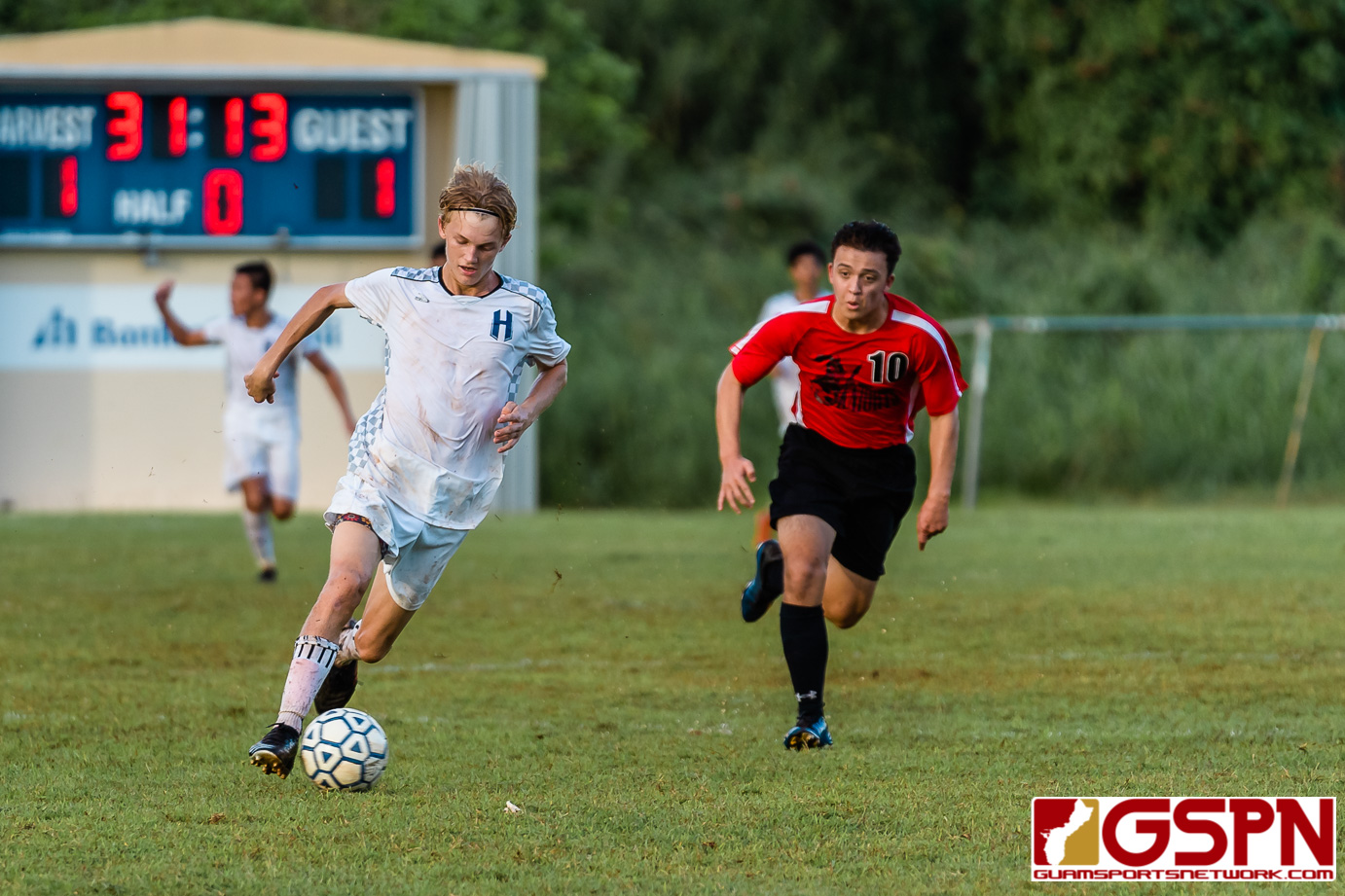 By Robert Balajadia
The Harvest Eagles set the tone early with a goal in the opening four minutes of their semifinals game against the St. John's Knights to begin the IIAAG Boys Soccer playoffs. The team rallied behind their quick goal from leading scorer in sophomore Levi Buckwalter to dethrone the Knights 4-2 at the Eagles field.
Buckwalter took a beauty of a pass from left wing teammate Christian Shinohara, using a header to net the first goal of the game in just the 4th minute of play.
"It was a beautiful ball and I knew I just couldn't mess that up… Our team normally is not too intense in the beginning, but when we score one it really [gets us going]," said Buckwalter on his opening game goal.
The Knights answered not long after, getting a goal from freshman Justin Li to tie the game in the 16th minute.
Buckwalter would give his team the lead in the 32nd minute after benefitting from what would have been an overpass through ball if not making a complete stop in a puddle of water. The ball stopped perfectly for Levi to pick up his dribble for a one-on-one against Knight Miles Ganeb, netting the go-ahead goal for a 2-1 lead.
The Eagles added their third goal of the game in the 48th minute after another assist from Shinohara. After taking an outside pass from Buckwalter, Shinohara didn't spend much time thinking about where he wanted to cross the ball to, finding teammate David Thompson who used one tap to get the ball through a tight closing window for a 3-1 lead.
"The ball just found it's way to David somehow and it was a pretty small space. You have to give props to David for that," said Christian.
The Knights added some late game drama in the 74th minute as Knight Isaac Phillips drew a penalty whistle inside the box to set up a penalty kick. Andrew Stenson made good on the penalty, pulling his team within a single goal down 3-2.
Harvest played calm, closing out the contest with a goal from Geonhee Lee in the 76th minute to deny the Knights a chance to defend their title.
"I was so confident that our team could play through that. It was a hard goal to take, but we got out there and got another one pretty fast. It could have been dangerous for us, but we turned it around nicely," said Buckwalter on how the team responded.
The Eagles will play the undefeated Friars in the Championship game Saturday evening after FD had gotten past the Guam High Panthers in the other semifinals game.
PHOTO GALLERY BROUGHT TO YOU BY: