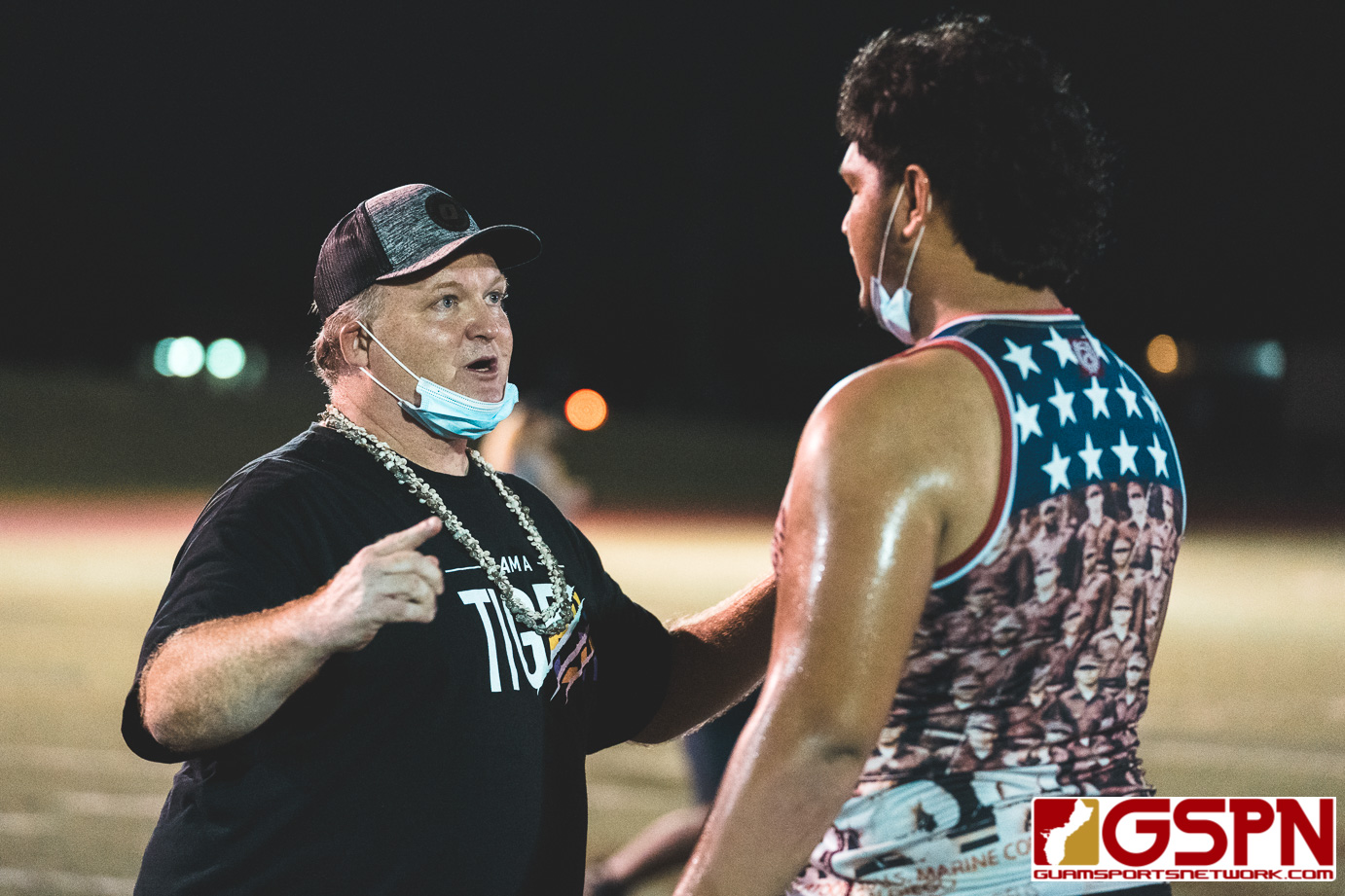 Robert Balajadia
67One Recruiting hosted a combine Tuesday evening, featuring the appearance of Bob Harmon of NAIA, Olivet Nazarine for over 50 of Guam's youth football players at the Guam High Field.
The twice annual combine and showcase is the second of 2021, featuring a two-day event with the combine on Tuesday and a seminar Wednesday at TGI Fridays. Coach Harmon's main mission is to get Guam college hopefuls the knowledge they need for choosing the right college for them.
"What we're really looking at is looking for kids that work hard and have a good attitude… I want to talk to these kids about different levels of football and different levels of sports and just what it takes to make it to college. Even if it's not for my school, I want these kids to understand they have options," said Harmon.
Coach Harmon was a recruiting consultant at North Park University, which has housed plenty of Guam college football players like Jujuan King. After having worked with plenty of Guam athletes, Harmon has hoped to establish a strong relationship with Guam which inspired his twice a year trip to the island.
"There's a lot of good athletes and great kids on this island and they just need exposure," said Harmon.
The combine drills included L drill, shuttle run, broad jump, vertical jump, 40-yard dash and skills assessment by position group. Alongside skills and explosiveness, coach Harmon stressed that it's also important to scout individuals who have strong character and have a team-first mentality. Despite Guam athletes being undersized, coach Harmon also stated that it'll always come down to their willingness to compete.
"It comes down to fight and competition, and that's what coaches want to see. If you get a chance, are you willing to compete? I've coached kids from Guam in the past and they were some hard-nosed kids and they have shown so much fight, and that's what you want to look for," said Harmon.
In the seminar Wednesday, coach Harmon will equip the college hopefuls with the information they need to get started to applying to different colleges.
"What I'm going to say is that there is a blueprint for this. I've worked at eight different schools at every level and some kids just don't know that it's a complicated process until someone tells you about it. We're going to really un-complicate this for them, talk about financial aid and how to talk to coaches and how to narrow down choosing a school… It's important for the student to choose the college and not let the college choose you," said Harmon.

COMING SOON …
High school girls volleyball playoffs
Brawl 3: Oct 13
Guam's Strongest Man and Woman Competition October 29
QUICK HITS
The Figo Islanders 40s women's softball team took gold in the Senior Softball World Championship in Las Vegas. Figo came out of the loser's bracket and beat the Arizona Belles 17-3 in the AA division championship game Sunday afternoon.
Other Guam teams that played in the 40s tournament were: Team SOTTA (women's) and Bud Light Guam, Friars 671 and Sindalun Guahan (men's).
Sindalu finished a respectable 4th out of 24 AAA division teams.