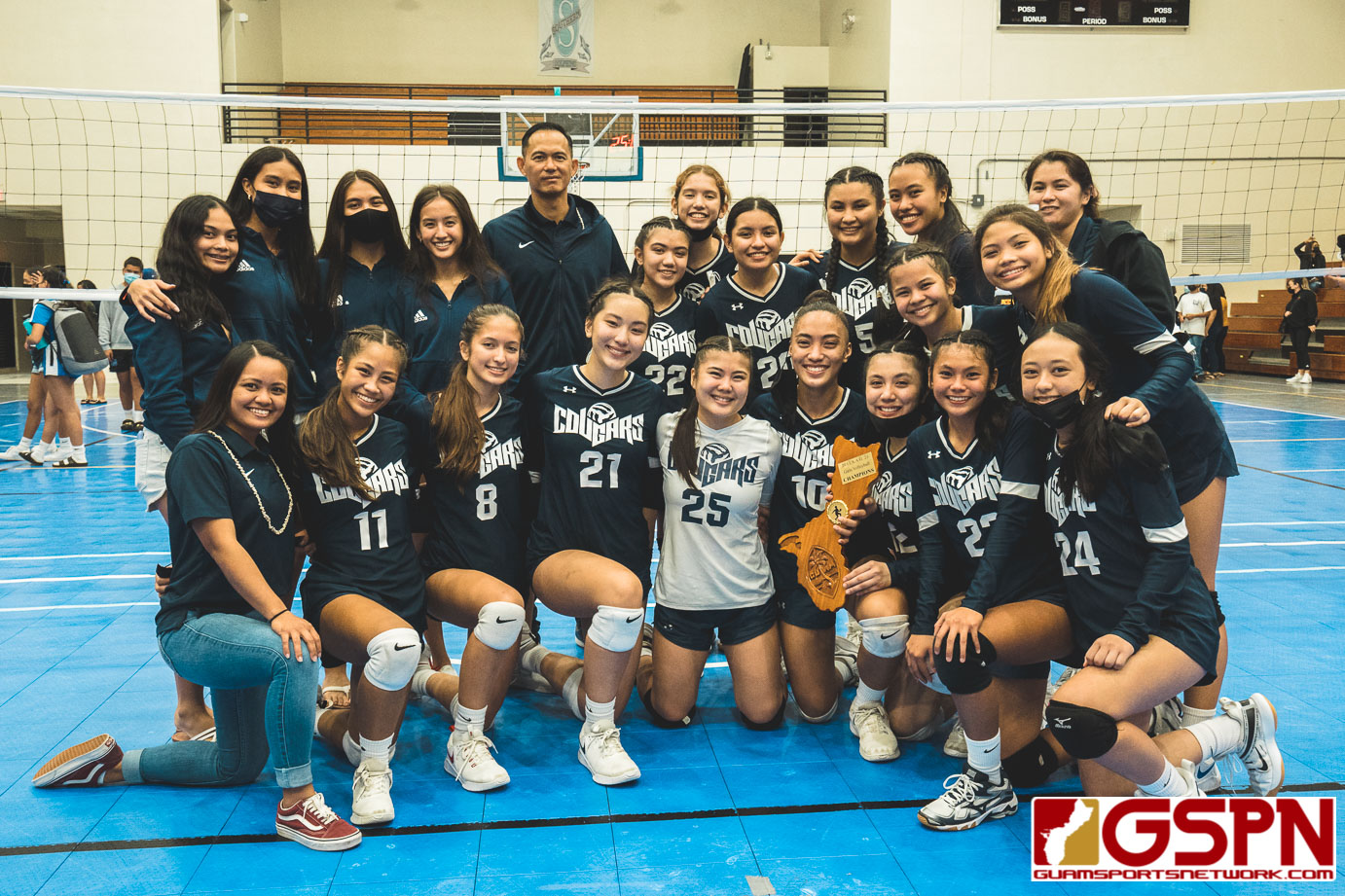 By Robert Balajadia
Last place teams aren't supposed to win Championships, but someone forgot to tell that to the Academy Cougars. After finishing the season at the bottom of the standings, the Cougars completed one heck of a "Cinderella Story" by taking down the ND Royals for the IIAAG title in five sets 16-25, 25-19, 19-25, 26-24, 15-7 Friday evening at the Southern High Gym for a repeat title having won it all last season.
Academy got a huge night from senior outside hitter Sadie Gutierrez , who finished the contest with 21 total kills and five serve aces to lead her team. Gutierrez did a ton of work on offense, but what won't show up on the stat sheet was how tough she was on defense. Gutierrez spent most of her time on defense diving low for digs as she played the game of her life in her final high school volleyball game.
"I wanted to push for my team. I knew they were working so hard for me so I just had to lay out my blood, my sweat and tears for them… There was a lot of pressure on me, but I wanted that pressure," said Gutierrez on what motivated her to perform at such a high level in the title game.
Gutierrez even threw a back-set to setter Jaeana Reyes for a kill in the 5th set as Academy came out firing on all cylinders to put the game away. Reyes, who's usually cool and collected, was extra fire up after each point scored in the 5th set as they started to pull away.
"I really think those are the moments you play volleyball for. That's what you love about the sport, the energy and the people you're with, the excitement of scoring each point one by one," said Reyes on showing a lot of emotion in the games closing moments.
The Cougars were an underdog by every stretch of the word in the 2021 season, but head coach Manny Guarin had the team focused on what was in front of them instead of what their record told them they were.
"It's always about staying in the present. All those losses were the building blocks to the success today. Like I told the girls, have no regrets, and they laid it all out on the line… Their defense has just totally changed. I'm just proud that I'm part of the transformation of this team," Manny Guarin.
And when asked where this one ranks on his list of coaching titles Manny could only admit that this one is definitely special after his un-willingness to rank the titles he's won.
ND was without Co-MVP Faith Piper, who left island earlier this week. The Royals couldn't replace everything the MVP in Piper brings to the team, but a wealth of Royals stepped up throughout the contest to try and make up for Piper's absence.
Junior hitter Seniayath Bell led ND with nine total kills while freshman Mercedes Mendiola-Cruz had seven on the night. Abigail Paulino and Arriah Arceo added five kills each for ND off the bench.
Academy was led by Gutierrez's big 21 kills with teammate Genice Torres adding seven kills.
Set by set recap
The Royals had a dominant opening set to get the Championship game started. Junior outside hitter Seniayath Bell grabbed her first kill of the evening to give her team a 12-6 lead. Royals Jaeana Lizama and Abigail Paulino grabbed a kill each as ND closed the opening set on a 11-4 run.
Academy started their comeback in the 2nd as Gutierrez started to get going. Trailing 8-3, Sadie would score on three kills in the teams 6-0 run to take their first lead of the game 9-8. Melanie Damian would add to the Cougars lead by getting two kills and back-to-back aces as the Cougars started to pull away up 17-13. Guerrero would get her final kill of the set for a 24-17 lead as she notched seven total in the 2nd set alone.
"We realized that whenever we play ND there's always tension because we're rivals, but we just needed to get that out of our mind and treat this like another game. We stopped playing tense and stiff and started to just have fun," said Gutierrez on what was the key in getting settled into the game.
ND started to get some lift from their bench in the 3rd. Arriah Arceo and Mercedes Mendiola-Cruz would grab kills behind a 7-0 run with Bell behind the service line to stretch their lead to 12-5. Bell and Mendiola-Cruz would get the final two kills of the set to stunt a Cougar comeback for a 2-1 sets lead.
Cougar Genice Torres came out strong in the do-or-die set, locking in three early kills as her team enjoyed a 10-5 lead early in the 4th. Academy led much as 17-10 before the Royals started a comeback of their own. With Arrianne Arceo at the line, ND ran off five straight points to get within 17-15. Gutierrez would come up in crunch time getting getting two kills to get up 24-21, but ND would tie the game at 24. A formation error followed by a hitting error by the Royals would keep the Cougars alive 26-24.
Tied 4-4 in the 5th, Gutierrez kicked it into overdrive. Sadie would get a clean kill off a block, followed by setting up her setter Reyes for a kill to go up 6-4. Gutierrez would get her 21st kill of the night to extend the lead 12-6 with the Royals falling to errors to end the game.
PHOTO GALLERY BROUGHT TO YOU BY: