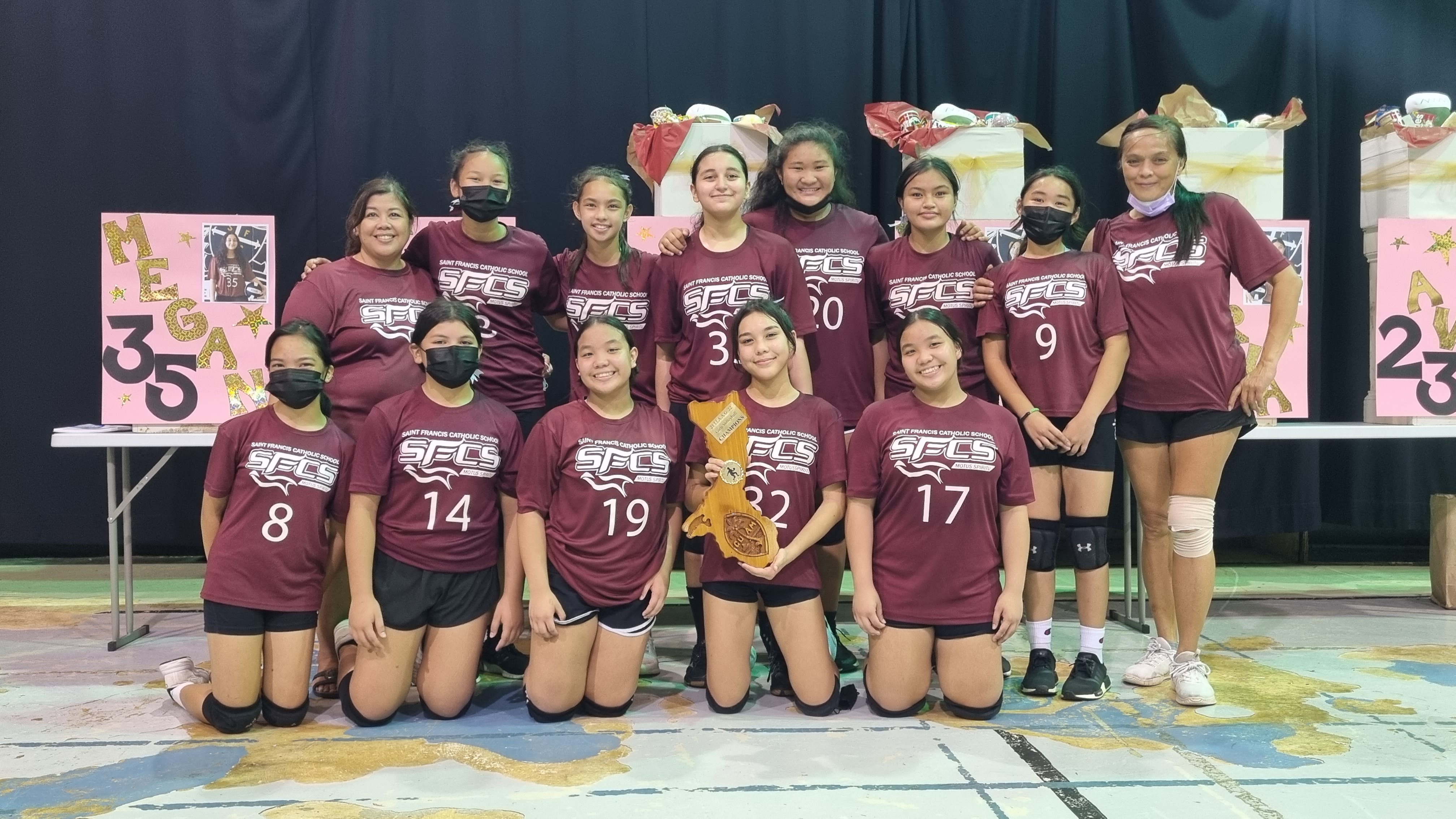 By Robert Balajadia
The St. Francis Crusaders overcame some early adversity to win the 2021 IIAAG Middle School Girls Volleyball Title by defeating the St. John's Knights in three sets 14-25, 25-18, 15-5 at the Crusaders gym Friday evening. The Crusaders cap off a historic season, winning their first volleyball title in over a decade.
St. John's seized early momentum by taking the opening set in convincing fashion. Knights libero Saya Green would convert on back-to-back aces to put her team up comfortably 17-8 as the Knights fans cheered on their early game success.
Instead of folding under the pressure, the Crusaders found a source of motivation in-between sets which turned the game around.
"We just talked about coming back in the game hot and going in 'beast mode'," said team captain Landen DeVera
St. Francis would ride an 11-3 run midway through the set to go up 22-12, highlighted by two aces from DeVera. Serving would continue to prove fruitful for the Crusaders, an area in their game they knew was their strength, as they forced the pivotal 3rd set.
"We usually focus on our serves during practice," said DeVera on the her team leaning on their serves.
Crusader Mea Manipol would take over early in the 3rd as she scored on a big kill followed by an ace to get her team up 6-1. The Knights would briefly respond with an ace from Kristine Deng for a short run to get within 9-5, but DeVera would get her first kill of the set to ignite a game closing 6-0 run.
Up 13-5, Crusader Elyssa Camacho delivered the finishing blows with two aces to secure the teams title. Camacho had overcome some inner adversity of her own to eventually be the one to end the game.
"In the beginning of the game I was really down because I wasn't playing good," admitted the 7th grader Camacho. "But I brought myself up and started to feel confident in my serves. It feels great because I'm not usually [one of] the top [players]."
For DeVera and the 8th graders, who were also celebrating '8th grade night' (which is equavlent to a high school senior night), winning the title was a nice send off.
"It feels really good since it's my last year and I'm leaving a mark of history," said DeVera.
PHOTO GALLERY BROUGHT TO YOU BY: