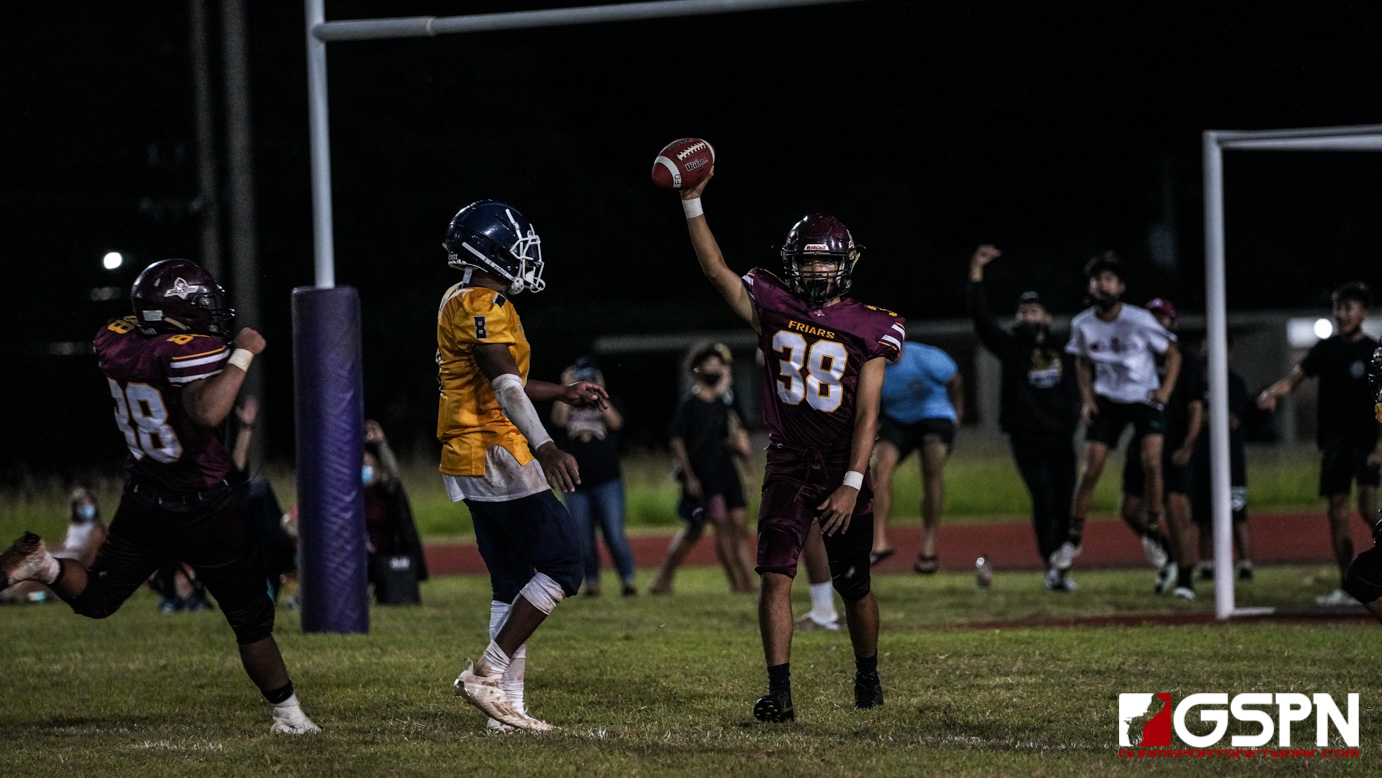 By Jay Leon Guerrero
The FD Friars improved to 3-0 in the ISA High School Football League, holding off the Guam High Panthers 17-7 Friday night in a showdown of the league's undefeated teams.
The Friars trailed 7-2 at halftime and got a huge boast from their defense and quarterback Alex Sojo to hold off the dangerous Panthers. Guam High falls to 2-1.
Both teams struggled to move the chains in the first quarter with both defenses holding the offense to negative yardage. The Friars had trouble gaining a first down and were held to negative yardage for the first time this year as the first quarter came to an end.
The Friars had -7 yards of offense and it was pressure from Panther defenders Avery Gamboa and Cedric Murphy making plays behind the line of scrimmage. Panther defensive back Charles Ellis also blocked a passing attempt, and the score was 0-0 after the first quarter.
The Friars were frustrated, but found some momentum in the second quarter. FD entered the red zone thanks to their special teams with a fake punt turning into a pass from Sojo to linebacker Vance Meno for a 30-yard gain.
The drive ended after Sojo threw an interception in the Panther endzone with Damian Perez recording the INT for Guam High. The intended Friar receiver, Daethan Alcantara, quickly punched the ball from Perez as he tried to advance after the interception. The ball went to the back of the end zone for a safety and FD led 2-0.
Panther quarterback Aaron Johnson responded just before halftime on a 3rd-and-long situation calling his own number with a run down the left sideline. The track-and-field all-islander dashed 80-yards for the touchdown and the Panthers had a 7-2 lead at halftime.
The Friars started out the second half with their top running back Caiyle Gogue forced to exit the game with a leg injury. "We always play hard as we can and when someone goes down, we all bond together in our brotherhood to lift each other up," said Sojo.
Sojo exploded offensively in the second half. He completed a 30-yard pass to Troy Camacho that set up a first-and-goal situation at the 2-yard line. Sojo called his own number for the 2-yard score and later rushed in again for the 2-point conversion to put the Friars up 10-7.
The Friar defense recorded two sacks on the ensuing Panther possession with Roy-Richard Chargualaf and Tristan Burgos tackling Johnson for losses. Facing a fourth-and-long situation, the Friar offense had good field position with Cade Taitano returning a Guam High punt for 27 yards.
Sojo completed a 24-yard pass to Tanner Costa to set up an insurance 1-yard touchdown from running back Jaron Meno to take the lead for good, up 17-7.
"After halftime we just stayed disciplined," said Sojo. "My teammates were very encouraging, they told me to remain collective and calm; that helped our team in the end".
Johnson rushed for 84 yards and a touchdown; he also completed three passes for 37 yards. Gamboa had a big game on defense for the Panthers with six total tackles and a forced fumble.
Perez had an interception and recorded five tackles for the Panthers; Cedric Murphy also recorded five tackles for the Panthers. Guam High will travel to Okkodo High School next week Friday to face the Bulldogs.
Sojo had 97 rushing yards and completed eight passes to eight different receivers for 108 yards. Jaron Meno had nine carries for 48 yards and a touchdown.
On defense, Friar Alucious Medler recorded FD's lone interception. Friar linebacker Evan Brown continued to wreak havoc on the opposition with seven tackles and 2.5 sacks. Chargualaf had seven tackles and a sack; Caleb Murphy recorded five tackles for the Friars.
"We relied on each other tonight and worked hard for this victory. We are looking to get better as a team and work harder in practice," said Chargualaf.
"We take all of our experience from this field, and we use it to improve. We learn from our mistakes from film and the coaching staff," said Murphy.
The Friars have another big game next week against their rival, the GW Geckos. The game is scheduled for next Friday at GW. What is the game plan next week for FD? "Same game plan as always – work hard and play football," said Murphy.


COMING SOON …
High school girls volleyball playoffs
Brawl 3: Oct 13
Guam's Strongest Man and Woman Competition October 29
QUICK HITS
The Figo Islanders 40s women's softball team took gold in the Senior Softball World Championship in Las Vegas. Figo came out of the loser's bracket and beat the Arizona Belles 17-3 in the AA division championship game Sunday afternoon.
Other Guam teams that played in the 40s tournament were: Team SOTTA (women's) and Bud Light Guam, Friars 671 and Sindalun Guahan (men's).
Sindalu finished a respectable 4th out of 24 AAA division teams.