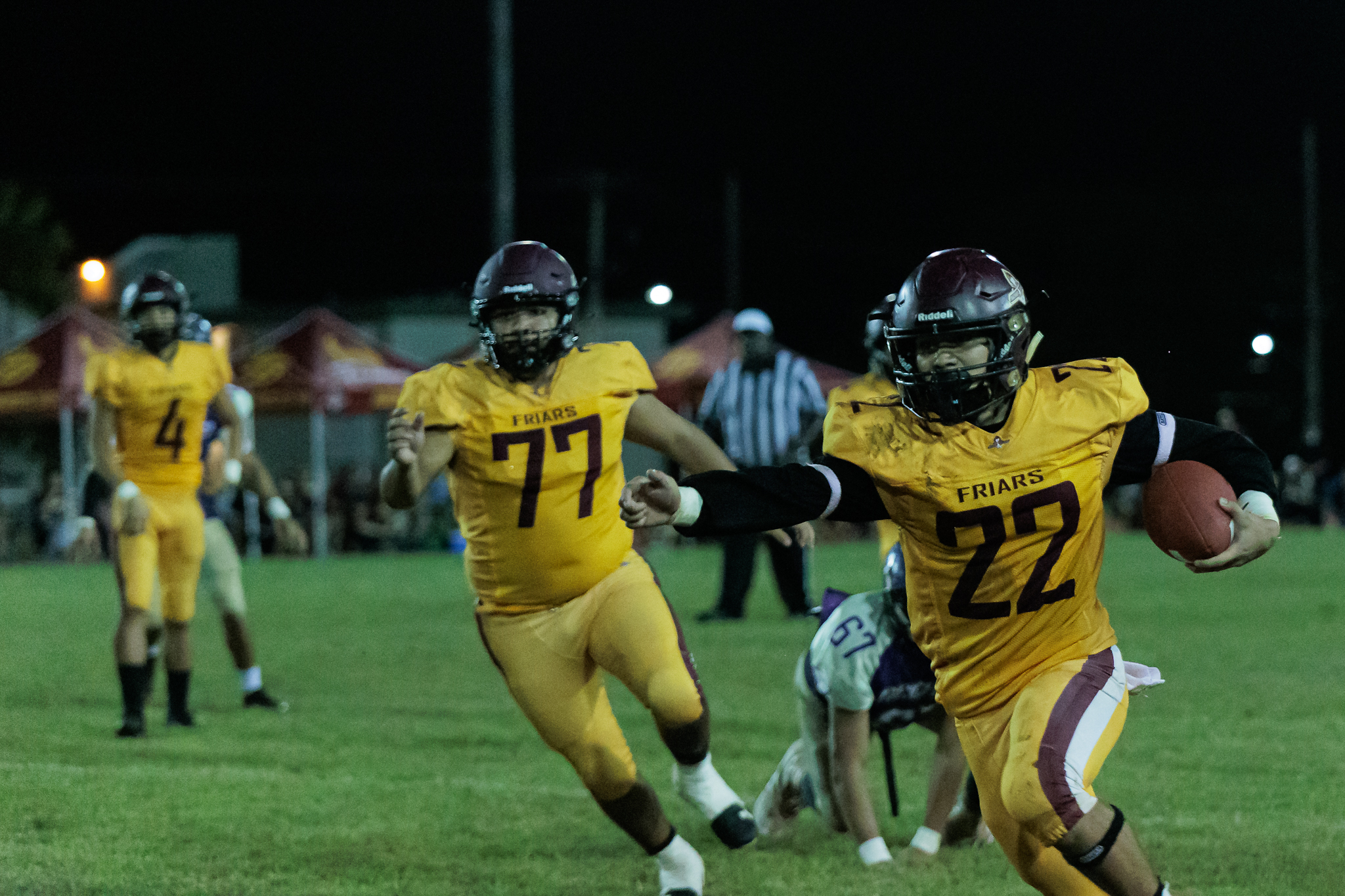 The FD Friars wrecked havoc on defense, forcing six turnovers in their 36-7 win over the GW Geckos in their first ISA Football meeting Friday evening. Both teams were knotted at 7-7 midway through the 1st quarter, but the Friar defense took control to spark what would be a game-ending 29-0 run.
Friar running back Caiyle Gogue posted three touchdowns on the evening to go along with 106 yards rushing. Gogue's first score came on his second carry, gashing the GW defense for 57 yards in the opening quarter. Gogue added another score in the 2nd quarter from three yards out, getting his last score in the second half.
Friar linebacker Caleb Murphy had a career night scoring two defensive touchdowns. Murphy's first came off a 40-yard interception, picking off Gecko Hayden Celis for his first career defensive score. Murphy added his second of the night off a 31-yard fumble return after teammate Evan Brown forced the ball loose.
The Geckos responded to Gogue's first score in the opening quarter with a pair of trick plays to get them on the board. A 41-yard pass to Robert Raras on a screen play allowed the Geckos to get inside the red zone. GW ran a half-back pass as Makai Blas found a wide open Noah Castro in the end zone from six yards out to tie the game at seven.
Murphy provided the first takeaway for the Friar defense, but the FD secondary would pick off Celis twice more, once from Alucious Medler and again by Lavin Santos which set up Gogue's second score of the night in the 3rd.
FD extends their win streak to 52 games and will play the Okkodo Bulldogs next Saturday. The Geckos will face the JFK Islanders next Friday.

QUICK HITS
The Okkodo Bulldogs secured third place at the Far East Division I Girls' Basketball Tournament in Camp Humphreys, South Korea. Jasmine Samson and Haley Cabrera were named All-Tournament selections in recognition of their hard work on the court. Vaysia Blas won the 3-point shooting contest. The Bulldogs played nine games in three days with a squad of eight:
Erin Moldez
Jasmine Samson
Haley Cabrera
Sharm Tauiwei
Hanna Meinik
Jordyn Zacarias
Jordin Hernandez
Vaysia Blas