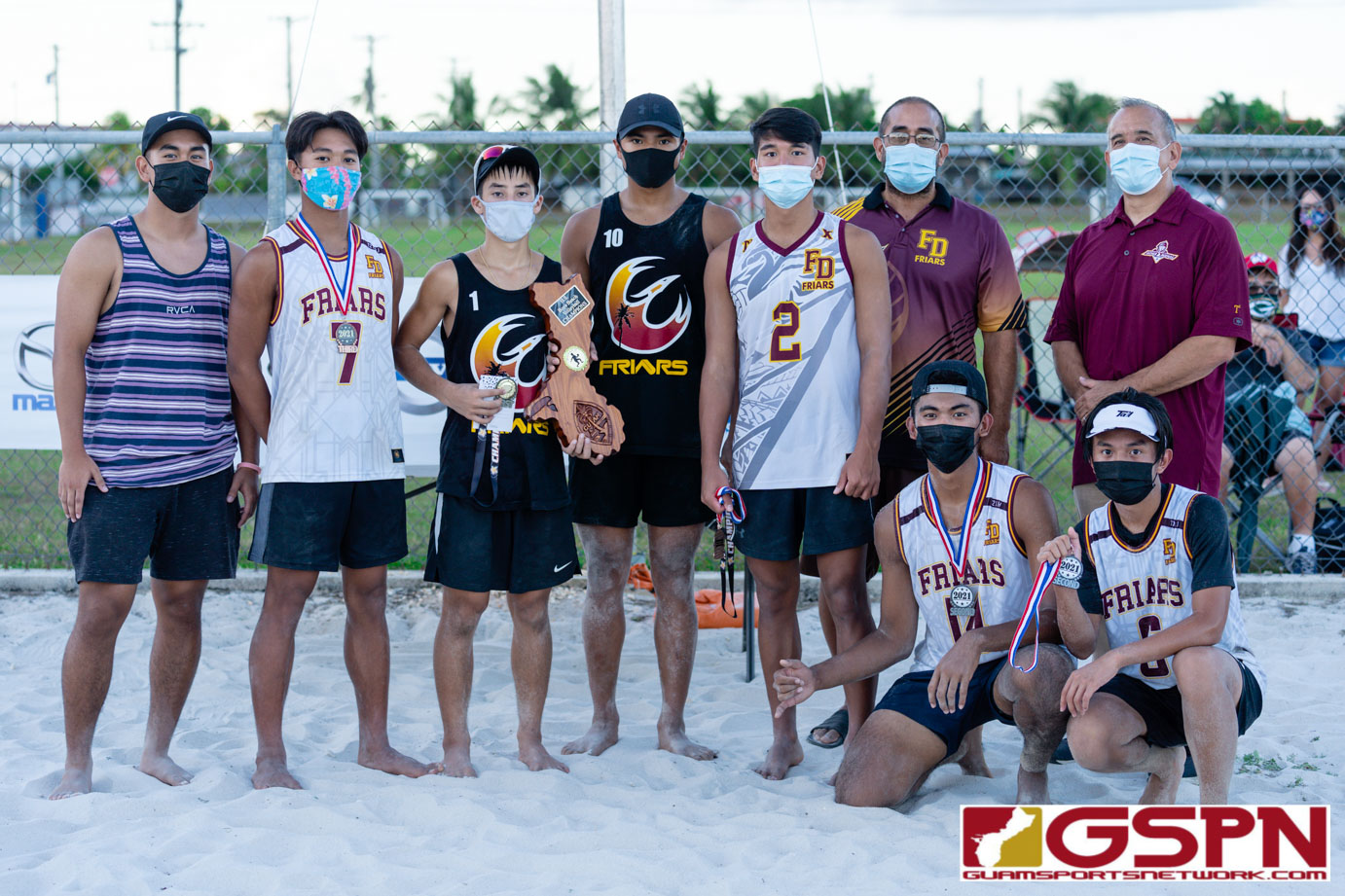 By Jay Leon Guerrero
The FD Friars swept the IIAAG Boys Beach Volleyball Doubles Championship with Kiko Damian and Thomas Moylan winning the championship in a three set thriller against fellow Friars Deavan Hudtohan and Joseph Mafnas.
The Friars were also presented the regular season championship trophy after the match. FD was first, St. John's finished second and Guam High finished third.
Championship match
Hudtohan/Mafnas came out of the gate thinking upset against the higher seeds taking a 10-7 lead. Damian/Moylan regrouped after a timeout and tied the match at 10-10 after a heads up play from Moylan.
There were three more lead changes in the match but Hudtohan/Mafnas went on a 3-0 run and took the first set 21-18.
Damian/Moylan were on the verge of elimination and needed to win the second set to avoid the sweep. The top seeds went on a 9-0 run and dominated the second set. Hudtohan/Mafnas tried to make a comeback but Damian/Moylan were not to be denied and won 21-10.
Damian/Moylan continued to use their momentum from the second set and went ahead 6-4. A kill from Damian gave the Damian/Moylan team a 9-5 advantage.
Mafnas/Hudtohan mount a comeback and cut the deficit to 10-8.
A side out and an ace by Moylan find the Damian/Moylan team up 12-8. From that point, the duo of Damian/Moylan held on for the 15-10 victory.
Third place match FD vs Guam High
The third place match went to a third and final set. FD's Ethan Alvarez and Aldan Sampson scored a go-ahead of Guam High's Jared Aguon and Trey Rosario 2-1. Aguon collected two kills to tie the contest at 3-3. Aguon/Rosario surged ahead to 6-4 lead. Alvarez/Sampson go ahead 7-6 with a Sampson ace.
Guam High took the lead back with a head up play by Rosario. The lead changes again with a kill barely going out of bounds. Aguon ties game with a kill at 10-10. Alvarez kill puts FD back up 12-11. FD capitalized on an error by Guam High and hold on for a 15-12 victory. 
PHOTO GALLERY BROUGHT TO YOU BY: