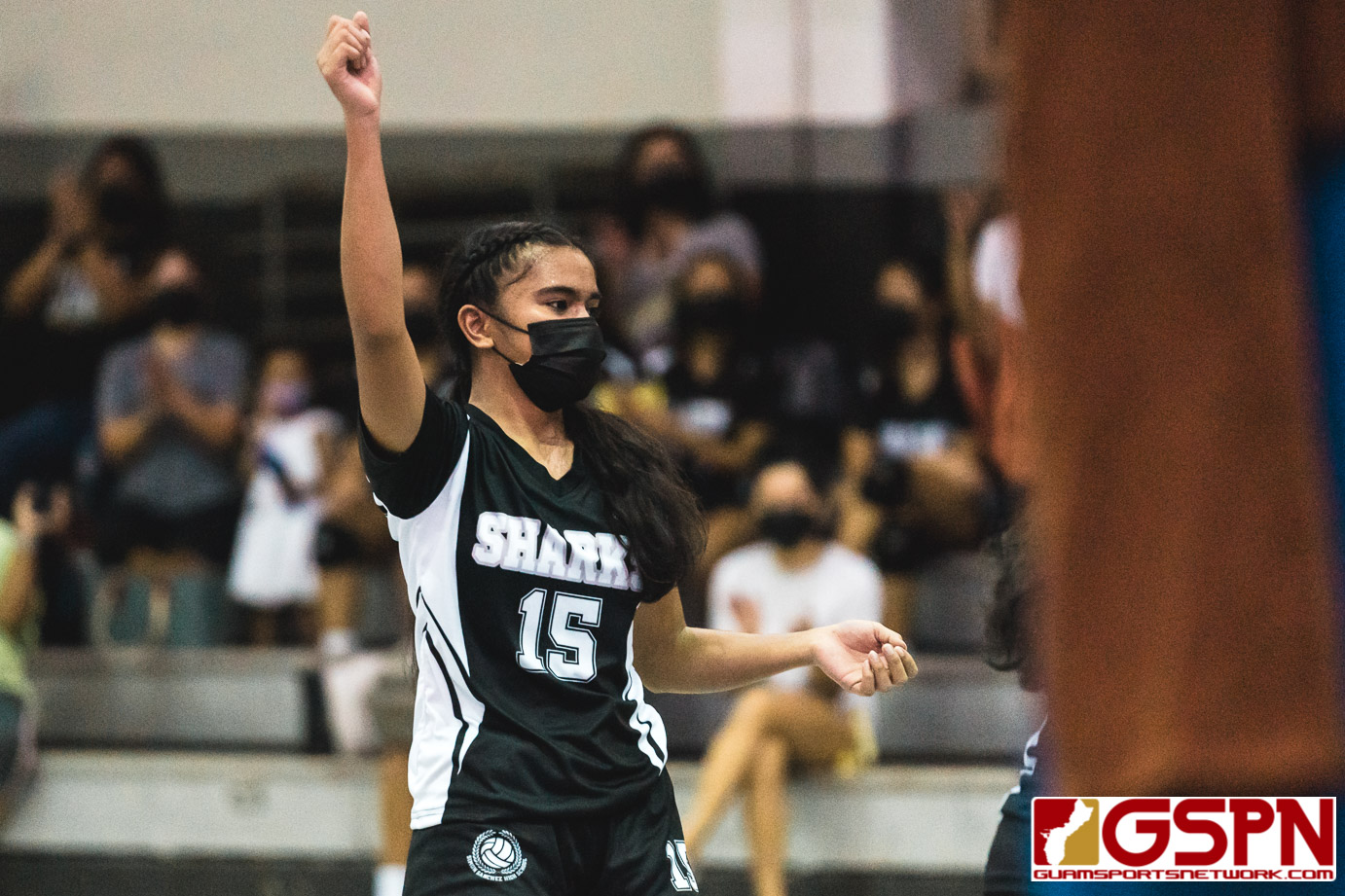 By Robert Balajadia
The Sanchez Sharks remained unbeaten at 4-0 on the ISA Girls Volleyball season after defeating the visiting JFK Islanders in five sets 16-25, 25-11, 25-10, 21-25, 15-3 during a Thursday evening clash. Sanchez got a big lift from middle blocker Kayna Kanemoto, who flourished on the night with 11 kills, six blocks and five serve aces.
Kanemoto saved her best work for the 5th set where she scored seven of the teams total points off a block, two kills and four aces. Kayna had already put the team up 3-0 after an opening set block, followed by a kill, but she really started getting in her groove at the service line where she stretched a 6-2 lead into a 12-2 lead.
"I just wanted to put the ball over. I had it in my head to not hit it so hard and just get the ball over," said Kanemoto on what she was focusing on during her big run.
The Islanders had shown grit in the 4th set to force the decisive 5th, which Kanemoto admitted had her team on their heels.
"Their hits [were giving us trouble] and their serves were really nice, we had trouble getting those," said Kayna on what JFK did to give her Sharks a hard time.
Accustomed to starting slow, Kanemoto shared that her Sharks perform better once in the flow of the game.
"We don't start fast… We really start to just build up throughout the game, but we get there!," laughed Kanya.
Islanders night and day in sets
JFK had appeared ready to break the Sharks unbeaten streak after playing a sound 1st set where they won 25-16. Islander Alessandra Pagdilao had two kills and a big block in the set with sophomore setter Philicita Rivera working the ball around to four different hitters for kills.
The Sharks were dominant in the 2nd and 3rd set, blowing out the Islanders 25-11 and 25-10 behind the strong play from Kanemoto and Trisha Zapantas, who orchestrated a big 9-0 run at the service line in the 3rd set to stifle JFK.
The Islanders responded with a big 4th set performance with three kills each from Koyuki Santos and Tomie-Lyn Santos to power. The young setter Rivera gave Pagdilao a beautiful back-set for the final point of the 4th with Pagdilao smashing her biggest hit of the night for a 25-21 win to force the 5th.
However, the final set belonged to Kanemoto. The crowd was rallying behind Kayna after every point she scored and she felt like this win was one of their biggest of the season.
"This win was big. We really wanted to beat GW in the first week and we did that, and we got this one too which I'm proud of," said Kayna.
JFK will travel to Okkodo next Monday while the Sharks will host GAA.
PHOTO GALLERY BROUGHT TO YOU BY:

QUICK HITS
Bishop Obispos beat Mt. Carmel for the IIAAG Middle School Girls Basketball championship 37-25.
—————————————-
The Benavente Roadrunners crushed the Agueda Pirates 17-1 to win the 76 PONY Middle School Baseball League. Rodney San Nicolas was a beat, striking out 13 batters in a complete game while going 4-for-4 at the plate, including a homer and 4 RBI.