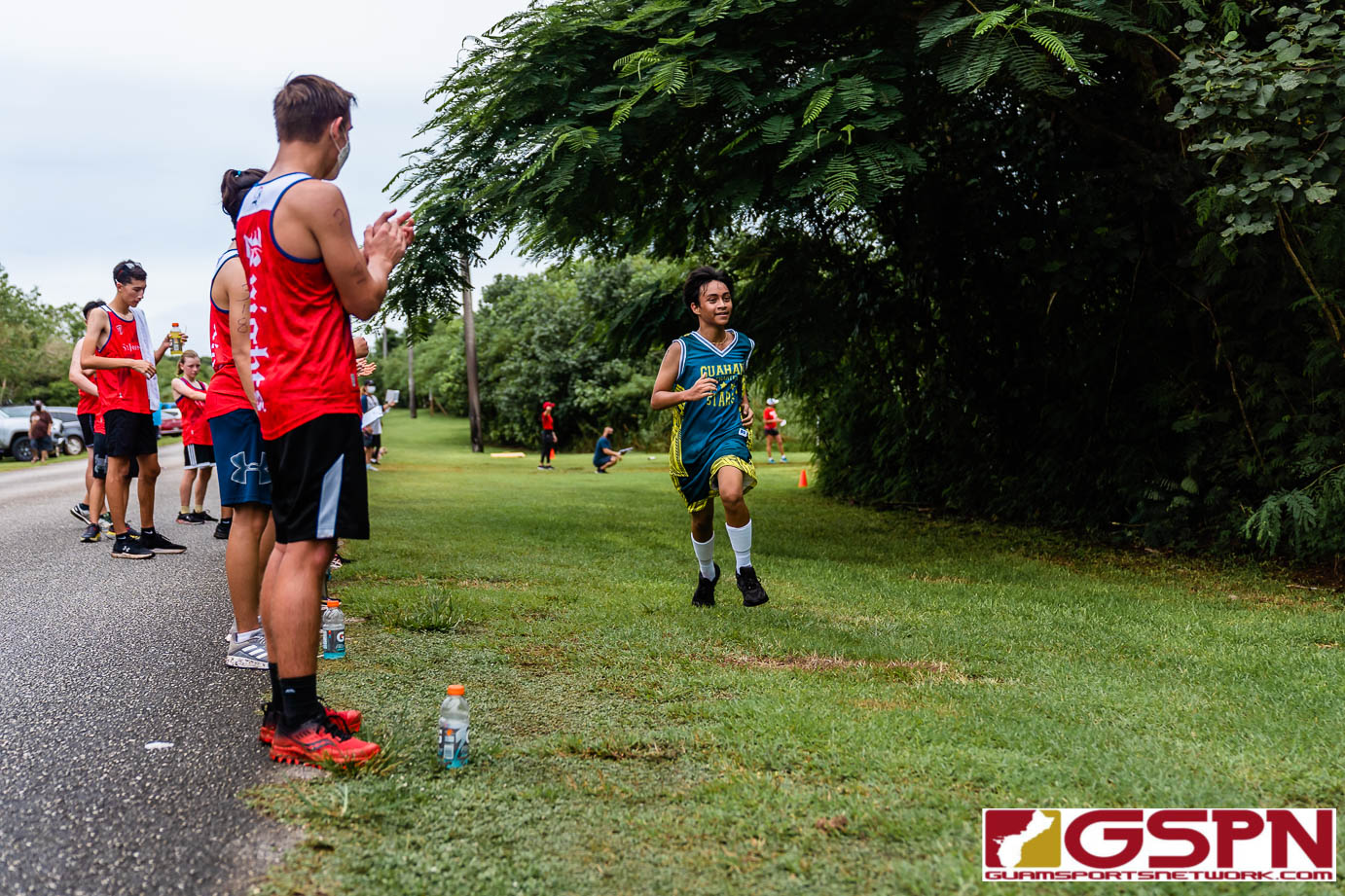 By Robert Balajadia
High school sports has already seen enough setbacks which meant Thursday's downpour of rain wasn't going to stop the first meet of the IIAAG Cross Country season between the St. John's Knights and the new comers Guahan Academy Charter School Starfish at Two Lovers Point.
The new school on the block got a chance to see last years fastest boys runner in action, Knight sophomore Alex Clark, who led his team again on Thursday with a blazing time of 19:16.80.
"I've been definitely practice a lot more so it felt good to be back running. Hopefully I'll be able to repeat what I did last year," said Clark who came in 1st place in the All-Island Meet. "We had to prepare since it's been a little while since we ran this course, but personally I like I course."
For the girls, Knight Jordan Baden not only finished first amongst females, but finished 3rd overall with a strong time of 21:52:20
"One of my teammates, Jacob Jackson, was able to push me all the way to the finish… I used this race to get acclimated into the season and get a time down," said Baden.
Guahan Academy Charter School might have only suited up seven runners, but first finisher for the school Tre Muna made history after competing in their first ever sports event under their new GACS Starfish moniker.
"I'm proud. We've been working hard to get a team out here to finally get to represent our own name so I'm proud regardless of the result. I'm really appreciative that we were even able to be here. It was a good experience for all of my teammates and I'm looking forward to it again," said Muna.
Full results of meet under photos
PHOTO GALLERY BROUGHT TO YOU BY:
Guhan Academy Charter @ St. John's
Girls
1 Jordan Baden 11 St. John 21:52.20 1
2 Maeva Conroy 10 St. John 26:25.90 2
3 Franchesca Villagomez 10 St. John 27:32.40 3
4 Kasey Xu 11 St. John 28:09.70 4
5 Keziah Milner 11 St. John 30:02.70 5
6 Raylene DeBenedictis 9 St. John 33:01.80 6
7 Clara Arcilla 10 St. John 34:12.40 7
8 Zoe Ayala 11 St. John 35:41.60
9 Sanford Trinity 9 Guahan Charter 37:55.80
10 Phoebe Pangelinan 10 Guahan Charter 38:02.40
11 Rhianalynn Rivera Guahan Charter 43:50.50
Boys
1 Alex Clark 10 St. John 19:16.80 1
2 Adam Cruz 12 St. John 20:54.00 2
3 Jacob Jackson 10 St. John 22:20.40 3
4 Tim Hutapea 11 St. John 23:01.10 4
5 Bubba Sullivan 10 St. John 23:37.50 5
6 Luca Flores 11 St. John 24:13.50 6
7 Joshua Chun 9 St. John 26:04.00 7
8 Tre Muna Guahan Charter 26:24.70
9 Reason Sanford 11 Guahan Charter 32:03.20
10 Mike Zhu 11 St. John 33:48.50
11 Jesse Manglona Guahan Charter 38:18.40
12 Noah Tabunar 11 Guahan Charter 38:30.60
AOLG/FD vs. Guam High
Girls
—————————————————————–
1 Keira Paz 11 Guam High School 23:49.00 1
2 Avrie Farrington 9t Guam High School 25:20.00 2
3 Kaila Castro 10 Guam High School 28:55.00 3
4 Genevieve Nelson 11 Guam High School 29:44.00 4
5 Rebekah Stringham 11 Guam High School 29:45.00 5
6 Sascha Horn 10 Guam High School 29:51.00 6
7 Nierra Ubaldo 12 Academy of Our Lady 30:27.00 7
8 Lola Martin 12 Academy of Our Lady 30:38.00 8
9 Taylor Santos 10 Academy of Our Lady 30:40.00 9
10 Catalina Perez 10 Guam High School 30:55.00 10
11 Madeline Musser 10 Guam High School 30:56.00
12 Tyra Duenas 9 Academy of Our Lady 31:31.00 11
13 Alexandria Levy 10 Guam High School 31:33.00
14 Chloe Matro 9t Guam High School 32:34.00
15 Bailey Cepeda 12 Academy of Our Lady 33:06.00 12
16 Eden Van Orman 9t Guam High School 33:35.00
17 Katrina Padayhag 11 Guam High School 33:53.00
—————————————————————–
Boys
—————————————————————–
1 Alex Rink 12 Guam High School 20:10.00 1
2 Ronan Perry 12 Guam High School 20:25.00 2
3 Trayton Crandell 11 Guam High School 20:27.00 3
4 Mitchell Westlund 9t Guam High School 21:10.00 4
5 Sean Muller 11 Guam High School 21:26.00 5
6 Yadiel Figueroa 10 Guam High School 21:43.00 6
7 Hunter Zinz 9t Guam High School 21:44.00 7
8 Judah Alcantara 9t Guam High School 22:26.00
9 Francis Pastones 11 Father Duenas Memori 22:46.00 8
10 Bas Schils 11 Father Duenas Memori 23:10.00 9
11 Elijah Gracia 12 Guam High School 24:08.00
12 Breyton Sison 10 Father Duenas Memori 24:21.00 10
13 Jurien Limtiaco 11 Father Duenas Memori 24:33.00 11
14 Ryan Douglas 10 Father Duenas Memori 24:36.00 12
15 Evan Flanagan 10 Guam High School 24:44.00
16 Ziah Afalgue 11 Father Duenas Memori 24:59.00 13
17 John Huihui 9 Father Duenas Memori 25:03.00 14
18 Camryn Bordallo Father Duenas Memori 25:04.00
19 Cameron Arriola 9 Father Duenas Memori 25:06.00
20 Napu Blas 11 Father Duenas Memori 25:21.00
21 Dane Santos 10 Guam High School 26:20.00
22 Landon Alegre 12 Father Duenas Memori 26:37.00
23 Brian Galang 11 Father Duenas Memori 26:55.00
24 Luke Taisipic 12 Father Duenas Memori 27:31.00
25 Dann Bilong 11 Father Duenas Memori 27:37.00
26 Caleb Gray 10 Father Duenas Memori 28:12.00
27 Ian Gaza 9 Father Duenas Memori 28:14.00
28 Christian Arriola 11 Father Duenas Memori 29:09.00
29 Zachary Diaz 12 Father Duenas Memori 29:52.00
30 John Austria 10 Father Duenas Memori 29:53.00
31 Jordan Guzman 9 Father Duenas Memori 29:58.00
32 Jared Anulao 12 Father Duenas Memori 30:41.00
Girls AOLG/FD vs Guam High Team Scores
=================================================================
Team Pts 1 2 3 4 5 (6) (7)
=================================================================
1 Guam High School 15 1 2 3 4 5 6 10
Total Time: 2:17:33 Average: 27:30.60 1-5 Split: 5:56
2 Academy of Our Lady 47 7 8 9 11 12 – –
Total Time: 2:36:22 Average: 31:16.40 1-5 Split: 2:39
Boys AOLG/FD vs Guam High Team Scores
=================================================================
Team Pts 1 2 3 4 5 (6) (7)
=================================================================
1 Guam High School 15 1 2 3 4 5 6 7
Total Time: 1:43:38 Average: 20:43.60 1-5 Split: 1:16
2 Father Duenas Memori 50 8 9 10 11 12 13 14
Total Time: 1:59:26 Average: 23:53.20 1-5 Split: 1:50

2022 GSPN I MÅS METGOT COMPETITION
2022 GSPN I Mås Metgot Competition Recap
2022 GSPN I MÅS METGOT COMPETITION
2022 GSPN I Mås Metgot Competition Recap
2022 GSPN I MÅS METGOT COMPETITION
2022 GSPN I Mås Metgot Competition Recap