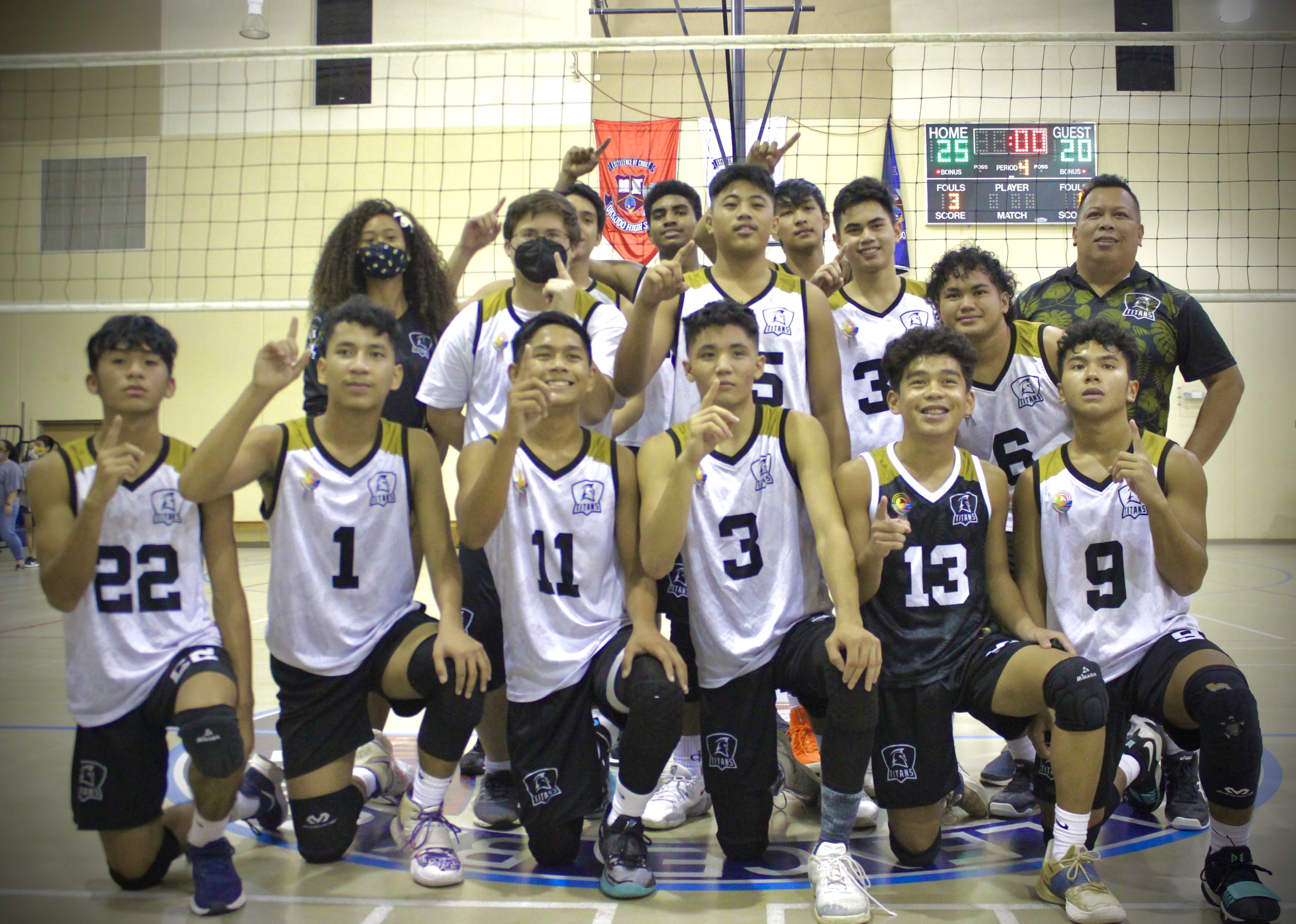 (Re-watch the live broadcast of IIAAG Champion vs ISA Champion in this exhibition game between the FD Friars and Tiyan Titans below story)
By Jay Leon Guerrero
It was just an exhibition boys high school volleyball game but it meant much more than that! Two Champions in two different leagues met up on neutral territory to play for bragging rights.
After four sets, the public school ISA champion Tiyan Titans prevailed over the private school IIAAG champion Father Duenas Friars (25-20, 25-14, 26-28, 25-20). The game was played at Okkodo High School in front of a limited number of fans.
"We are grateful to just have this opportunity to play. Thank you to all the organizers who put this together," said Tiyan's VJ Rosario.
Rosario led the Titans with 11 total kills against the Friars who had an advantage in height. The Titans, however, minimized their errors and played good defense against the hard hitting Friars to take the victory and bragging rights.
Tiyan setter Tyrone Buekis was crisp in setting up his teammates as they found the right angles to keep their kills in play. "This game gives us a lot of closure. After our season, there was some tension because we did not get to play against private schools," said Buekis.
The game on Friday validated their season and gave the Titans closure on knowing they are truly the best team in 2021. There was no official trophy, just a friendly exhibition match agreed upon by both teams to see what would happen if they played against each other.
Game sequence
The opening set was close with both teams exchanging leads. The Titans got a huge boast from Gerald Malana off the bench with two kills late in the set to win 25-20.
The Titans continued roll entering the second set, going ahead 5-0. Middle blocker Dewayne Ngirairikl recorded a kill and a block help the Titans take advantage in a set they never trailed to win 25-14.
The Friars fought back in the third set with Jeremiah Nguyen and Daryll Robles recording highlight kills. The Friars trailed late in the set but a kill from Matt Santos forced the game to a deuce. The final point was recorded by Ethan Alvarez to help FD avoid a sweep, winning an exciting third set 28-26.
Xander Duenas and Rosario led the offense for Tiyan in the fourth set to go ahead by three points, leading 19-16. After another Rosario kill and a hitting error committed by the Friars, Tiyan's Dominic Pelobello scored the final point of the game. The Titans won 25-20 as the bench cleared for a celebration on the court.
"After the third set, we were a little nervous because FD is capable of making a comeback," said Duenas. "We didn't expect to win in that fashion but we did come into this contest believing are capable of winning."
The contest showcased a pair of all star setters with Tiyan's Buekis going against FDs Elijah Garrido. At the end of the game, it was the Tiyan hitters who found a way to minimize their errors and keep their spikes in-bound.
"When I first hit, I just saw an opening in the middle lane and just kept going there," said Rosario.
Rosario was able to find the angle around the FD blockers to find the open spot in the middle. Rosario had six of his 11 total kills in the fourth set.
FD's Robles had a game high 13 kills and five blocks, Nguyen contributed 10 kills. Santos had six total kills for the Friars.
Duenas and Pelobello each had six kills for Tiyan. Ngirairikl had five kills and four blocks for Tiyan. Buekis had a game high three service aces.
PHOTO GALLERY BROUGHT TO YOU BY:

Athletes Birthdays by W5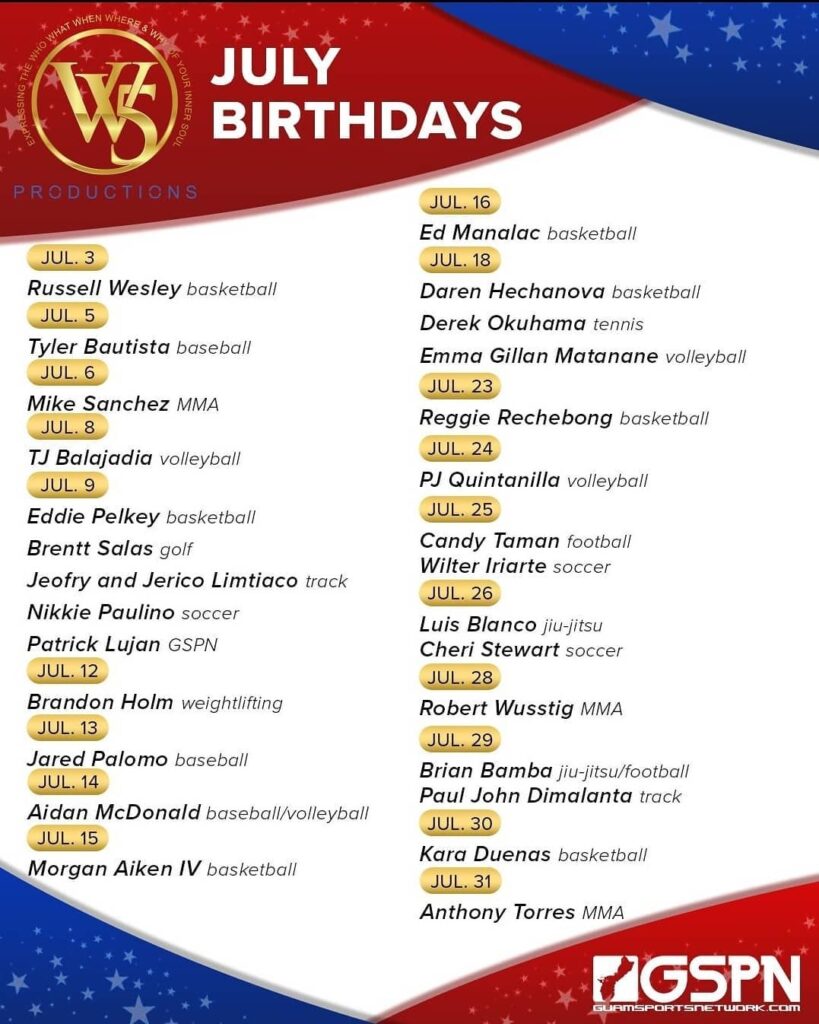 Foody's Fun Facts
Favorites From Year 2
COMING SOON …
2020 Tokyo Olympics
UFC Fight
Aug 1: Trevin Jones vs. Tony Kelley
QUICK HITS
——————————————————–
Guam's Joey Miranda met up with Chamorrita Softball Star Bubba Nickles and Olympic Teammates Dejah Mulipola and Aubree Munro out in Tokyo as we approach the Olympics!
Photo credit: GNOC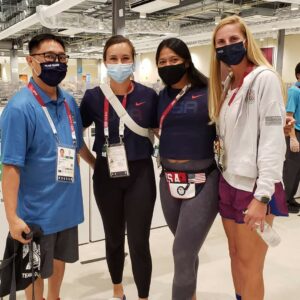 ——————————————————–
Former Guam resident Tre Taylor has committed to play cornerback for the Southwestern Junior College Jags.
Turner attended Harvest and FD before transferring to Hawaii where he played for Saint Louis, the 5th ranked team in the nation.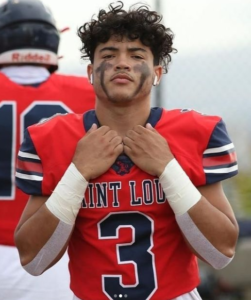 ——————————————————–
The big man Zach Banner getting to throw out the first pitch earlier today for the Pittsburgh Pirates!