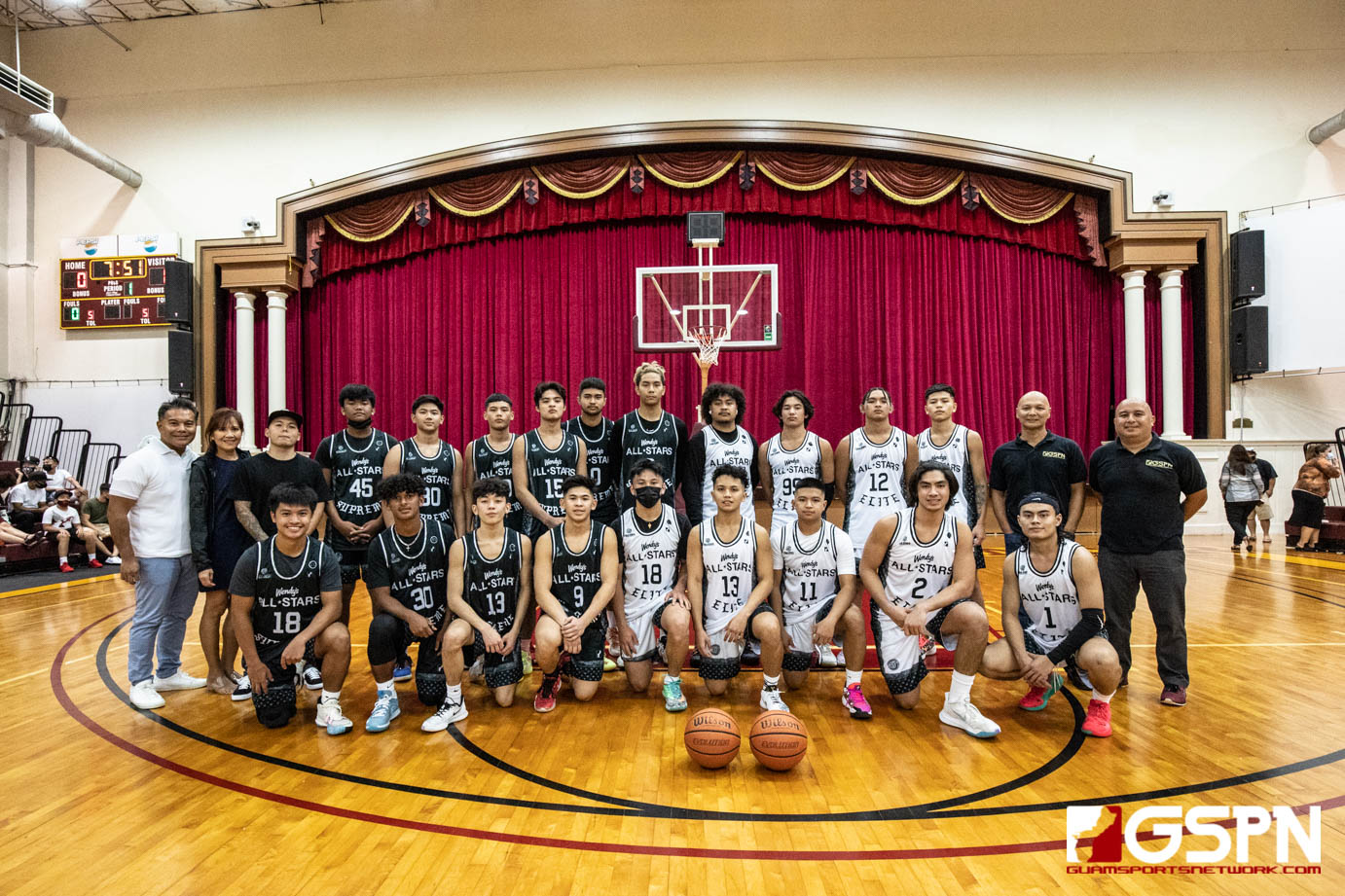 Check out the broadcast of the 6th Annual All-Star Game below!
By Jay Leon Guerrero
As advertised, the 2021 Wendy's Boys High School All Star Game was one of thee most exciting exhibition games we will probably ever witness. The boy's came to play and at the end of regulation, it was Team Supreme winning 103-102 over Team Elite.
Players were showboating and the crowd loved it! It was raining 3's at the FD Phoenix Center with both teams combining for 28 total made 3-point baskets.
At the of this game, believe or not, a defensive play sealed the win for team Supreme. Down by a point with less than six ticks remaining, Team Supreme forward John Macaldo stole the ball for the victory.
Team Supreme was down for the entire game until the final period. Supreme's Matt Santos went off in the final quarter, hitting three 3-pointers to earn the game MVP honors.
"Going into the second half, I told my team I was going to ball hog and they agreed," said Santos, the ISA regular season MVP. Santos scored 22 of his 24 points in the second half. "I applauded my team for that because everyone is talented on the team."
At halftime, the Elite squad held a 51-48 advantage. Elite's Miah David hit three 3-pointers off the bench to help his team take the advantage after the first half.
Team Elite looked to pull away in the third quarter behind the offense of guard EJ Cruz. Cruz put on a show, dazzling the crowd with no-look and behind the back passes as well as deep three-pointers to have his team go up by as much as 13 points.
Cruz was on fire in the third quarter, hitting a 30-foot runner (yes, a 30-foot runner) to go up 88-77 after three quarters.
Cruz, Kyler Afleje and Josiah Quintanilla, all residing in the southern end of Guam, helped team Elite put up 88 points in three quarters. Cruz alone had 15 points in the third quarter.
Team Supreme slowly chipped down their double digit deficit in the final period with Kirston Guzman, Santos and Jeremiah Kintoki each hitting three-pointers. A Santos lay up gave Elite their first lead of the game, up 94-93 advantage with four minutes remaining in regulation.
The powerhouse teams went back-and-forth until Daryll Robles from Team Supreme scored off an offensive rebound to go up 103-102. Macaldo's steal ended the game with Elite unable to put up a final shot.
Cruz led all scorers with a game high 30 points, Quintanilla had 24. Afleje added 17 points for Supreme; Miah David had 13 off the bench.
"It was fun to put on a show. I'm glad they came back to make it a game," said Cruz. Cruz, who is going into his senior year, said games like this help him get better and prepare him for future games. "This game helps, every game helps. But for now (my future), I'm going to keep my next moves to myself and when the time comes we'll see."
Team Supreme was coached by Julian Canovas (St. Paul) and Team Elite was coached by Eddie Pelkey (FD).
Santos had 24 points to lead team Supreme; Macaldo had 17 points. Robles contributed 12 and 10 rebounds; Guzman chipped in 11 points.
Santos was coached by Pelkey in the regular season for FD. "I made a goal to make sure I get this win against coach," joked Santos.
The game also featured teammates going against each other. Fd players Santos and Robles went against Miah David and the Ada Brothers Blaise and Brock on the Elite squad. "In the first half, Miah (David) was all up on me saying we going to lose. It fueled me as well as Daryll (Robles) to step up and show them."
The remaining top scorers for team Supreme include Jeff Labanza (10), Justin Arjona (8) and Kintoki (7). For team Elite, Bryce Chargualaf (5), Nathaniel Carreon (4) and Blaise Ada (4) rounded out the scoring.
PHOTO GALLERY BROUGHT TO YOU BY:

COMING SOON …
High School Football starts Sept. 29
Brawl 3: Oct 13
Guam's Strongest Man and Woman Competition October 29
QUICK HITS
The Figo Islanders 40s women's softball team took gold in the Senior Softball World Championship in Las Vegas. Figo came out of the loser's bracket and beat the Arizona Belles 17-3 in the AA division championship game Sunday afternoon.
Other Guam teams that played in the 40s tournament were: Team SOTTA (women's) and Bud Light Guam, Friars 671 and Sindalun Guahan (men's).
Sindalu finished a respectable 4th out of 24 AAA division teams.