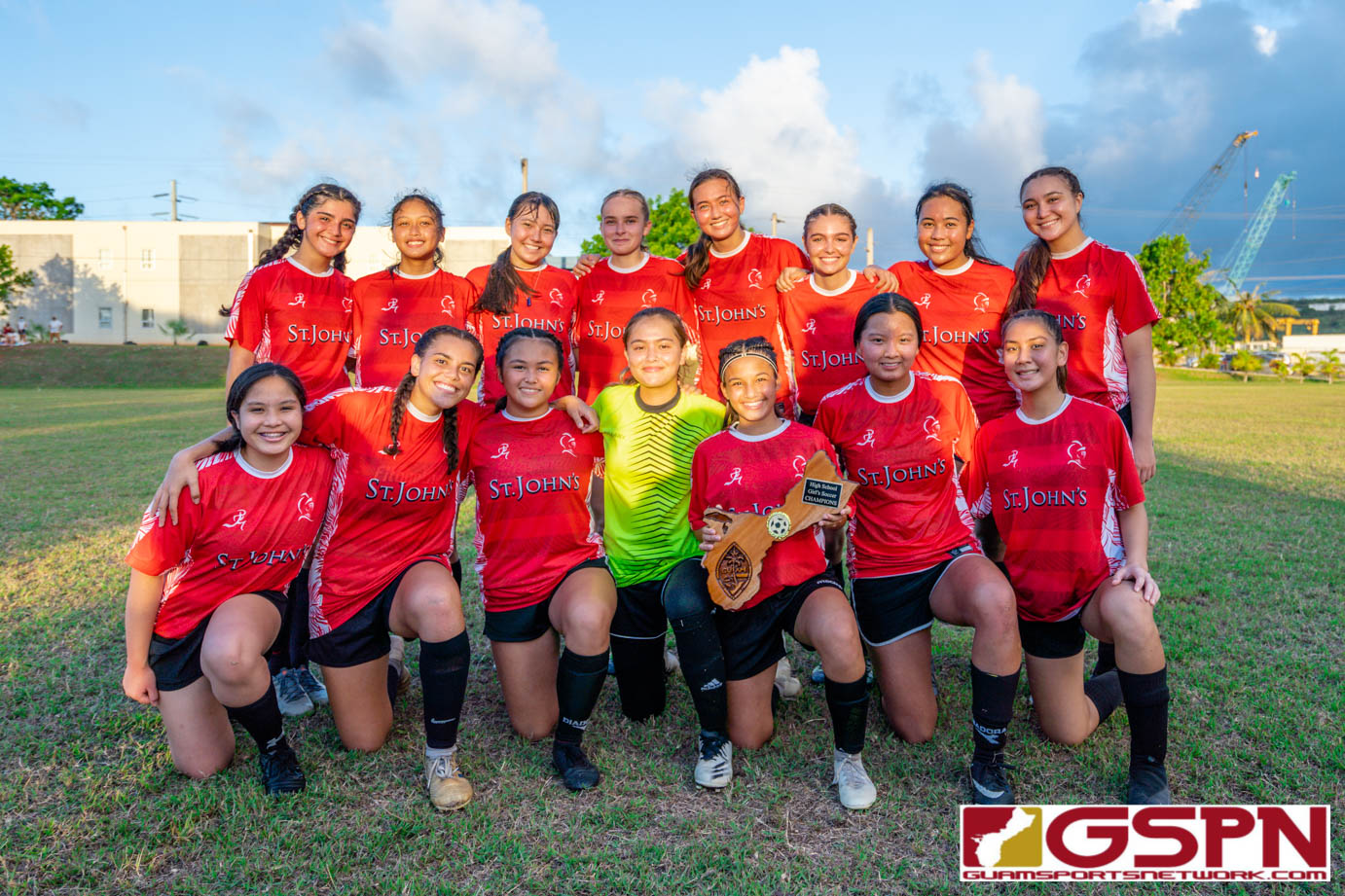 By Robert Balajadia
With an overtime shootout hanging in the balance, St. John's Kaia Malakooti took aim and fired off a game-winning goal in the 78th minute, which would be the only goal scored against a stout ND defense, in the IIAAG Girls Soccer Championship Game Saturday afternoon at the St. John's Field.
Malakooti had been firing from just over 20 yards out all game-long, but all of her previous eight shots had a little too much power on it as they all sailed over the goal. With all the backing she could ask for from her teammates, Kaia made sure her last shot was going to be her best one of the day.
"I was getting down on myself," said Kaia on missing her earlier shots. "My team just kept telling me to keep shooting and they had nothing but full-on faith in me. I just trusted my foot and the ball went it and it felt amazing."
The Knights knew there wasn't too much time left on the clock, but Malakooti's goal fired up the entire team with enough energy to close out the game.
"My team did not want to let loose, we pushed 10 times harder and we wanted to close this out. We fought so hard till the end and I think our last push proved how badly we really wanted this."
The Knights commanded ball possession and shots on goal with 27 total, 12 in the first half and 15 in the second. The Royals struggled getting their offense going with just two shots in the first half and six in the second, with half of them coming from near midfield.
The four-team condensed season wrapped up Saturday featuring the leagues top two teams, the Knights and Royals, with no playoffs. In their first meeting earlier in the week, the Knights captured a 2-0 victory. Saturday's game saw small line-up changes, but defenses dominated the day.
Malakooti has had a fruitful 2021 after winning a tennis title in the first half of the IIAAG season along with first place in the All-Island Tournament. Going two-for-two in Championships has been great for Kaia, but sharing the field, or court, with her teammates is what she's really cherishing.
"Just being back is awesome overall. Even though it's a shortened season, being out here with my friends means everything, most especially winning championships."
PHOTO GALLERY BROUGHT TO YOU BY:

QUICK HITS
Bishop Obispos beat Mt. Carmel for the IIAAG Middle School Girls Basketball championship 37-25.
—————————————-
The Benavente Roadrunners crushed the Agueda Pirates 17-1 to win the 76 PONY Middle School Baseball League. Rodney San Nicolas was a beat, striking out 13 batters in a complete game while going 4-for-4 at the plate, including a homer and 4 RBI.