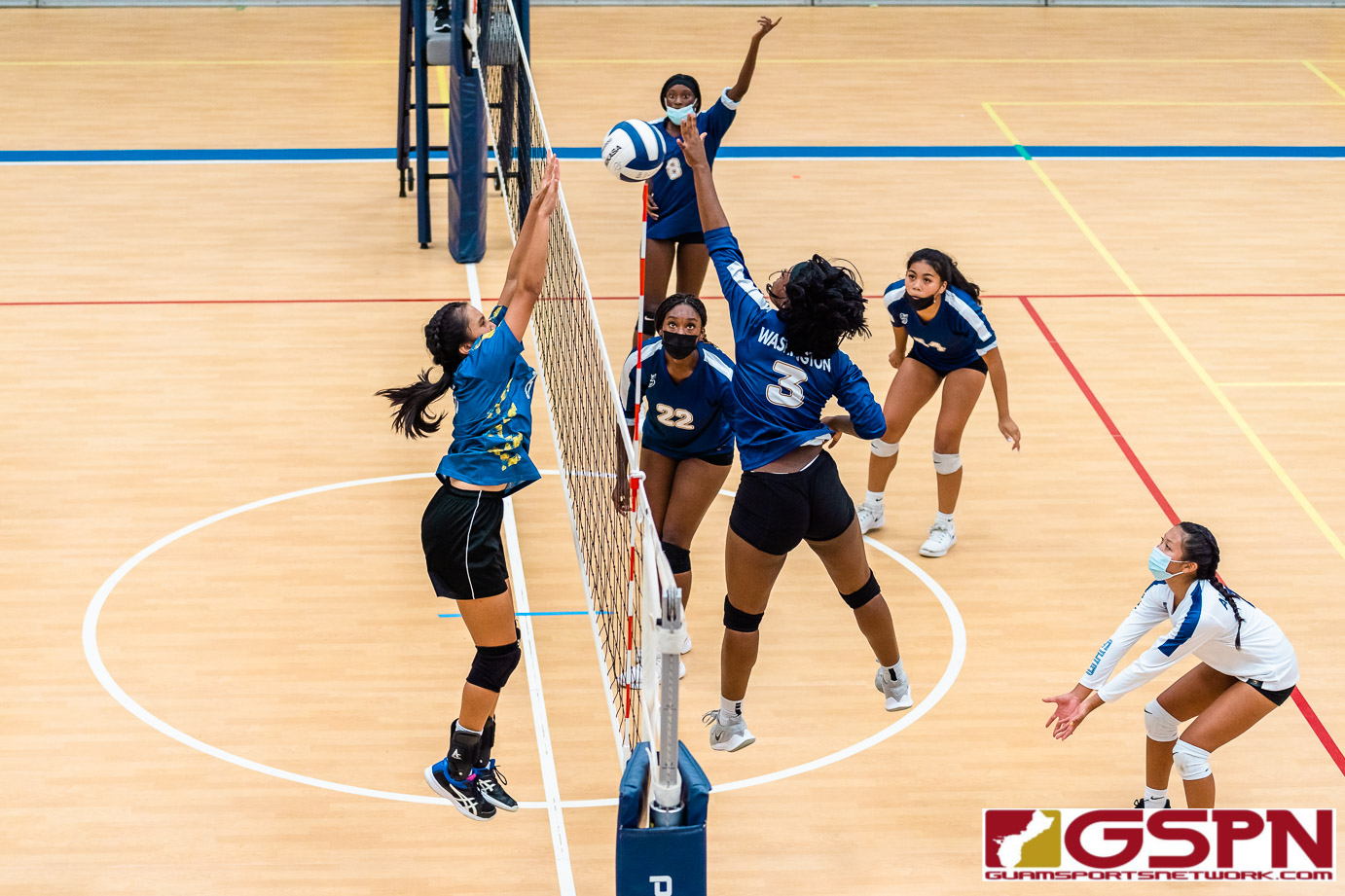 By Robert Balajadia
The Guam High Panthers were determined to shake off a heartbreaking opening season loss against the St. John's Knights earlier in the week, and they did just that by taking down the home team Harvest Eagles in straight sets 25-22, 25-21, 25-15 Friday night.
Guam High's offense got a big boost from middle blocker Kamryn Thompson and outside hitter Amoni Washington. Thompson had a game-high10 kills, two blocks and two aces. Washington finished with seven kills and three aces with the tandem both putting their best performance together in the final set.
"We didn't have a lot of communication against St. John's so this time we had to listen to each other more. We were talking, but not listening last game so that's what we tried to do tonight," said Thompson.
Guam High looked to capitalize after a come-from-behind victory in the 2nd set to finish off the game in the 3rd. Thompson poured in five of her 10 kills in the set and Washington added three of her seven along with two aces.
"We just had to have a factory reset. Each set we have to treat it like a clean slate and we just wanted to come in and give it our best," said Washington on her teams resilience.
The Eagles were led in scoring by Emily Walton's six kills and middle blocker Isa Rabanal's three kills and five monstrous blocks.
One set at a time
The Panthers were locked in from the start of the game as Thompson got going early after picking up back-to-back kills to give her team a 12-8 lead. The Eagles got a short burst from Walton as they fought back to get within 20-17, but Thompson closed the door off a kill on a free ball to end the Eagles run, eventually getting the final point to give the Panthers the opening set.
Harvest looked poised to even the sets midway through the 2nd after capturing momentum early. Kills from Rabanal and Sophia Espaldon had the Eagles bench riled up, but hitting errors would allow the Panthers to stay in the game down 17-11. Guam High took the lead off a Kaila Moniz kill 21-20 with Thompson putting the final touches on the comeback scoring the Panthers final two points of the set for the 25-22 win.
Thompson and Washington let loose in the 3rd as Guam High jumped out to a 9-3 lead. The Eagles got as close as 13-8, but Thompson, Washington and Moniz, along with a pair of aces from Jaleah Payne, carried the Panther offense to secure their straight sets victory.
Guam High will welcome the ND Royals in their first home game next Tuesday while the Eagles will welcome the St. John's Knights. The Panthers are excited for their first home game, but it won't be the same without the home game fans in attendance.
"We are looking forward to that home game, but it's going to be sad not having our parents or other students there. We're still looking forward to it though," said Thompson.
PHOTO GALLERY BROUGHT TO YOU BY: